The International Federation of Journalists (IFJ) on Monday condemned the mounting attacks and arrests on journalists and urged Pakistan's government to take appropriate steps to ensure the safety and security of all media workers, as required by law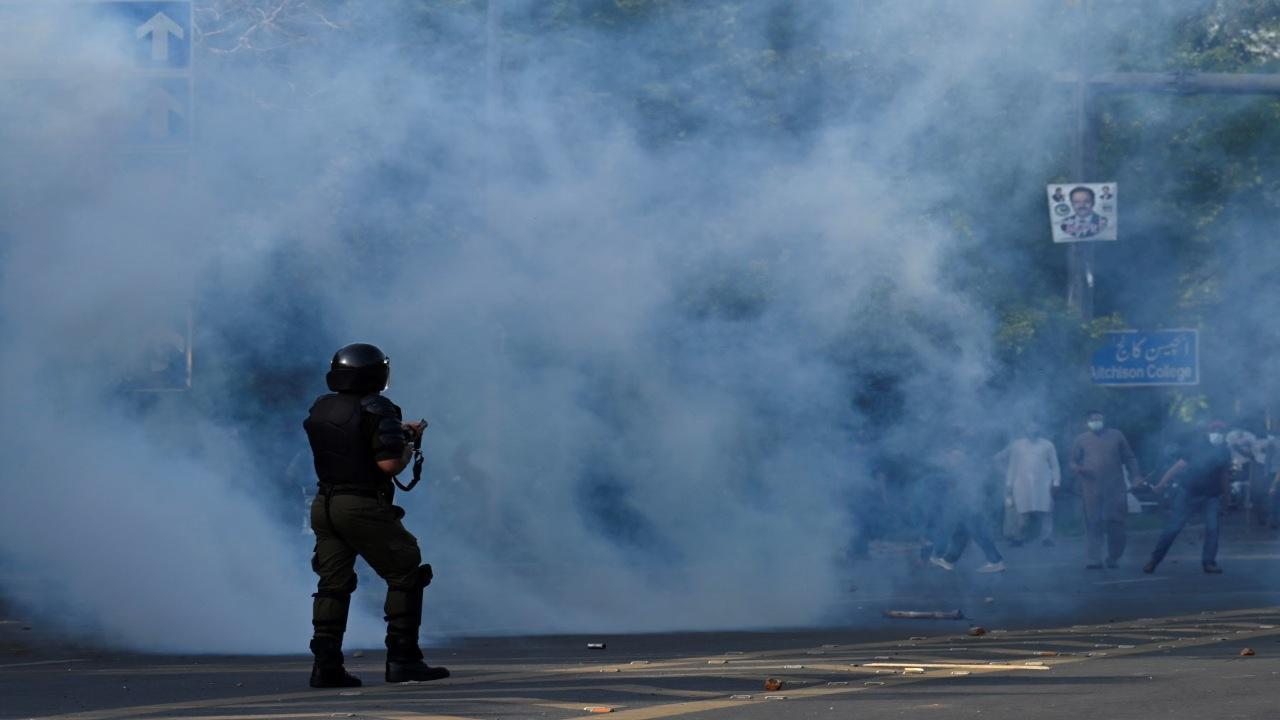 Police fire teargas shells towards supporters of former Pakistan's Prime Minister Imran Khan protesting his arrest in Lahore on May 9, 2023. Photo / AFP
The International Federation of Journalists (IFJ) on Monday condemned the mounting attacks and arrests on journalists and urged Pakistan's government to take appropriate steps to ensure the safety and security of all media workers, as required by law.
In a statement, the journalist body said that as police continue to crack down on violence and political protests in the aftermath of Pakistan's May 9 unrest, journalists are facing increased harassment and surveillance by authorities, with at least one journalist in detention.
ADVERTISEMENT
In the days following the arrest of former Pakistani Prime Minister and Pakistan-Tehreef-e-Insaf (PTI) leader Imran Khan on May 9, journalists and media workers have suffered arrests, violence, and threats amid nationwide mass protests, it said. "Several journalists working near initial clashes between PTI supporters and military personnel outside the Lahore Corps Commanders Office (Jinnah House), have faced detention, as government tracking of all mobile phone numbers and calls near the residence, a practice called geo-fencing, placed many journalists covering the events under suspicion."
The accused include Bol News journalist Shahid Aslam, who is currently on bail in a January case for his alleged role in a leak of financial data. Further reports indicate that television journalist Ali Tariq was arrested while reporting at the residence and that GNN deputy bureau chief Sarfaraz Ahmad Khan had been subject to multiple home raids by law enforcement in the following days.
In the wake of these geo-fencing incidents, the Lahore Press Club (LPC) requested the names and contact information of the reporters, drivers, and other staff members assigned to cover the protests on May 9, which was then shared with the government. LPC president Azam Chaudry also filed a petition before the Lahore High Court, which has since ruled that police are to be barred from harassing reporters over their coverage of the unrest.
In a separate incident, Ghotki journalist Nasrullah Gadani was detained in Mirpur Mathelo on the order of the Sindh Home Department on May 22. In a May 16 detention order, provincial authorities claimed that Gadani participated in civic disruptions, allegedly inciting people to block roads and organise sit-in demonstrations. The journalist's colleagues denied the allegations and said was targeted for his coverage of public safety issues, with Sindh Human Rights Commission chair Justice Razvi stating the charges were 'vague and insufficient'. The journalist was transferred to a central prison facility, with his brother planning to appeal the decision at Sindh's High Court on Friday, May 26.
Also read: Pakistan govt rejects former PM Imran Khan's offer for dialogue, says talks held with 'politicians not terrorists'
Several more journalists including Aftab Iqbal, Imran Riaz Khan, and Orya Maqbool Jan were also arrested, with Bol News TV President Sami Ibrahim detained on May 24 on ambiguous charges and Bol Media Group journalist Abid Abdullah reported missing since May 20.
Pakistan Federal Union of Journalists President GM Jamali and Secretary General Rana Muhammad Azeem have said the fundamental rights are being violated by arresting journalists when they arrive at Geofencing's location. The court should order the police to stop arresting journalists and to recover the arrested journalists.
The IFJ said: "The safety, security and fundamental rights of journalists and media workers must not be compromised in times of political upheaval and unrest. Failure to protect journalists critically impairs the public's ability to obtain coverage of events in the public interest and restricts press freedom. The IFJ urged the Pakistani government and authorities to safeguard all journalists and media workers and immediately release those currently detained." Do you like to interpret your dreams?