As gas continued to spew into the Baltic Sea, it remained far from clear who might be behind the leaks or any foul play, if proven, on the Nord Stream pipelines that Russia and European partners spent billions of dollars building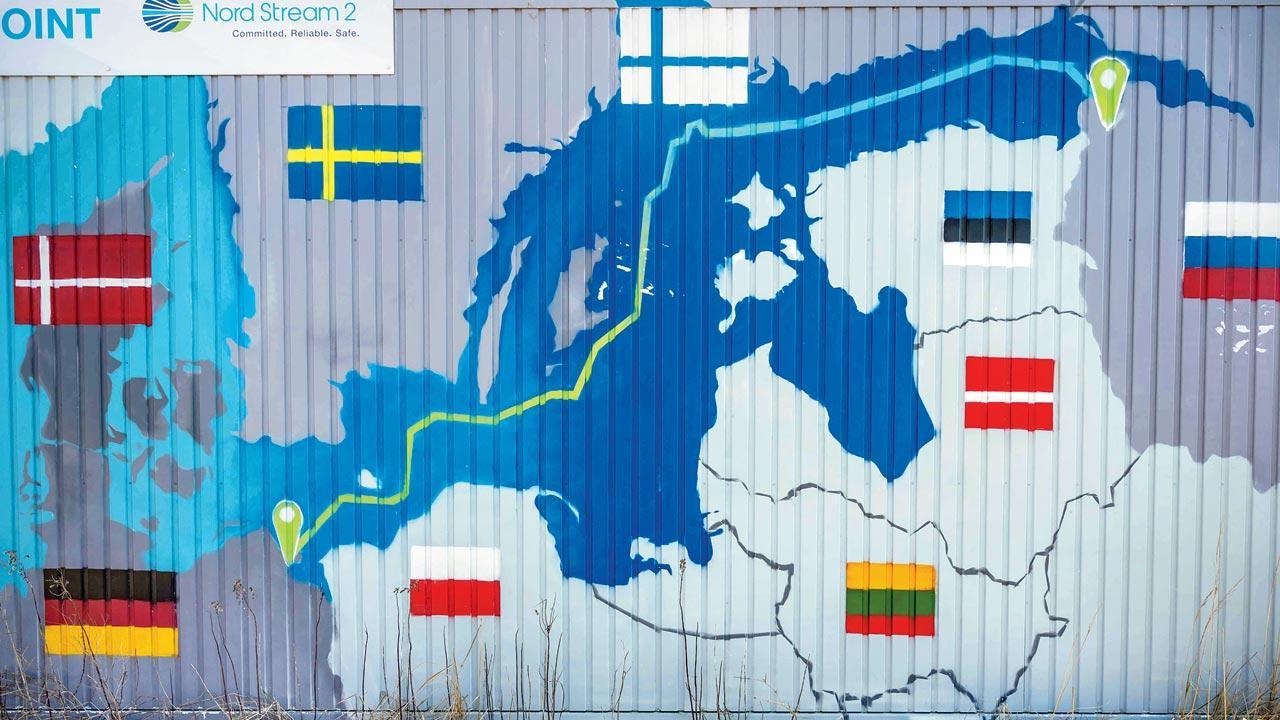 A container decorated with a map in March showing the position of the Nord Stream 2 gas pipeline, in Germany. Pic/AFP
Any deliberate disruption to the EU's energy infrastructure would meet a "robust and united response", its top diplomat was quoted saying on Wednesday after several states said two Russian gas pipelines to Europe were attacked.
As gas continued to spew into the Baltic Sea, it remained far from clear who might be behind the leaks or any foul play, if proven, on the Nord Stream pipelines that Russia and European partners spent billions of dollars building.
Russia, which slashed gas deliveries to Europe after the West imposed sanctions over Moscow's invasion of Ukraine, has also said sabotage was a possibility. The European Union believes sabotage probably caused the leaks detected on Monday in the Nord Stream pipelines, EU foreign policy chief Josep Borrell was reported as saying by German broadcaster ntv, echoing views aired by Germany, Denmark and Sweden on Tuesday. The EU has not named a potential perpetrator or suggested a reason behind it. "Any deliberate disruption of European energy infrastructure is utterly unacceptable and will be met with a robust and united response," Borrell said, according to ntv.
Asked about claims Russia might somehow be behind the possible attack, Kremlin spokesman Dmitry Peskov said, "That's quite predictable and also predictably stupid."
"This is a big problem for us because, firstly, both lines of Nord Stream 2 are filled with gas - the entire system is ready to pump gas and the gas is very expensive... Now the gas is flying off into the air."
"Before making any claims, we should wait for investigation into these ruptures, whether there was an explosion or not," he said.   
Military campaign till Donetsk annexed?
The Kremlin on Wednesday said that the "special military operation" in Ukraine must continue until Russia takes full control of east Ukraine's Donetsk region.  Kremlin spokesman Dmitry Peskov said that the military campaign in Ukraine would continue "at a minimum" until the "liberation" of the "Donetsk People's Republic", referring to the region's Russian-backed administration.
Pro-Russian officials in four partially Russian-controlled regions of Ukraine declared that voters had chosen to join Russia, in hastily organised referendums which the West said were illegal. According to Russia-installed election officials, 93% of the ballots cast in the Zaporizhzhia region supported annexation, as did 87% in the Kherson region, 98% in the Luhansk region and 99% in Donetsk. 
Ukraine said on Wednesday that Russian-staged votes in the four Ukrainian regions on becoming part of Russia were "null and worthless", and that Kyiv would press on with efforts to liberate Ukrainian territory occupied by Russian forces. 
This story has been sourced from a third party syndicated feed, agencies. Mid-day accepts no responsibility or liability for its dependability, trustworthiness, reliability and data of the text. Mid-day management/mid-day.com reserves the sole right to alter, delete or remove (without notice) the content in its absolute discretion for any reason whatsoever