Boluarte while speaking in a late-night address on Friday, lamented the violence that has killed more than 40 people since December in Peru.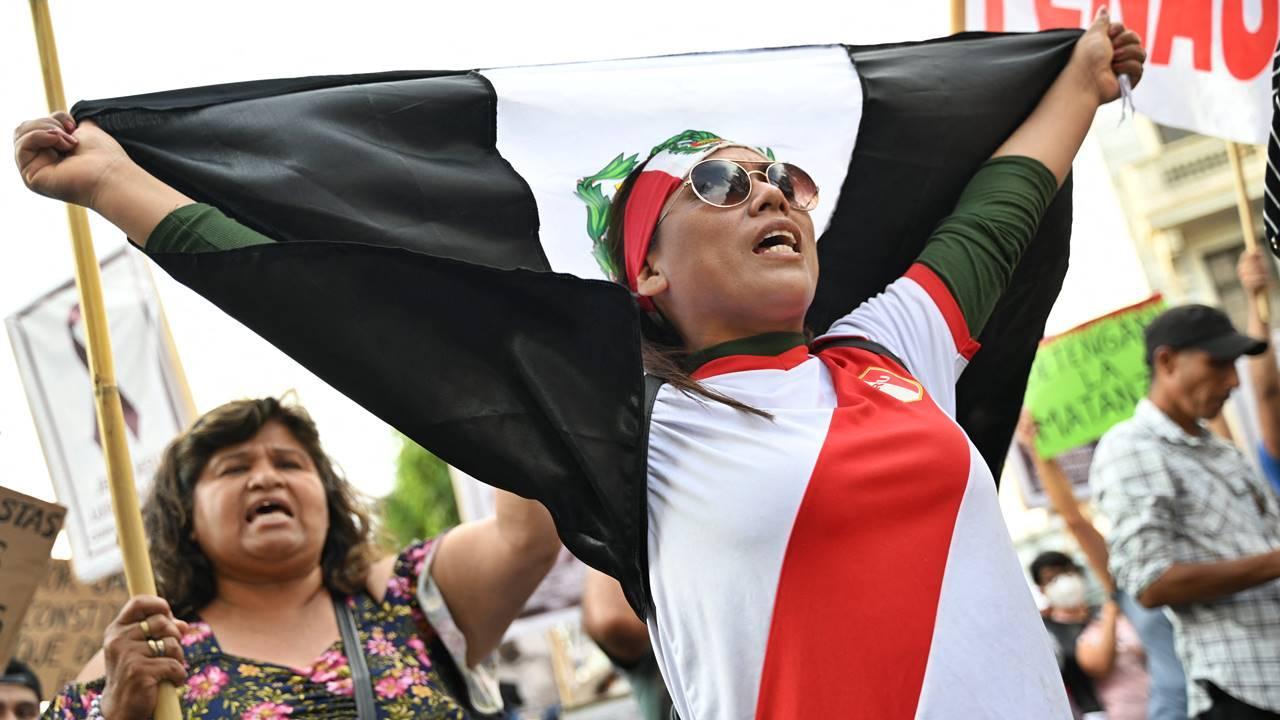 A woman waves a Peruvian flag painted in black for the victims of past protests during a protest against the government of Peruvian President Dina Boluarte in Lima on January 12, 2023. Photo by ERNESTO BENAVIDES / AFP
President of Peru Dina Boluarte apologized for the deaths reported in Peru due to protests across the country. She, however, said that she will not step down, Qatar-based TV Network Aljazeera reported.

Boluarte while speaking in a late-night address on Friday, lamented the violence that has killed more than 40 people since December in Peru. Most of those killed were protestors, killed during clashes with security forces.

A police officer was burnt alive after the vehicle he was in was torched during the violence.

Boluarte in her address on Friday said: "Some voices that have come from the violent and radical factions are asking for my resignation, provoking the population into chaos, disorder and destruction."

"I will not resign. My commitment is with Peru," she said.

"I cannot stop reiterating my regret for the deaths of Peruvians in these protests. I apologise for this situation," she added, as quoted by TV Network Aljazeera.

There have been protests in the South American nation since the country's former President Pedro Castillo was removed from office in December and detained after he tried to dissolve Congress illegally. Later he was replaced by Boluarte.
Also read: Peru declares state of emergency as ousted leader remains in prison

Boluarte while pointing out the difficulties Peru's neighbour Chile has had in drafting and approving a new constitution, rejected the possibility of calling a constitutional assembly as demanded by the protesters.

"That cannot happen overnight," she said.

The former president's supporters thus marched and barricaded streets across the country for weeks, demanding that new elections be held and for Boluarte to step down.

Peru's police earlier on Friday announced the arrest of Rocio Leandro, a union leader from the south-central Ayacucho region with supposed links to Maoist rebels, who is accused of financing the protests and recruiting demonstrators.

According to Police spokesman Oscar Arriola, Leandro's arrest proved that remnants of the Shining Path Maoist rebels were involved in the protests. Arriola claimed that Leandro was a former Shining Path member known as "Comrade Cusi".

According to authorities, protestors continued to mount roadblocks in ten of the country's 25 departments.

On Thursday, authorities closed air and rail links to Peru's famed Machu Picchu tourist site for the second day as protests flared up leading to clashes with police.

Several regional governors and professional associations, including lawyers and teachers, have joined the calls for Boluarte to resign, reported Aljazeera.
ADVERTISEMENT
This story has been sourced from a third party syndicated feed, agencies. Mid-day accepts no responsibility or liability for its dependability, trustworthiness, reliability and data of the text. Mid-day management/mid-day.com reserves the sole right to alter, delete or remove (without notice) the content in its absolute discretion for any reason whatsoever. Do you have a new year`s resolution for 2023?