She also told global leaders during a meeting here that the current headwinds and strained global supply chains have put a tremendous pressure on the global economy, marked by persistently high interest rates, northbound inflationary pressures and currency depreciation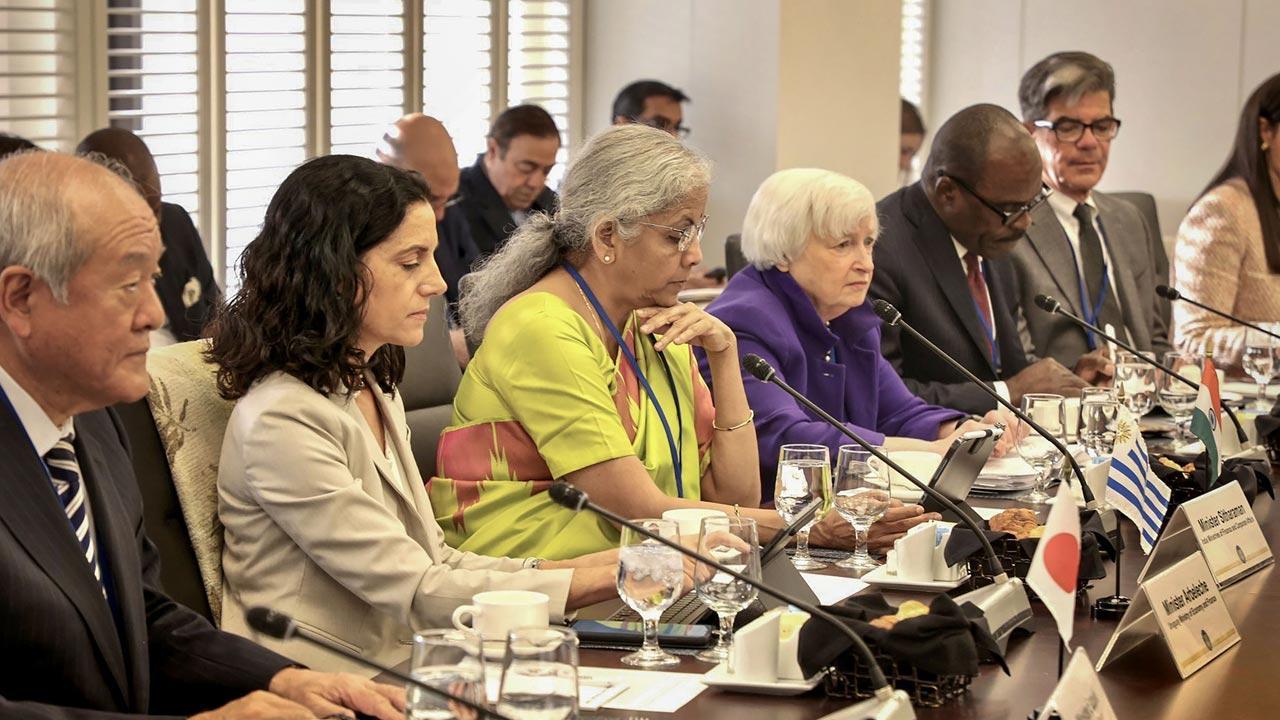 Union Finance Minister Nirmala Sitharaman with US Department of Treasury Secretary Janet Yellen and other dignitaries during a roundtable on 'Multilateral Development Bank Evolution: Building Shareholder Consensus', at World Bank headquarters, in Washington DC, USA, Wednesday. Pic/PTI
India remains concerned about the global economic outlook and geopolitical environment, despite this year's projected growth rate of over six per cent for the country's economy, Union Finance Minister Nirmala Sitharaman has said. She also told global leaders during a meeting here that the current headwinds and strained global supply chains have put a tremendous pressure on the global economy, marked by persistently high interest rates, northbound inflationary pressures and currency depreciation. The recent turbulence in the banking sector in some advanced economies has further increased the challenges to global economic recovery and increased fiscal pressures, especially on EMDEs and LDCs, she said at the 107th meeting of the Development Committee on Wednesday during the annual meeting of the International Monetary Fund (IMF) and the World Bank. Continued disruptions to global supply chains are still straining food, fuel and fertiliser supplies, and endangering food and energy security. This is disproportionately impacting the poor, the disadvantaged and the marginalised, particularly in the developing world, the minister observed.
"The need of the hour is a people centric, equity driven, consensus-based, and collective approach to face global developmental challenges," the Union minister said. These circumstances challenge multilateralism more than ever before, she told the 'Development Committee' and added that against the backdrop of the WBG's 'Evolution Road Map' discussion, "we encourage the World Bank Group (WBG) to evolve into a bigger and better bank, which is 'fit for purpose' to address the new world challenges". In her address, she called upon all shareholders and stakeholders to adopt an innovative, bold and robust approach to transform the WBG into an institution capable of effectively addressing present and future challenges.
ADVERTISEMENT
Also Read: Inflation kept at 6 per cent or below despite adverse circumstances: FM
"We look forward to a WBG that deploys innovative ways to mobilises resources, unleashes its full potential as a solutions and knowledge bank, and fully leverages its comparative advantage to build a better world." Sitharaman said. Sitharaman told the 'Development Committee' that despite challenges and global headwinds, the IMF in its Global Economic Outlook forecasts above six per cent economic growth rate for India, making it the only major economy growing at that rate. "With a manageable current account deficit and a growth rate highest among the major economies in the financial year 2023, the Indian economy has shown resilience in navigating the turbulence of the (Covid) pandemic as well as geopolitical spill-over," she said. The minister asserted that an optimistic business environment, robust industrial output and rapid vaccination coverage against Covid have provided a strong momentum to the Indian economy, as evidenced by an estimated GDP growth of 9.1 per cent for the previous financial year. India has moved on beyond the pandemic, staging a full recovery in FY22-23, ahead of many countries, and positioned itself in an upward pre-pandemic growth path, she said.
¿The unparalleled (anti-Covid) vaccination drive has not only ensured quick economic recovery but also ensured economic prospects for this year and beyond. Successful implementation of agriculture and labour reforms have provided the boost for medium-term growth,¿ the minister said. India's 'Long-Term Low-Carbon Development Strategy' envisages a transition to a low-carbon development pathway that entails costs towards deployment of new technologies, development of new infrastructure and other transaction costs, Sitharaman said. She added that the Union Budget has also pursued energy transition by encouraging domestic production of solar power equipment and batteries, in line with India's climate commitments, she said. Sitharaman said the WBG should continue to focus on its vision of a 'World Free of Poverty' as well as on the twin goals of 'Ending Extreme Poverty' and 'Promoting Shared Prosperity'.
"This said, we underscore the need to ensure that the twin goals are achieved in a manner that is inclusive so as to reach all persons, resilient so as to safeguard them against developmental shocks and sustainable from the social, economic and environmental angles so as to ensure the wellbeing of future generations," she said. "While we concur that climate change, pandemic and fragility are global challenges, it is also important to focus on other global development challenges such as food insecurity, water and energy access and affordability, digitalisation and debt sustainability," the minister said. Sitharaman said given the limited scale of available resources, it is, therefore, crucial to reach a consensus on the definitions of global development challenges and "develop selectivity criteria that is consistent with the WBG's mandate and its comparative advantage".
This story has been sourced from a third party syndicated feed, agencies. Mid-day accepts no responsibility or liability for its dependability, trustworthiness, reliability and data of the text. Mid-day management/mid-day.com reserves the sole right to alter, delete or remove (without notice) the content in its absolute discretion for any reason whatsoever