Residents who escaped to Ukrainian-held areas have told of people being forced to mark ballots in the referendums in streets by officials at gunpoint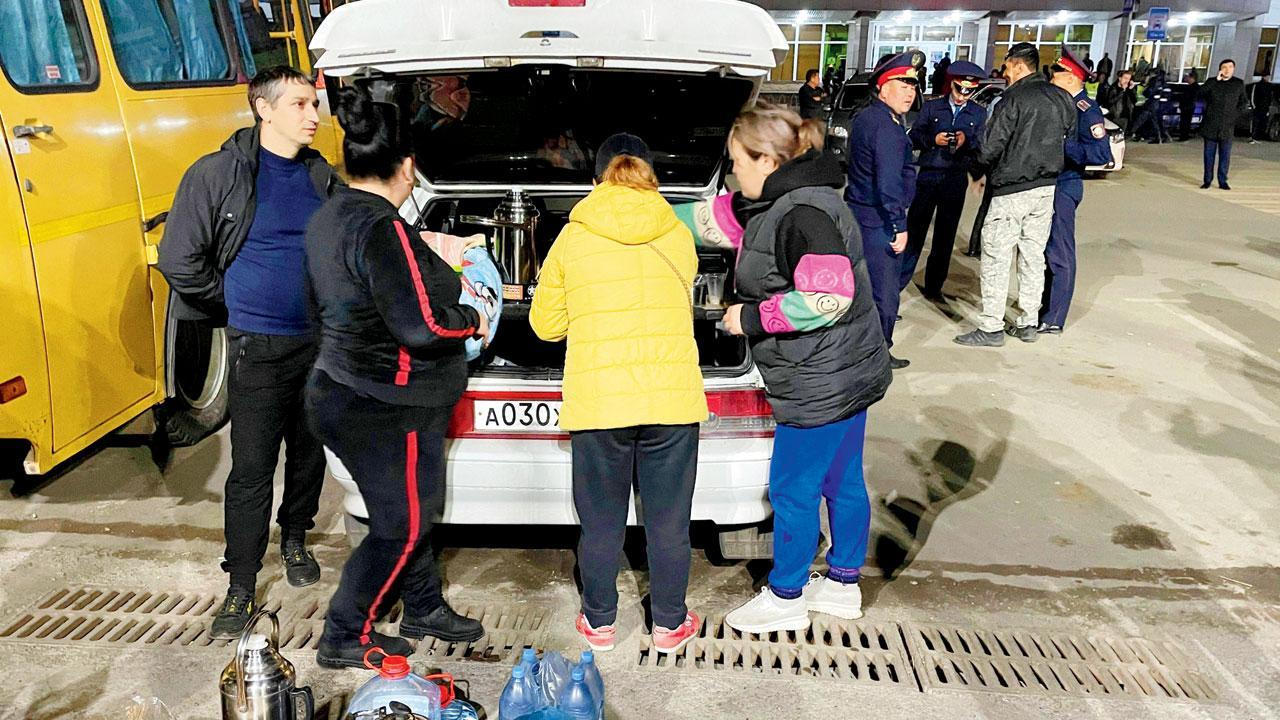 Volunteers with hot drinks and snacks for Russians who arrived in Kazakhstan in the city of Uralsk (Oral) Tuesday in the exodus of men abroad to avoid partial mobilisation. Pic/AFP
President Vladimir Putin will on Friday begin formally annexing 15% of Ukrainian territory, presiding at a Kremlin signing ceremony to add four Ukrainian regions to Russia. Kremlin spokesman Dmitry Peskov said the ceremony would take place at 1500 Moscow time (1200 GMT) on Friday "on agreements on the accession of new territories into the Russian Federation." Agreements will be signed "with all four territories that held referendums and made corresponding requests to the Russian side," Peskov said.
Ukraine and the West have rejected the hastily arranged votes, held seven months after Russia's invasion, as illegitimate shams. Following the signing ceremonies, Putin will meet Moscow-appointed administrators of the Ukrainian regions, the Kremlin said. 
Residents who escaped to Ukrainian-held areas in recent days have told of people being forced to mark ballots in the street by roving officials at gunpoint. Footage filmed during the exercise showed Russian-installed officials taking ballot boxes from house to house with armed men in tow. Russia says voting was voluntary, in line with international law, and that turnout was high. The referendums and notion of annexations has been rejected globally, as was Russia's 2014 takeover of Crimea from Ukraine.
Also Read: AIIMS bars security staff to have food, refreshment while on duty
Fourth leak found
Sweden's coastguard said on Thursday it had discovered a fourth gas leak on the damaged Nord Stream pipelines earlier this week, after ruptures first reported on Monday sent gas spewing into the Baltic Sea. The leak reported on Thursday is the second one found in Swedish waters, while two others were discovered in Danish waters. While neither pipeline was in use at the time of the suspected blasts, they were filled with gas that has been spewing out and bubbling to the surface of the Baltic Sea since Monday.
'Washington had full control'
Russia's foreign ministry on Thursday said ruptures to the Nord Stream pipelines that have caused gas leaks occurred in territory that is "fully under the control" of U.S. intelligence agencies. Foreign Ministry spokeswoman Maria Zakharova said that Washington had "full control" over the waters around Denmark and Sweden where the four leaks have been detected. "It happened in the trade and economic zones of Denmark and Sweden. There are NATO-centric countries," Zakharova said an interview with the Soloviev Live online broadcast on Thursday. "They are countries that are completed controlled by the U.S. intelligence services."
This story has been sourced from a third party syndicated feed, agencies. Mid-day accepts no responsibility or liability for its dependability, trustworthiness, reliability and data of the text. Mid-day management/mid-day.com reserves the sole right to alter, delete or remove (without notice) the content in its absolute discretion for any reason whatsoever