Prices for air tickets out of Moscow soared above $5,000 for one-way tickets to nearest foreign locations, with most air tickets sold out for coming days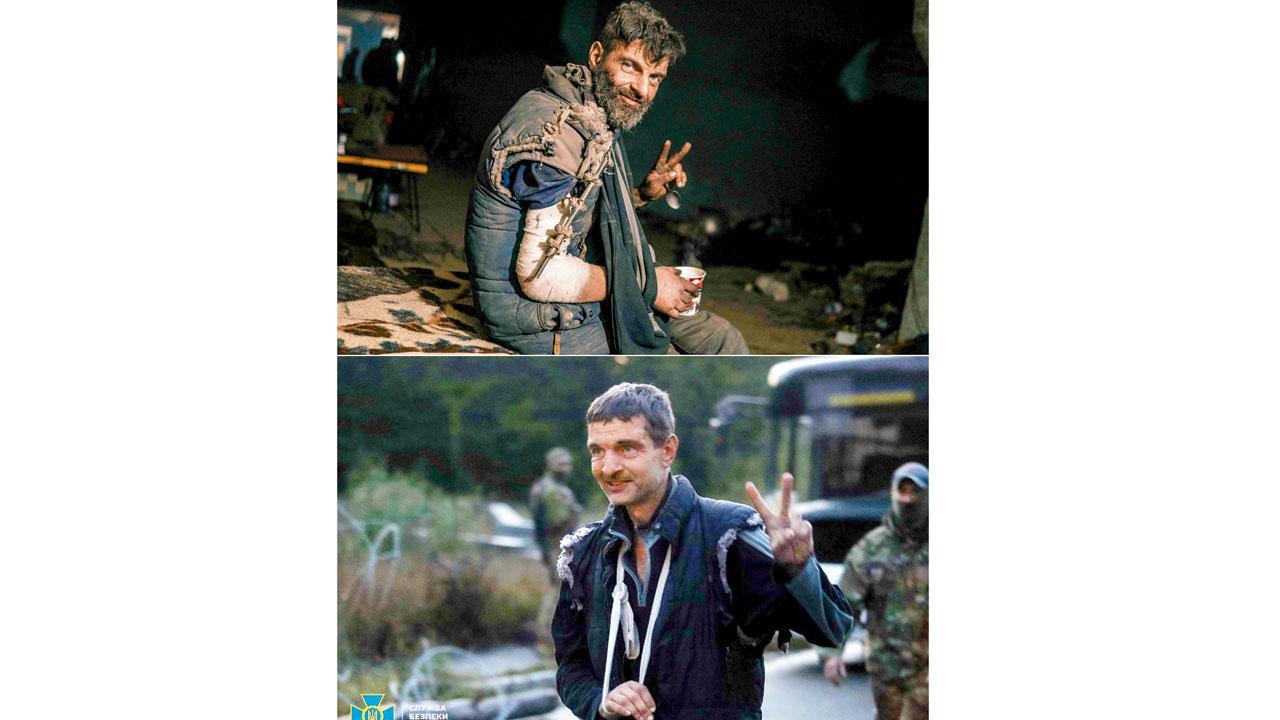 Ukrainian serviceman Mykhailo Dianov in the Azovstal iron and steel works factory in Mariupol (top) in May and below, on Thursday after release in a mass POW exchange. Pic/AFP
Some Russian men rushed for the exit on Thursday after President Vladimir Putin ordered partial mobilisation, with traffic at border crossings with Finland and Georgia surging and prices for air tickets from Moscow rocketing. Putin on Wednesday ordered Russia's first mobilisation since World War Two and backed a plan to annex swathes of Ukraine, warning the West he was not bluffing when he said he'd be ready to use nuclear weapons to defend Russia.
Prices for air tickets out of Moscow soared above $5,000 for one-way tickets to nearest foreign locations, with most air tickets sold out for coming days. Social media groups popped up with advice on how to get out of Russia while one news site in Russian gave a list of "where to run away right now from Russia."
Also Read: Court lifts hold on Mar-a-Lago records
"This is panic demand from people who are afraid they won't be able to leave the country later – people are buying tickets not caring where they fly to," a tourism industry  source said. In Moscow's first update on casualty numbers in Ukraine in almost six months, Defence Minister Sergei Shoigu said 5,937 Russian soldiers had been killed. Police detained over 1,300 people in Russia Wednesday at protests denouncing mobilisation, a rights group said. The Kremlin on Thursday said reports of an exodus of draft-age men from Russia after Putin's announcement of partial mobilisation were "exaggerated".
Kremlin spokesman Dmitry Peskov declined to deny reports that some protesters had been given draft papers, saying only, "This is not against the law." As part of an unexpected prisoner swap involving almost 300 people, including foreigners, under a deal which Turkey helped broker, 215 Ukrainians were released on Wednesday. In exchange, Ukraine sent back 55 Russians and pro-Moscow Ukrainians.
This story has been sourced from a third party syndicated feed, agencies. Mid-day accepts no responsibility or liability for its dependability, trustworthiness, reliability and data of the text. Mid-day management/mid-day.com reserves the sole right to alter, delete or remove (without notice) the content in its absolute discretion for any reason whatsoever CR`s Mumbai division has maintained efficient train operations with highest punctuality rate. Do you agree?