Join biggest strike in years over pay and conditions; schools, rail services shut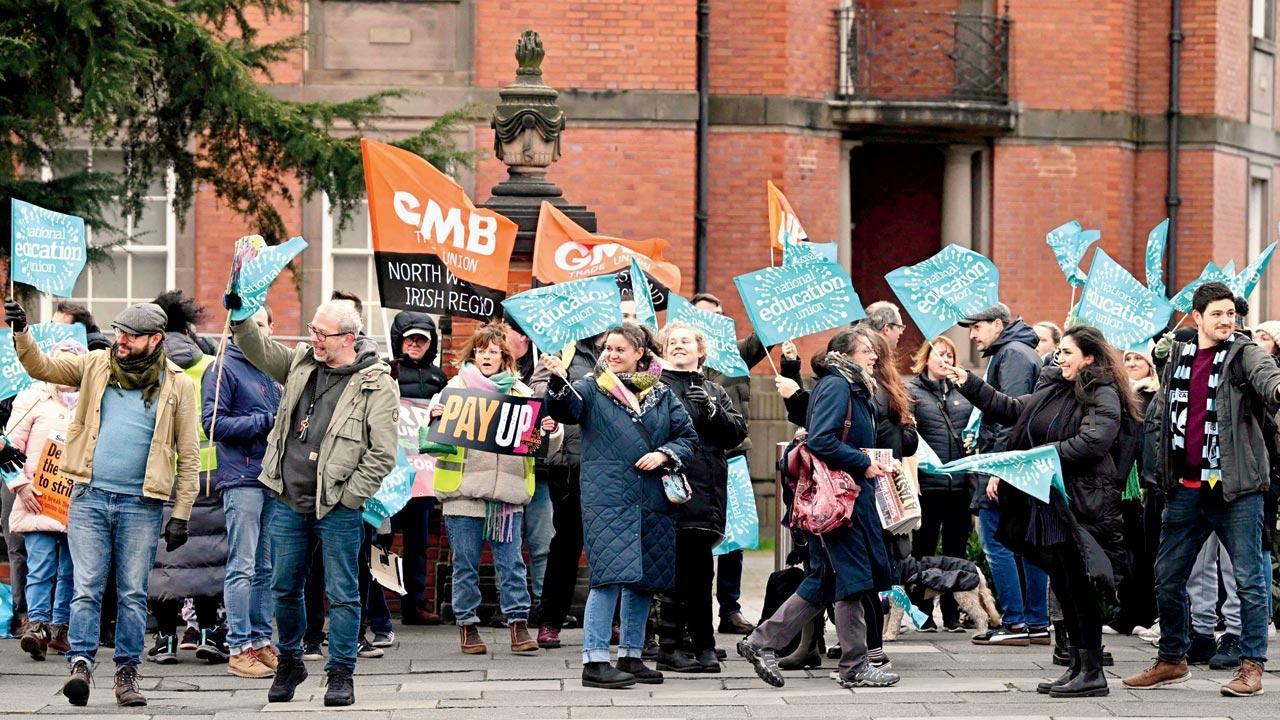 Teachers take part in a protest organised by trade unions outside Trafford Town Hall in Manchester Wednesday. Pic/AFP
Up to half a million British teachers, civil servants, train drivers and university lecturers walked out over pay and conditions on Wednesday in the largest coordinated strike action in Britain in a generation, causing widespread disruption.
The mass walkouts across the country shut schools, halted most rail services, and the military was put on standby to help with border checks.
 
About 3,00,000 teachers are expected to strike on Wednesday, the biggest group involved, as part of wider action by 5,00,000 people, the highest number for at least a decade.
Mary Bousted, General Secretary of National Education Union, told Reuters that teachers in her union felt they had no choice but to strike as declining pay meant high numbers were leaving the profession, making it harder for those that remain.
"There has been over the past 12 years a really catastrophic long term decline in their pay," she said. "None of the people behind me want to be on strike today but they are saying, very reluctantly, that enough is enough and that things have to change." With inflation running at more than 10% - the highest level in four decades - Britain has seen a wave of strikes in recent months across different sectors, including health and transport workers, Amazon warehouse employees and Royal Mail postal staff.
Also Read: NATO chief Jens Stoltenberg urges closer ties with Japan to defend democracy
Education minister Gillian Keegan stuck to the government's position on Wednesday. It has taken a hard line with public sector workers, telling them that giving in to demands for large wage increases will only fuel inflation. "What we cannot do is give inflation busting pay rises to one part of the workforce and make inflation worse for everybody. That's not an economically sensible thing to do," she told the BBC.
 
So far the economy has not taken a major hit from the industrial action with the cost of the strikes in the eight months to January estimated by consultancy firm the Centre for Economics and Business Research (CEBR) at about £1.7 billion ($2.09 billion), or about 0.1% of expected GDP. It put the estimated impact of the teachers' strikes at about £20 million a day.      
5,00,000
No. of people across professions in the strike
1.27 million French protest pension
An estimated 1.27 million people took to the streets of French cities, towns and villages Tuesday, according to the Interior Ministry, in new massive protests against President Emmanuel Macron's plans to raise the retirement age by two years. The turnout exceeded participation in previous strikes and protests against proposed pension system reform, in a significant victory for labor unions. Prime Minister Elisabeth Borne was forced to acknowledge that her government "hears" the "questions and doubts" raised by the reforms that would push the retirement age from 62 to 64.
This story has been sourced from a third party syndicated feed, agencies. Mid-day accepts no responsibility or liability for its dependability, trustworthiness, reliability and data of the text. Mid-day management/mid-day.com reserves the sole right to alter, delete or remove (without notice) the content in its absolute discretion for any reason whatsoever