Turkish President Recep Tayyip Erdogan on Wednesday admitted to "shortcomings" in earthquake response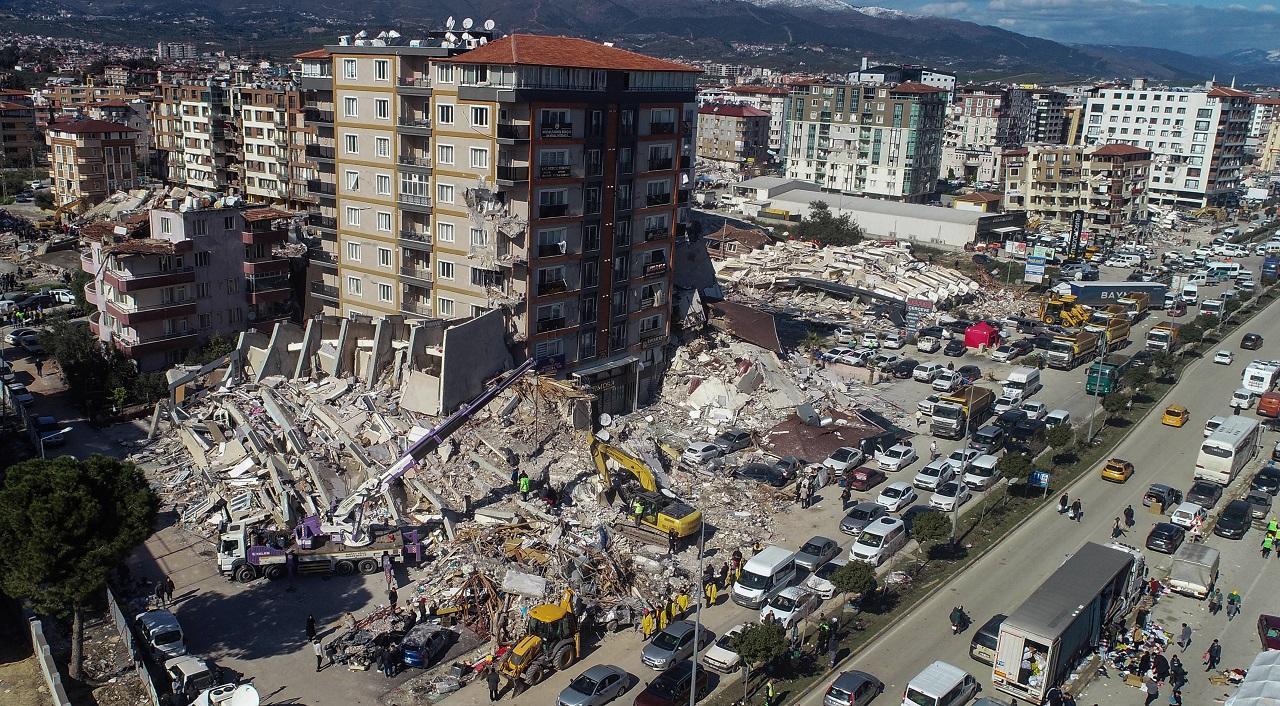 Aerial view shows collapsed buildings during ongoing rescue searches in Hatay, southeastern Turkey. Pic/AFP
The death toll from the earthquake that jolted Turkey and Syria is now at least 15,383 people. As many as 12,391 people have been killed and 62,914 others have been injured in Turkey after the earthquakes that rocked the country on Monday, Anadolu Agency reported citing Turkey's disaster management agency, AFAD. The total number of deaths has now reached 2,992 in Syria. As many as 1,730 people have died in rebel-held regions in the northwest, CNN reported citing White Helmets.
A total of 1,262 people have died in government-controlled areas of Syria, CNN reported citing Syrian state media. The total number of injured people in Syria has reached 5,108 in both rebel and government-controlled areas.
ADVERTISEMENT
Turkish President Recep Tayyip Erdogan on Wednesday admitted to "shortcomings" in earthquake response. He stressed that the weather conditions have added to the magnitude of the destruction caused by the earthquake. Erdogan made the remarks during his visit near the epicentre of Monday's earthquake.
"Of course, there are shortcomings. The conditions are obvious. It is not possible to be prepared for such a disaster. We will not leave any of our citizens uncared for," CNN quoted Turkish President Recep Tayyip Erdogan as saying.
Also Read: Turkey earthquake: NDRF begins operations in Gaziantep, bodies of two including 4-year-old found during rescue ops
Erdogan said, "No doubt, our job was not easy." He further said, "As of now, a total of 21,200 personnel, including soldiers, gendarmes, and police, are working in Hatay."
Turkish President Recep Tayyip Erdogan has said that the state has mobilized all its resources. He said that 6,444 buildings collapsed due to the two earthquakes of 7.7 and 7.6 magnitudes that jolted the nation on Monday.
"We have mobilized all our resources. The state is working with municipalities, especially AFAD (Disaster and Emergency Management Presidency), with all its means," Anadolu Agency quoted Erdogan as saying.
Turkey on Tuesday announced a three-month state of emergency in the quake-hit regions, as per the Anadolu Agency report. Turkey is observing seven days of mourning after the devastating quakes. As per the news report, over 13 million people have been affected by earthquakes.
As per the CNN report, the Syrian government has said that it has established more than 100 shelters equipped with aid supplies for those affected by the earthquake in government-controlled areas, including Aleppo, Hama, Homs, Tartus and Latakia.
This story has been sourced from a third party syndicated feed, agencies. Mid-day accepts no responsibility or liability for its dependability, trustworthiness, reliability and data of the text. Mid-day management/mid-day.com reserves the sole right to alter, delete or remove (without notice) the content in its absolute discretion for any reason whatsoever.