An NDRF spokesperson on Wednesday said, "the NDRF team-1 that is deployed for the search and rescue at Nurdagi in Gaziantep, in a 7-storey building, on Wednesday found two dead bodies, one of a 4-year-old child and the other of a 35-year-old person. The rescue and relief operations are underway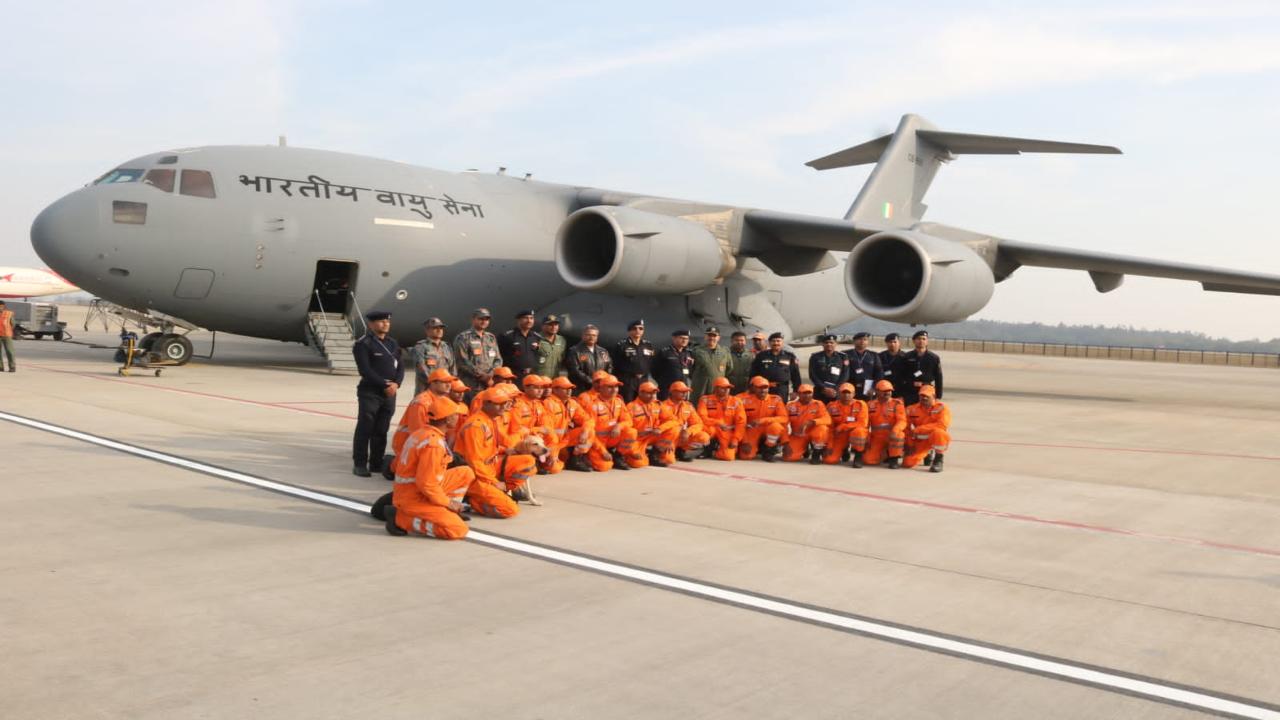 Pic/NDRF PRO
The Indian National Disaster Response Force (NDRF) teams from India that reached Turkey on Tuesday began a major rescue and relief operation in Gaziantep region of Turkey.
An NDRF spokesperson on Wednesday said, "the NDRF team-1 that is deployed for the search and rescue at Nurdagi in Gaziantep, in a 7-storey building, on Wednesday found two dead bodies, one of a 4-year-old child and the other of a 35-year-old person. The rescue and relief operations are underway."
Gaziantep was the epicentre of the earthquake that struck the country earlier this week.
Also read: Mumbai: 27 groups urge Police to stop 'right wing rally' aimed at inflaming communal tensions
Meanwhile, the NDRF on Wednesday sent a third team to Turkey.
"The third team of NDRF from Varanasi departed for Turkey from Ghaziabad Hinden Airport at 20:05 hrs in a C-17 Globemaster of the Indian Air Force. Before the departure of the aircraft, Director General NDRF Atul Karwal and Inspector General NDRF Narendra Singh Bundela met the NDRF rescuers," the NDRF spokesperson further said.
On Tuesday, two NDRF teams comprising 101 personnel had left for Turkey from Hinden Airbase in Ghaziabad to aid rescue operations after a 7.8 magnitude quake struck Turkey and killed thousands of people. The Turkey-bound teams include five women rescuers, a doctor and paramedics.
According to the NDRF, this is the first time that women officials have been deputed for an international rescue operation. The NDRF has been part of two similar international operations including the 2011 Japan disaster (earthquake, tsunami and nuclear meltdown) and the 2015 Nepal earthquake. The Prime Minister Narendra Modi-led Indian Government had on Monday decided to send the NDRF teams along with medical aid and relief material to Turkey. The Government of India has offered all possible assistance to Turkey.
A massive earthquake that struck Turkey on Monday has reportedly killed over 11,000 people so far and flattened thousands of buildings in Turkey and neighbouring Syria. It was centred in Turkey's southeastern province of Kahramanmaras and was felt as far away as Cairo.