Rest of India pacer Mohammed Siraj wants to convince his father Mohammed Ghouse to give up driving a auto rickshaw for a living and then buy a new home for his family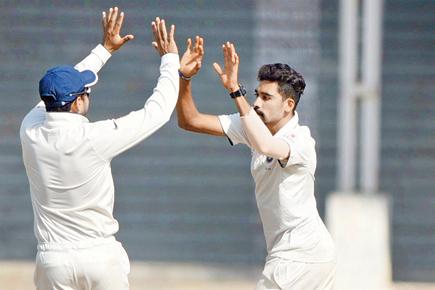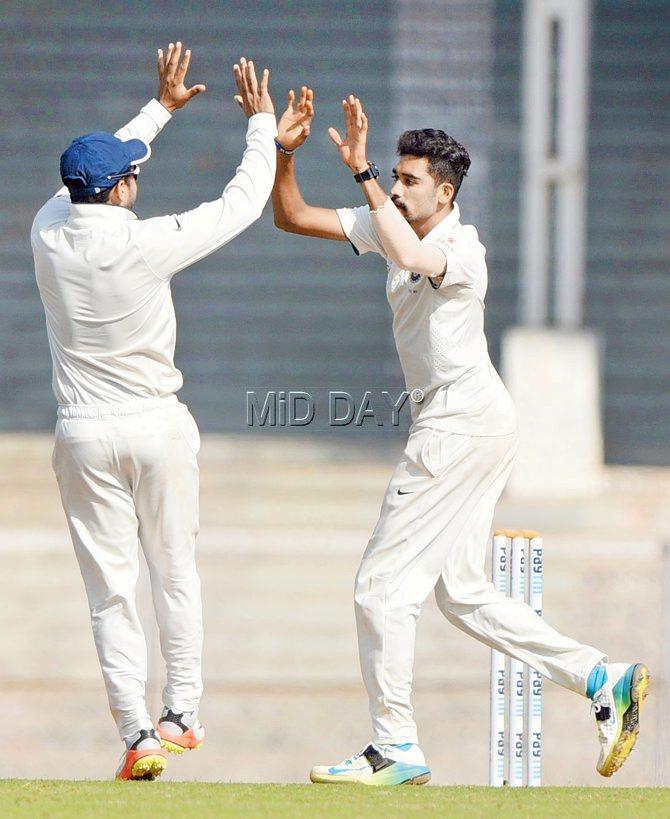 Rest of India's fast bowler Mohammed Siraj (right) celebrates after dismissing Gujarat batsman Manprit Juneja on the third day of the Irani Cup at the Brabourne Stadium yesterday. Pic/Suresh Karkera
Rest of India pacer Mohammed Siraj has two important objectives to accomplish once he returns home to Hyderabad after the ongoing Irani Cup game against Gujarat.
Firstly, to convince his father Mohammed Ghouse to give up driving a auto rickshaw for a living and then buy a new home for his family.
41 Ranji wickets
The 22-year-old pacer, who played the solitary game against Services in the 2015-16 Ranji Trophy season, ended this Ranji season with 41 scalps in nine games, a performance which led to his Rest of India selection for the Irani Cup. Siraj was included in the playing XI when Mumbai's Shardul Thakur was ruled out due to an ankle injury.
Though Siraj failed to take a wicket for Rest in the first innings, he played a 31-ball 26 at No. 11. Before taking his first Irani Cup wicket - Dhruv Raval for 23, Siraj was unlucky to have a leg before wicket appeal turned down by umpire Abhijit Deshmukh when Raval was on five. Later, Karun Nair dropped the same batsman at first slip. Siraj ended with 2 for 39.
"My father has been driving his auto rickshaw for the last 30 years.
"I urged him to stop, but he did not pay heed to my request. I'm confident of convincing him now. He needs a good rest," Siraj told mid-day yesterday.
Siraj is waiting for his Ranji Trophy remuneration to buy a home. "I may purchase a small house. I have seen my parents struggle with financial problems for so many years. Now, I want them to enjoy a good life," he added. He is expecting to receive a payment for Rs 10 lakh approx for his representing Hyderabad over two seasons.
No mean batsman
Siraj, who stays at a rented house near Banjara Hills area in Hyderabad, started as a batsman before learning the tricks of the bowling trade. "Since I bowled well with the tennis ball, my friends urged me to play in a league tournament where I played for Charminar Cricket Club and performed well. When I played under-23 cricket for Hyderabad last year, our captain Arjun Yadav guided me on a few bowling aspects. I developed on my own," he said.