"He looked different compared to others who joined with him. Bhave sir [former Maharashtra skipper Surendra, head coach at the academy] told me, 'look after this boy, he is special'," Mahurkar added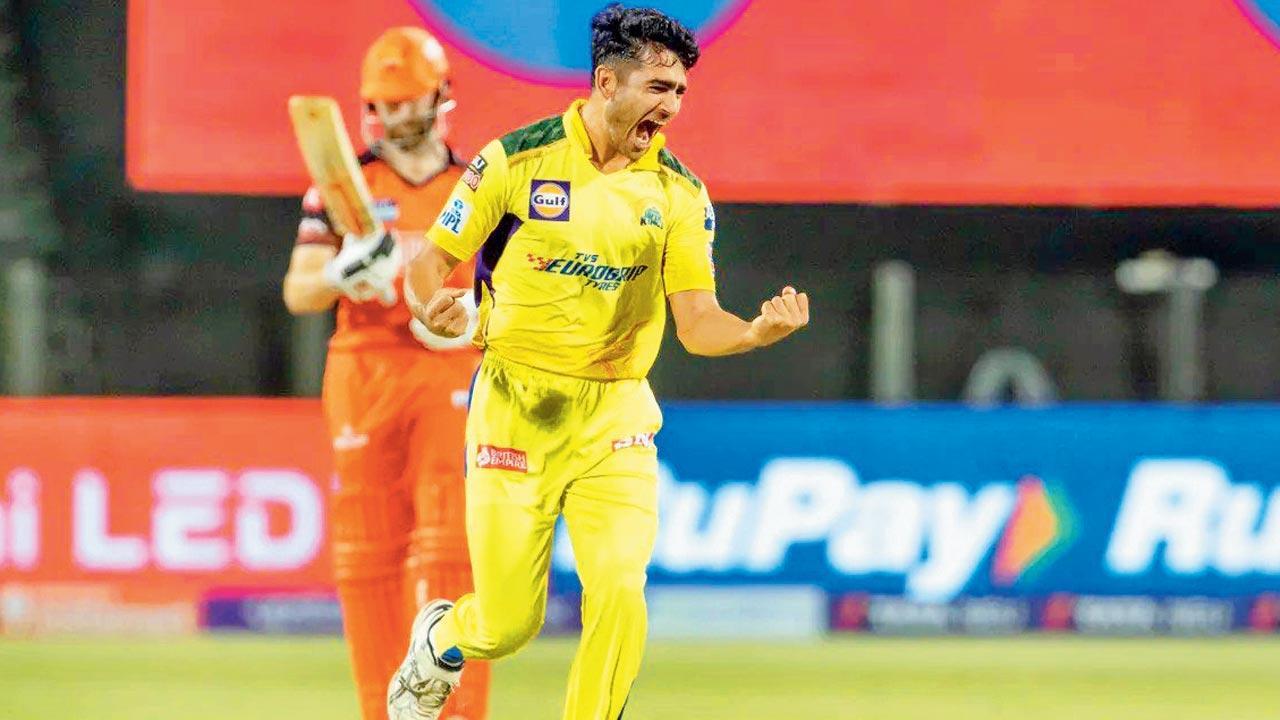 CSK's Mukesh Chaudhary
'Catch them young' is often the mantra in many sports, and cricket is no exception. However, with enough talent, correct guidance and right attitude, a player can reach a certain respectable level, even after starting late. Chennai Super Kings' left-arm pacer Mukesh Chaudhary is a good example of that.
In today's competitive world, playing your first cricket game of some recognition around 18 is quite late. But as a pace bowler, there are a few advantages with it too. "I remember it was around 2015-16 when Mukesh first came to our academy," recalled Rajesh Mahurkar, coach at the 22 Yards cricket academy in Pune, where Chaudhary trains. 
'He is special'
"He looked different compared to others who joined with him. Bhave sir [former Maharashtra skipper Surendra, head coach at the academy] told me, 'look after this boy, he is special'," Mahurkar added.
The advantage of starting so late, according to Mahurkar, was that Chaudhary's body was ready. "He already bowled at good pace. We had to work a bit on his action, his basics, changing a bit from side on to front on while bowling to left-hand batsmen, using the crease, that kind of stuff," Mahurkar said.
Once all those bases were covered, it was about learning the match-bowling. "Our academy doesn't play in the invitation league [selection tournament for the Maharashtra team]. So, after Chaudhary played a year for the Cadence team, Bhave sir called a friend, requesting them to play Mukesh at Deccan Gymkhana as their pacer," Mahurkar added.
Leader of the pack
A good showing for Deccan Gymkhana eventually opened doors for his Ranji Trophy debut in the 2017-18 season, with a game against Railways in Pune. Chaudhary has played 13 first-class games since then, and has 38 wickets. He has eventually graduated into the role of being the leader of the pack as far as Maharashtra's pace department is concerned. 
"I remember a game against Odisha, where they had to just bat out the last day, while we desperately needed a win. Chaudhary told me 'give me the ball' and took four wickets to win the game for us," remembers Maharashtra Ranji skipper Ankit Bawne. While being a first-class cricketer, Chaudhary was constantly auditioning as a net bowler in the IPL. "He went as a net bowler for the Mumbai Indians, Sunrisers Hyderabad, then last year to Dubai with Chennai Super Kings," said Mahurkar. "After the Chennai stint, he told me, 'Dhoni saw me, and looked impressed. Maybe I have a chance next season,'" Mahurkar added.
Proud parents
Although he hasn't quite taken the tournament by storm in his first season, Chaudhary has an impressive tally of 11 wickets from eight games, including a four-wicket haul in CSK's last game against Sunrisers Hyderabad in Pune on May 1. That game was witnessed by both his parents, for the first time watching their son play live. "He always loved to play cricket," said Mukesh's father Gopal, who works as a crusher on a construction site in Yavatmal district in Maharashtra.
It must not have been easy for Mukesh, studying in Jaipur till Class 8, and then in Pune since. He has spent most of his school life in a hostel, and away from parents. 
So what next for the 25-year-old pacer? "He bowls well with the new and semi-old ball. He now needs to develop skills to bowl well with the old ball. That's when the five-wicket hauls will start coming in," remarked Mahurkar.