India opener Rahul must be wondering what he has done to anger the cricketing Gods so much that, in the middle of a poor run in Test cricket, wretched fortune too has come calling at the most inopportune time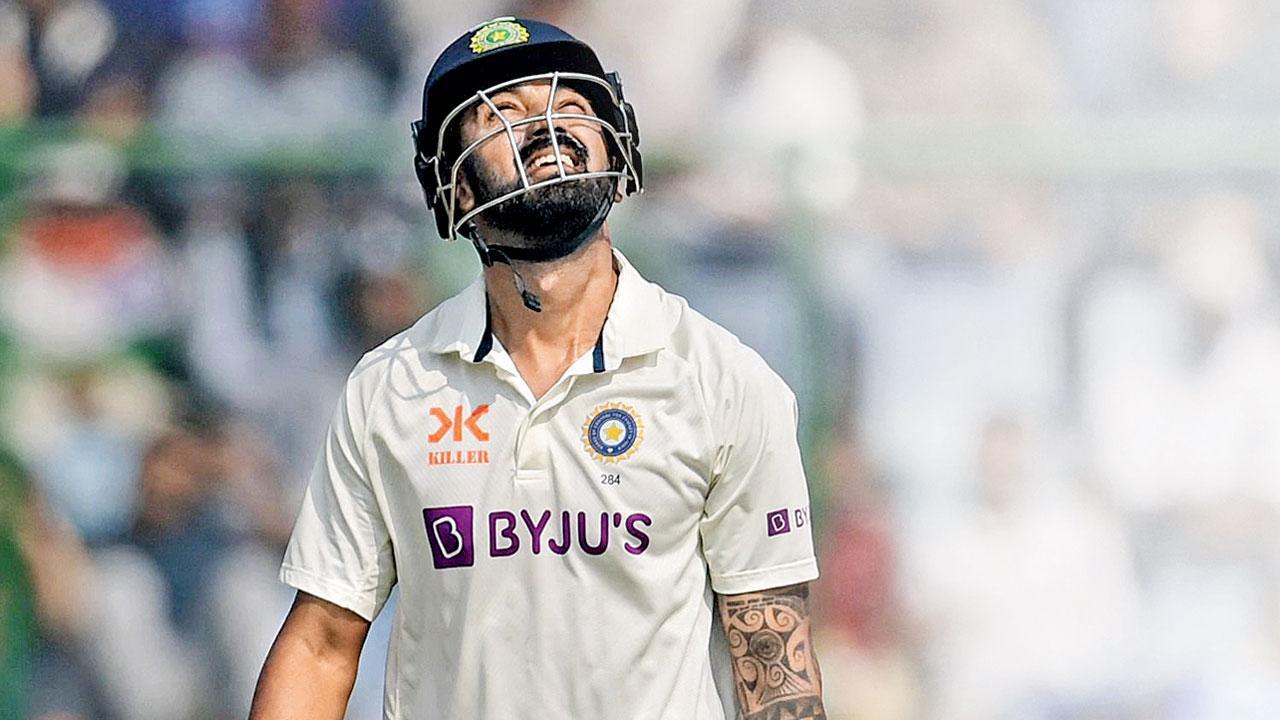 KL Rahul walks back after being dismissed for one v Australia on Sunday. Pic/Getty Images
It took KL Rahul an eternity to drag himself away from the batting crease on Sunday afternoon. During that period, he might have wondered what he had done to anger the cricketing Gods so much that, in the middle of a poor run in Test cricket, wretched fortune too had come calling at the most inopportune time.
India's chase of 115 for victory was exactly one over old when the beleaguered opener whipped Nathan Lyon's first ball of the innings firmly. The ball rebounded off Peter Handscomb at short-leg and lobbed up for wicketkeeper Alex Carey to complete the simplest of catches. It's just the kind of dismissal a batsman in poor form attracts.
ADVERTISEMENT
Lean patch
The old cliche of the temporariness of form and the permanence of class has convinced the Indian think-tank of Rohit Sharma and Rahul Dravid to persist with Rahul despite anaemic returns in Test cricket in the last 14 months. Since making 50 in the first innings of 2022, in Johannesburg on January 3, his scores read 8, 12, 10, 22, 23, 10, 2, 20, 17 and 1—a grand total of 125 runs in 10 innings in South Africa, Bangladesh and at home for the most unedifying average of 12.5.
That Shubman Gill, the other opener in the squad for the Australia series, brought up his maiden Test century in Bangladesh last December and has been in subliminal touch in subsequent white-ball internationals, has triggered heated debate on Rahul's continued presence in the playing XI, with former India players pointing out that the right-hander appears terribly low on confidence and doesn't look like he is any closer to turning the tide.
The show of faith in Rahul was confirmed when the national selectors picked an unchanged squad for the remaining two Tests, but by not naming him vice-captain, the selectors have left the door open for speculation on his immediate future. On Sunday, minutes after India wrapped up the second Test by six wickets, head coach Dravid reposed his confidence by saying, "I think he needs to trust his processes. This is just a phase, he has been one of our most successful overseas openers. He's got hundreds in South Africa and England, we'll continue to back him. I believe he has the quality and class to come out of this."
Also Read: KL Rahul retained for last two Tests; Unadkat recalled for ODIs
Tons in England, SA
The said hundreds both came in 2021—at Lord's and in Centurion, with India winning both Tests, as Rohit pointed out. "If you look at the couple of hundreds he got outside India, one of the best I have seen from KL, especially at Lord's, batting on that damp pitch, losing the toss, being put in… he put up a great show there," the captain remarked. "Of late, there has been criticism, but from us, it was clear that we want him to go out and play his game—do what he can do best, we have seen him do this over the years."
125
No of runs scored by KL Rahul in his last 10 Test innings