Virat Kohli & Co suffer comprehensive seven-wicket defeat in third Test at Newlands; visiting skipper blames batting failures for 1-2 series loss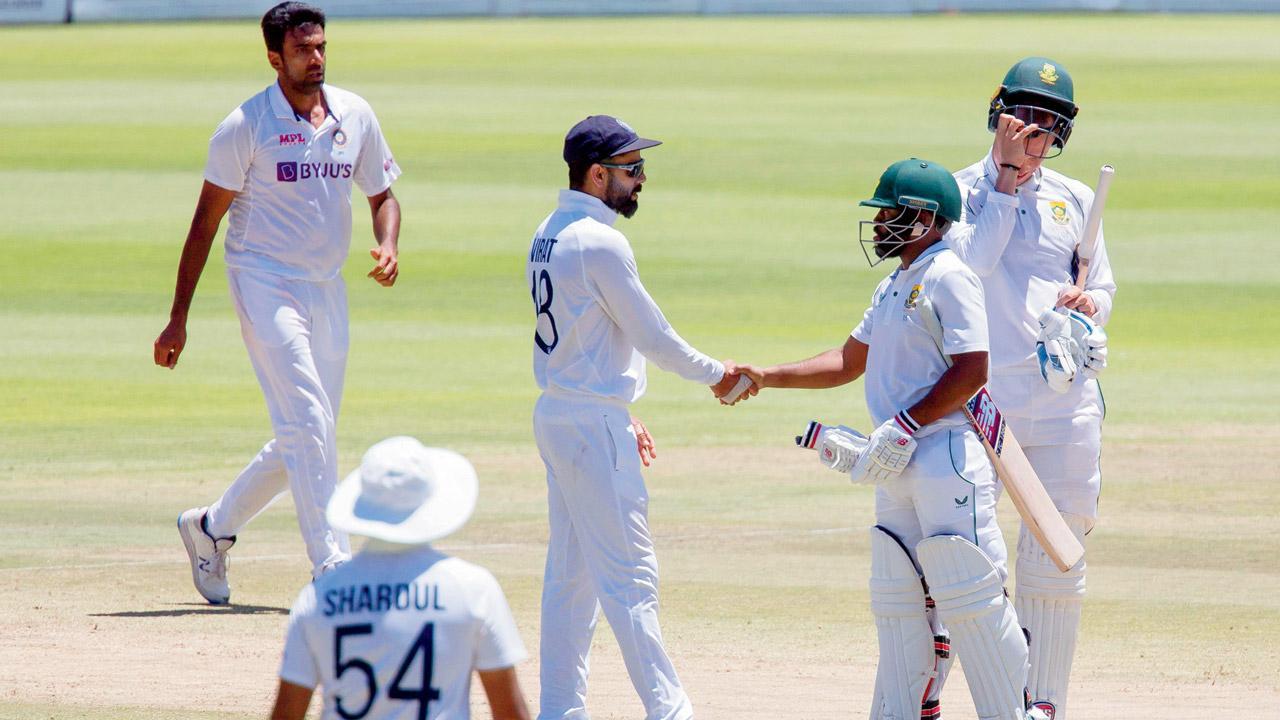 India captain Virat Kohli (centre) congratulates SA's Temba Bavuma at the completion of the third and final Test at Newlands yesterday. Pic/AP, PTI
There is "no running away" from India's batting collapses every now and then, captain Virat Kohli said on Friday after his team squandered a 1-0 lead and a golden opportunity to script a maiden Test series win in South Africa.
Besides the batters' failures, Kohli listed inconsistency, lack of application, lapse in concentration and their inability to seize the crunch moments as reasons for the team's loss in the three-match rubber. The hosts prevailed 2-1.
"The batting has to be looked into, no running away from that. Having collapses every now and then not a good thing," Kohli said at the post-match presentation ceremony after South Africa emerged winners by seven wickets in the series-deciding third Test here.
'Really disappointing'
"No excuses there. It's really disappointing for sure. We know how far we've come as a team. That people expect us to beat South Africa in South Africa is testimony to how far we've come. We haven't done it, that's the reality, accept it and come back as better cricketers."
India won the series-opener in Centurion by 113 runs but surprisingly caved in against an inexperienced South African team in the remaining two matches, with their batters letting them down on more than one occasion.
The target of 212 wasn't a tough ask and starting the day at 101 for two, young pretender Keegan Petersen (82, 113 balls) along with Rassie van Der Dussen (41 not out) added 54 runs for the third wicket to seal the match before Temba Bavuma (32 not out) helped in putting the final touches. Petersen walked away with both the player of the match as well as player of the series honours.
'No ifs and buts'
Kohli admitted that not being able to beat South Africa in South Africa is disappointing but he has never believed in 'what if' concepts. "We are certainly very disappointed as it's natural part of sport, specially for a team that's so driven and believe we can win anywhere in the world. Having done that, it's even more disappointing not to get the result we wanted. That's part of sport. Accept and move on."
But when pointed out that the two defeats doesn't really reflect the amount of fight India had put in, Kohli said: "That's part of sport. I can't say what would have happened if this would have happened or that would have happened. It's a fact that we lost 1-2, those balls didn't take edges and didn't come to slips..
"So ifs and buts have no place in sport as it's such a beautiful thing that you play one moment at a time and when that moment passes away, there's no point thinking about it as there are more and more moments that follow and you have to make sure that you stay in present and capitalise on all those moments individually."
Kohli backs Rahane and Pujara, but puts ball in selectors' court 
A crestfallen India captain Virat Kohli's defence of Cheteshwar Pujara and Ajinkya Rahane lacked conviction as he put the ball on the selection committee's court with regards to the future of the two out-of-form senior batters.
Pujara and Rahane failed in five out of six knocks and haven't made any tangible contribution throughout the year. "I cannot sit here and talk about what's gonna happen in the future. That's not for me to sit here and discuss. You probably have to speak to the selectors, what they have in mind. This is not my job," a jaded Kohli said in the virtual press conference.
"As I have said before, I will say again, we will continue to back Cheteshwar and Ajinkya because of the kind of players they are, what they have done in Test cricket for India over the years, playing crucial knock in the second innings [in Johannesburg] as well. These are kind of performances we recognise as a team," Kohli added.
2
No. of Test series Virat Kohli has lost in South Africa as Team India's captain
This story has been sourced from a third party syndicated feed, agencies. Mid-day accepts no responsibility or liability for its dependability, trustworthiness, reliability and data of the text. Mid-day management/mid-day.com reserves the sole right to alter, delete or remove (without notice) the content in its absolute discretion for any reason whatsoever