The onus will be on skipper Rohit Sharma, KL Rahul, Cheteshwar Pujara and Virat Kohli to set the tone for India against Aussie bowling attack in first Test starting today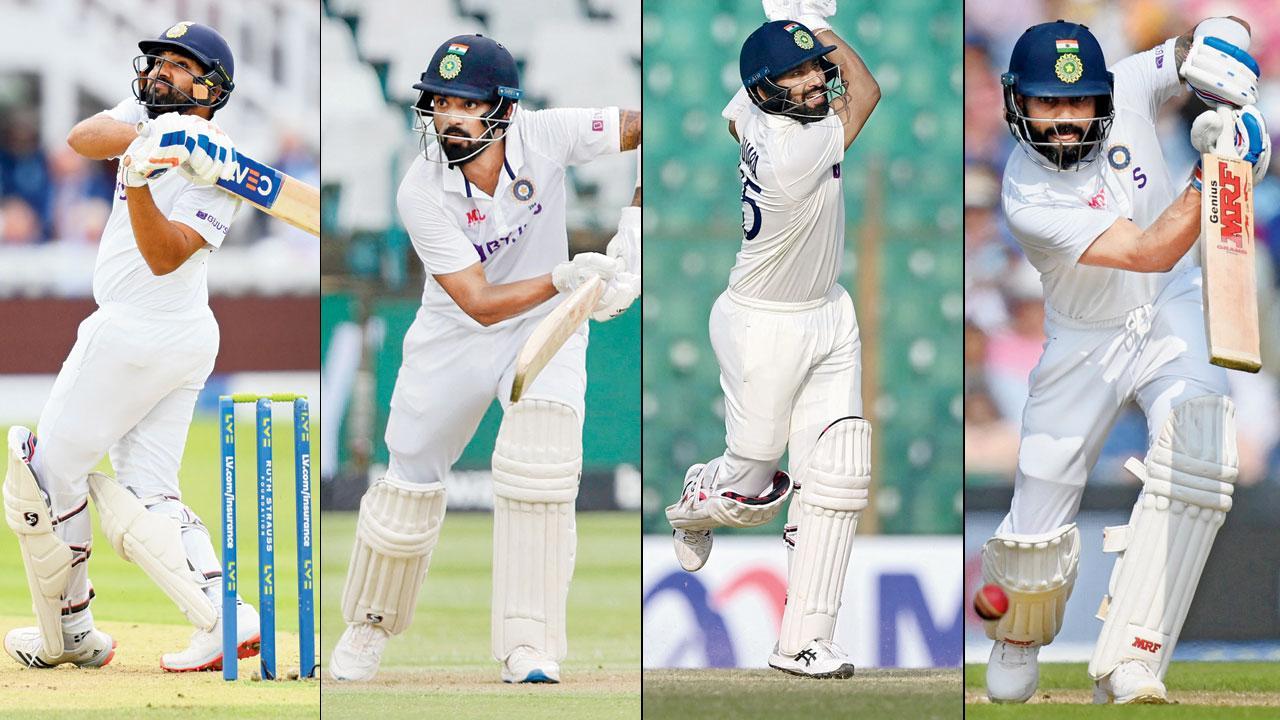 Rohit Sharma, KL Rahul, Cheteshwar Pujara and Virat Kohli. Pics/AFP
With skipper Pat Cummins and Steven Smith leading the way, at least half a dozen of the Australian contingent made a beeline to the centre of the Vidarbha Cricket Association Stadium on Wednesday, reserving their undivided attention for the craggy 22-yard strip swiftly uncovered for their perusal.  The unusual looking surface, with one horizontal strip closer to the batsman at both ends noticeably drier, has attracted plenty of debate, the general consensus being that the plethora of left-handers in the Australian top-seven—at least four, possibly five—will have their work cut out against India's left-arm spinners.
Pitch-scrutiny is a particular topic of interest every time Australia or England travel to India. Generally helped along by conspiracy theories from the visiting media, they assume an alarming dimension even before a ball's bowled, a tack fraught with potential for embarrassment as Australia found out in Ranchi six years back on a surface dismissed as a minefield, but which produced the only draw of the four-Test series.
ADVERTISEMENT
There is something to be said for making the most of home advantage—few international teams do not do it—though India will be wary of their own travails against the turning ball when the first of four Tests against Cummins's men gets underway today. In Rohit Sharma's maiden home Test against the Aussies in the city of his birth, India can ill afford to be below their twinkled-toed best, though their hopes have taken a bit of a beating through the absence (at least for this game) of Shreyas Iyer and (for the foreseeable future) of Rishabh Pant, two of their most felicitous players of spin.
The onus, therefore, will be more on Rohit, his deputy KL Rahul and the established duo of Cheteshwar Pujara and Virat Kohli than ever before. The lack of Test match familiarity in the middle-order—irrespective of whether Shubman Gill or Suryakumar Yadav joins debutant wicketkeeper KS Bharat—is offset by the all-round prowess of at least three of India's four specialist spinners, but it's the top four that must set the tone if India are to negate the pace threat of Cummins and Scott Boland, and the class of offie Nathan Lyon, easily the undisputed ace in the Australian spin pack.
Australia's top order is decidedly bereft of Test experience in India, with only David Warner (not very successfully) and Smith having played here before. They have been further incapacitated by the unavailability for this game of Cameron Green, as well as speed merchants Mitchell Starc and Josh Hazlewood. They did play Tests in Sri Lanka and Pakistan last year, but have won only one series in India in the last 52 years, poor returns for a side that prides itself on its competitiveness in all conditions. 
Also Read: Shubhman Gill or Suryakumar Yadav? Rohit Sharma says it will be horses for courses in Test matches too
Rohit: Have to play on whatever wickets are provided to us
Well before the start of the Border-Gavaskar Trophy series, the visiting Australians and their peers have been constantly talking about spin-friendly pitches that the Indians are expected to prepare for the four Tests, calling them doctored wickets. On Wednesday, India skipper Rohit Sharma dismissed all talk about pitches tailor-made for the Indian spinners. "Doctored wicket? I just feel that we have got to focus on the cricket that is going to be played over the next five days. Do not worry too much about the pitch," he said in the pre-game press conference.