Afghan leggie refuses to take any extra pressure as he gets ready to debut for Gujarat Titans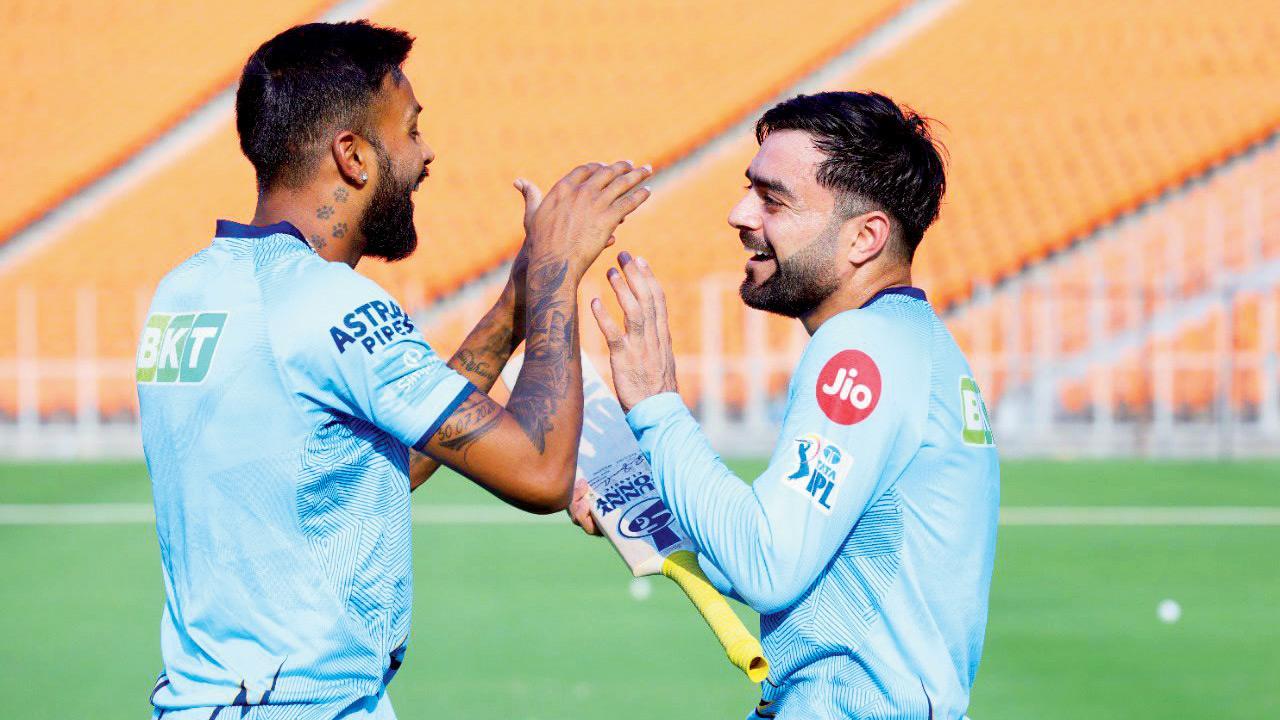 Rashid Khan (right) with captain Hardik Pandya during Gujarat Titans' practice session at Ahmedabad yesterday
After spending five years with Sunrisers Hyderabad, Afghanistan leggie Rashid Khan is all set to adorn a different outfit in this Indian Premier League. Arguably the best leg-spinner going around at the moment, Rashid will play a lead role with Gujarat Titans, who shelled out Rs 15 crore for him.
Having joined the team after fulfilling his national commitments [against Bangladesh], which forced him to leave the Pakistan Super League just before the final clash, Rashid is eager to get going from Game One in what will be the clash of IPL newbies—Gujarat Titans and Lucknow Super Giants—at the Wankhede Stadium on Monday.
In a chat with mid-day on Thursday, Rashid spoke about his approach, dealing with the pressure of performing, his batting evolution and goals for IPL-15.   
Edited excerpts from the interview:
What conversations have you had with captain Hardik Pandya and coach Ashish Nehra?
Nothing much. You know your game and you have to take responsibility. It is all about giving your 100 per cent and keeping a cool environment in the team. Get ready for the game and keeping the process same [is his mantra]. That will be my responsibility. 
A lot is riding on your shoulders as far as bowling is concerned. Does that put extra pressure on you?
I don't think like that; that I have to perform in each and every game. As long as I keep things simple, I know my skills and my ability. I don't over-think on what will happen, that puts extra pressure on myself. I just keep things simple, focus on my skills, my game, fitness and giving my 100 per cent effort. That is the only way I can help the team win.
How do you deal with pressure situations?
I just try to keep myself in a positive state of mind, think positively and trust my skills. At that time, it is important to focus on your skills, your mental state. It puts pressure on you if you think of result. Positive thinking helps in delivering the desired outcome. 
How do you plan to tackle the conditions in Mumbai and Pune?
I can't say anything at the moment because I don't know the pitches there, the conditions or the situations that I will be in. I will go with the same mindset whenever I have played at Wankhede in the past. Wherever you go, you see the pitch and try to understand what should you do. 
How did the evolution in your batting take place?
I always had the talent to bat. It was just about using it at the right time and having that self confidence that I can deliver on the big stage. I have got that confidence that I can perform with the bat too. 
This will be your sixth IPL. Any specific goals you would like to achieve?
The thing I never do is set a goal for myself. It puts extra pressure on you. If I don't achieve it, I keep thinking about it. So, I always prefer to keep things simple for myself and don't want to set any goals because when that is not achieved, it automatically hurts you as a professional. Whatever the situation, just deliver your best for the team. That's the best way to keep performing for your team. 
93
No. of wickets claimed by Rashid Khan in 76 IPL matches