Mumbai Indians skipper Rohit Sharma not worried about the weight of expectation despite five-time IPL champions underperforming in last two editions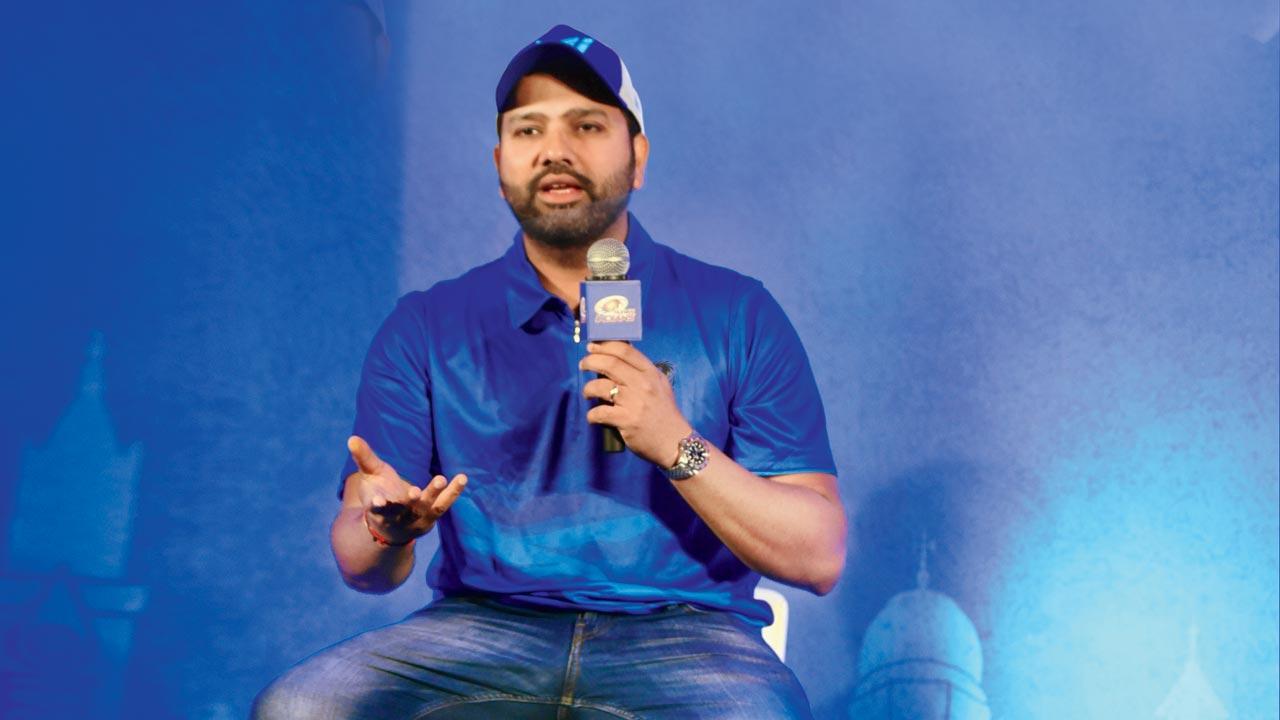 Rohit Sharma during a media interacton at a city hotel yesterday. Pic/Shadab Khan
Five-time Indian Premier League champions Mumbai Indians (MI) are known for bouncing back into contention for the top prize. They emerged winners in 2013, 2015, 2017, 2019 and 2020 in similar fashion. So, despite the last couple of seasons not going their way, skipper Rohit Sharma did not seem too worried about the pressure of expectation at the 2023 edition which begins on Friday. 
"Having played for so many years, it does not bother me and I'm not worried about what the people are expecting me to do. We know that we have to do our best and win the trophy," Rohit, who was MI's fourth highest run-getter with 268 runs under his belt last season, told mid-day at a press conference when asked how he intends to cope with the rising expectations.
ADVERTISEMENT
MI players prior to a training session at Wankhede recently. Pic/MI
"To keep thinking about it all the time is to put pressure on yourself. We try to keep the pressure aspect outside and try to have fun on the [match] day. I have learnt how to deal with that [pressure]. Besides, my role will be to keep that [pressure] away from the entire squad as well. Of course, we know we have to bat well, bowl well and field well, but to keep talking about that will not do any good. The guys are pretty relaxed and are not thinking too much about it," Rohit explained.
MI have a new coach in Mark Boucher this season and though the South African admitted that MI will miss the services of their bowling spearhead Jasprit Bumrah (MI's top wicket-taker with 15 scalps last season recently underwent back surgery), he is confident of top batter Suryakumar Yadav striking rich form. ICC's Word No. 1 T20I batter Suryakumar struggled during the recent ODI series against Australia where he witnessed three golden ducks, but Boucher has full faith in the attacking batter after a brief chat with him. "Surya is fine. You can't judge a guy's form based on how he's playing the first ball. Maybe, he got out three times, but I checked on him about how he's feeling, and he said, 'Coach, I am hitting the ball very well'. I said, 'Cool.' Hopefully, when he faces the first ball in the IPL, the whole crowd will cheer and he will be back in business. He's a great player and probably the best T20 player in the world for the moment," said Boucher.
Also read: 'Big miss': Rohit Sharma weighs in on Bumrah's replacement in IPL 2023
Immediately after the IPL, Rohit will be leading India against Australia in the World Test Championship final at The Oval on June 7. So would Rohit consider resting for a few IPL games? "Do you want to rest [he asked Rohit]? He is the captain. Hopefully, he gets into some good form and doesn't want to rest. We will adapt to whatever the situation is. If I can get the best out of him as a captain and as a player, if it means giving him some rest for that, then I'll do that. No problem," replied Boucher.