If Manchester City wins the Champions League title on Saturday, it will be mission complete for the Abu Dhabi-backed club. European soccer finally conquered. The last barrier to the game's traditional elite broken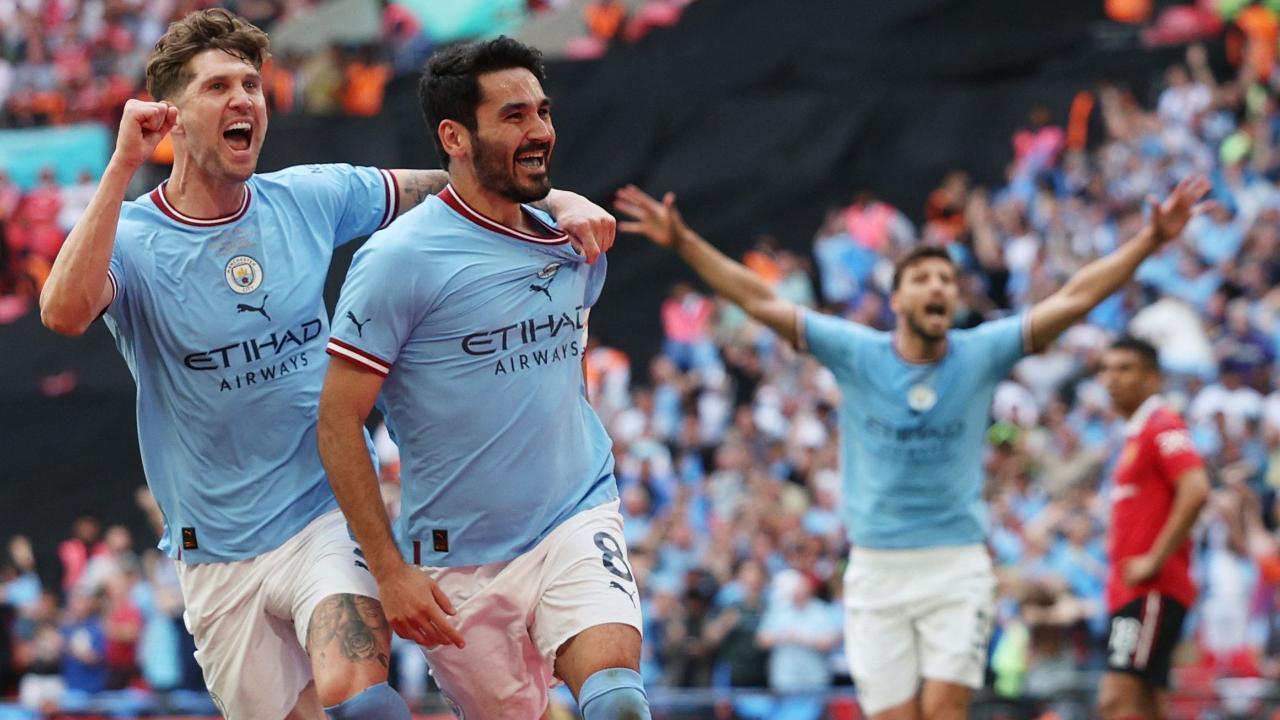 Man City, Inter Milan brace for Champions League final showdown (Pic: AFP)
If Manchester City wins the Champions League title on Saturday, it will be mission complete for the Abu Dhabi-backed club. European soccer finally conquered. The last barrier to the game's traditional elite broken.
To City, the Champions League trophy represents more than just the silverware on offer if it can beat Inter Milan in Istanbul's Ataturk Olimpiyat Stadium. It would be a statement to the long-standing powerhouses of soccer that the team once dismissed by former Manchester United manager Alex Ferguson as noisy neighbors, has truly arrived.
ADVERTISEMENT
For all the success City has achieved over a dizzying 15-year period when it suddenly became one of the richest soccer teams in the world, the pinnacle of the European game has remained just out of reach.
Inter Milan - the third best team in Italy this season - will have to pull off one of the biggest upsets in recent Champions League history to stop City now.
The City fans who have been landing in Istanbul in recent days are here to party. There is a sense of expectation in the air that their time has finally come.
There has been a feeling among many of them that soccer's establishment has tried to hold them back.
UEFA's Financial Fair Play (FFP) regulations were designed to create financial stability in soccer by ensuring spending was balanced with earnings. But to many City fans - who routinely jeer the Champions League anthem before games - it has been viewed as a way to block its super rich owners from competing with the traditional elite like Madrid, Barcelona, Bayern, United and even Inter.
In 2014 City was fined USD 82 million and ordered to limit the size of its Champions League squad after breaching FFP rules. Qatar-backed Paris Saint-Germain received the same punishment.
Yet City went from strength to strength, amassing even more world class players like Kevin De Bruyne, Raheem Sterling and Riyad Mahrez - and hiring Guardiola.
Also Read: Champions League Final: Inter Milan stand in way of Man City's treble chance
City was banned from European competition for two years in 2020 for "serious breaches" of spending rules and failing to cooperate with investigators after the publication of leaked emails and documents, likely hacked, that allegedly showed attempts to cover up the source of the club's income.
City denied the charges and the ban was overturned by the Court of Arbitration for Sport.
In February of this year, however, it was hit with more than 100 charges of financial wrongdoing by the Premier League after a four-year investigation.
Again, City denies the charges, which, if proven, could lead to punishments as severe as a deduction of points or even expulsion from English soccer's top division.
While that would undoubtedly break City's dominance in England, the action by the league appears to have acted as a spur for what is shaping up to be its most successful season ever, with Guardiola's team going on an unstoppable run since the charges were made, which has led to a fifth title in six years.
European success remains the ultimate goal and after beating UEFA in the courts, triumph on the field is the final frontier to what could lead to a new era of Champions League dominance.
While City and PSG have been backed by the enormous spending power of their respective Abu Dhabi and Qatar owners, neither has managed to win European club soccer's biggest prize, with Madrid dominating in recent years.
But that has felt more like a mental barrier more than anything else for two clubs that have risen so fast to the top of the sport. For City, at least, a first win could be the catalyst for many more Champions League titles in the same way as its FA Cup triumph in 2011 paved the way for 15 more trophies in the following 12 years.
For Guardiola, too, it would break his own curious winless run in the competition.
He has not conquered Europe since 2011, when winning it for a second time with a Barcelona team that was inspired by Lionel Messi.
Since then he has repeatedly come up short with Bayern Munich and then City.
The question has been asked as to whether he could ever win it again without Messi.
In Erling Haaland, he may finally have found his new Messi, however, with the Norwegian striker scoring 52 goals in his debut season to fire City to the brink of a treble of trophies.
"The only thing they miss now is the Champions League, you can think and read between the words, and the lines, I have been coming here for a reason," Haaland said this week.
Guardiola has often sounded irritated by the suggestion that his legacy will be defined by whether or not he can win the Champions League with a City team that is filled with such fabulous talent.
His team has repeatedly blown it against opponents it was expected to beat - including losing in the final to Chelsea two years ago when Guardiola's decision not to play a holding midfielder was widely criticized.
Leading up to this final, there has been a serenity about the coach as he has spoken more freely about the need to finally succeed in Europe.
"We have to win the Champions... That's something you can't avoid," he said. 
(With AP inputs)