Members of Mumbai University's All India Inter-University champion hockey team gather from all over the world to celebrate a triumph that was unprecedented way back then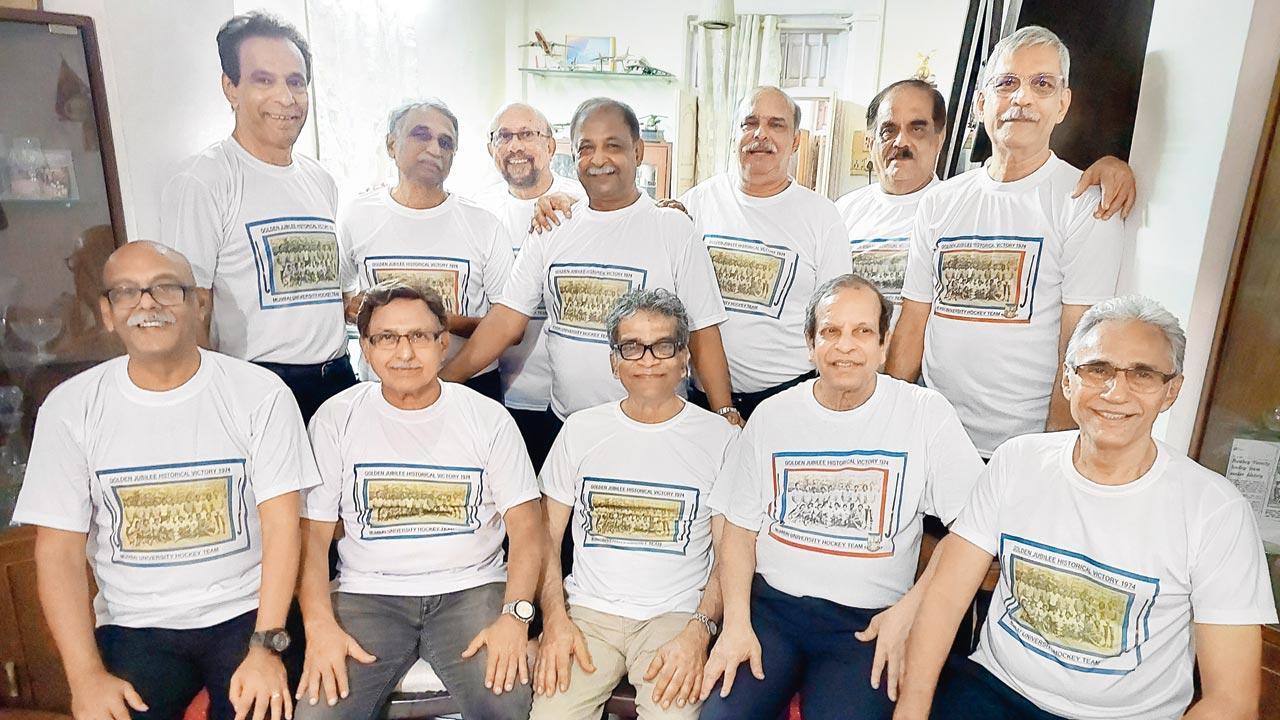 Members of the team gather to celebrate the golden jubilee year in Bandra on Sunday. (Standing L to R) Trevor Selwyn, Mayur Pandey, Edward Pinto, Clive Gracious, Edsel Andrade, Deepak Mirchandani and Vernon Lobo; (sitting L to R) Nasir Khan, Marius D'Lima, Brendan Paes, Hillary Gomes and Mukul Pandey. Pic/Ashwin Ferro
Mumbai hockey's glorious past shimmered on Sunday evening at Bandra's Bazaar Road, where members of the city outfit that won the 1973-74 All India Inter-University Hockey Championship assembled to celebrate the golden jubilee year of that maiden achievement. 
In attendance were goalkeepers Hillary Gomes and Brendan Paes, defenders Trevor Selwyn, Edward Pinto, Clive Gracious and Edsel Andrade, midfielders Deepak Mirchandani and Vernon Lobo and forwards Nasir Khan, Marius D'Lima, Mukul Pandey and Mayur Pandey. Trevor, Brendan and Hillary had specially flown down from their current homes in Australia, Ireland and Canada respectively for the event. 
ADVERTISEMENT
"Hyacinth Nazareth was our captain. Unfortunately, he lost his battle to cancer in 2013. He was like a commander, leading us out to battle," recalled centre-half Vernon. And a battle it sure was, considering Mumbai University's first match against hosts Raipur witnessed a mini riot as the 30,000-strong crowd began pelting stones and hurled expletives at the visiting team after centreforward Nasir gave Mumbai the lead. "With 13 minutes remaining, play had to be called off and the match resumed the following day without spectators, with full police protection," recalled reserve custodian Brendan, the younger brother of 1972 Munich Olympian Vece, the father of tennis champ, Leander.
Mumbai University's 1973 All India Inter-Varsity Hockey Championship-winning team led by late Hyacinth Nazareth (encircled)
In the four-team, inter-zonal round-robin league, Mumbai University (West Zone) beat Pandit Ravishaknar Shukla University (East) and Madurai University (South) by a similar 1-0 scoreline and drew 0-0 with Gurunanak Dev University (North) to finish champions with five points. 
"We had a month-long camp on grass at the Mumbai University ground in Marine Lines, but when we landed in Raipur, we found that the ground had a chhat surface made of clay. We didn't have the specific shoes to play on that surface and had to borrow them from the Madurai boys. But when we were up against them, they promptly took back their shoes. We still beat them with our ordinary sneakers," recollected Hillary. 
Last week, the team received a congratulatory letter from DT Shirke,  Vice-Chancellor, University of Mumbai.
However, these champions of yesteryear are pained by the current state of Mumbai hockey. "There used to be dozens of college hockey teams across Mumbai. Today, there aren't even a handful good college sides. Inter-school hockey is also struggling.
Also read: India needs U-10, U-12 national hockey tournaments: Marzban Patel
"It's sad that Mumbai, once a powerhouse in Indian hockey, is not even affiliated to the national body [Hockey India] and comes under Hockey Maharashtra [as per the one state, one vote regulation]. I hope Hockey Maharashtra can help uplift Mumbai hockey," said Mukul. His teammates could only nod in agreement on an otherwise memorable evening that witnessed a cake-cutting by special invitee, late skipper Hyacinth's wife, Wendy.