Couple Dabas and Jhangiani attended the Vijender Singh vs Artysh Lopsan boxing match atop the Majestic Pride Casino ship on Friday, where they also showcased a couple of Pro Panja matches that were well received by the audience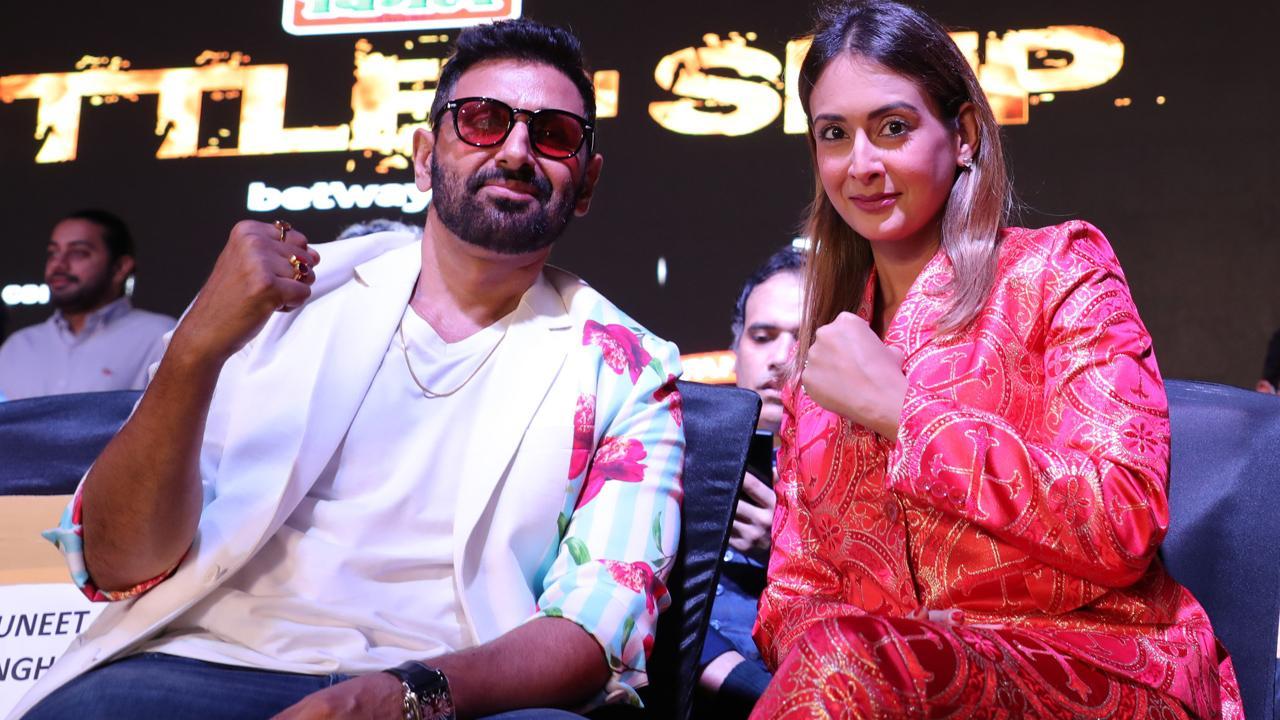 Bollywood actor couple Parvin Dabas and Preeti Jhangiani, promoters of the Pro Panja League, attend the Vijender Singh v Ayrtsh Lopsan fight in Panaji, Goa, on Friday
Bollywood actor couple Parvin Dabas and Preeti Jhangiani, who launched the Pro Panja League just before the Coronavirus-caused lockdown last year, to promote competition among the country's top-ranked arm-wrestlers, are all set to make it a franchise-based event. 
Dabas and Jhangiani attended the Vijender Singh vs Artysh Lopsan boxing match atop the Majestic Pride Casino ship on Friday, where they also showcased a couple of Pro Panja matches that were well received by the audience. "Arm-wrestling has a huge following not just in India but worldwide and going by the previous competitions we've had in the country, the response has been brilliant. There are hundreds of arm-wrestlers queuing up to join PPL. Our plan is to launch a six-team franchise-based league later this year," Dabas told mid-day.
Sunil Kumar, India's top-ranked arm-wrestler in the 100kg category, said that the sport has been played across the country for decades but the participants have never got their due till date. "Arm-wrestling competitions have previously been very common across North India but it's not professionally managed. At times, participants are not paid the money that is promised to them and they have no choice but to accept the situation. But since Pro Panja was launched last year, it has benefitted us both professionally as well as financially," said Kumar, who hails from Punjab.
India's 100 kg arm-wrestling national champion Sunil Kumar
Chetna Sharma, a software engineer with Assam Police, is the national champion in the 60 kg category. She too admitted that the sport previously yielded nothing. "Nutrition, training and equipment all cost money but we used to earn nothing from the sport. I work with the police department so I'm fine, but other arm-wrestlers are not so fortunate. Pro Panja League has helped us earn both name and respect," said Sharma. 
Dabas said that a part of the funds raised and earned from PPL will also be kept aside for the welfare of players. "I don't want to sound boastful but just like the Pro Kabaddi League turned India's kabaddi players into superstars, I believe PPL can do the same to our arm-wrestlers," Dabas concluded.