Asian Games 2023: While facing a tough challenge in the form of Vietnam's Thi Thu Nguyen, Roshibina emerged victorious with a final scoreline of 2-0 in favour of the Indian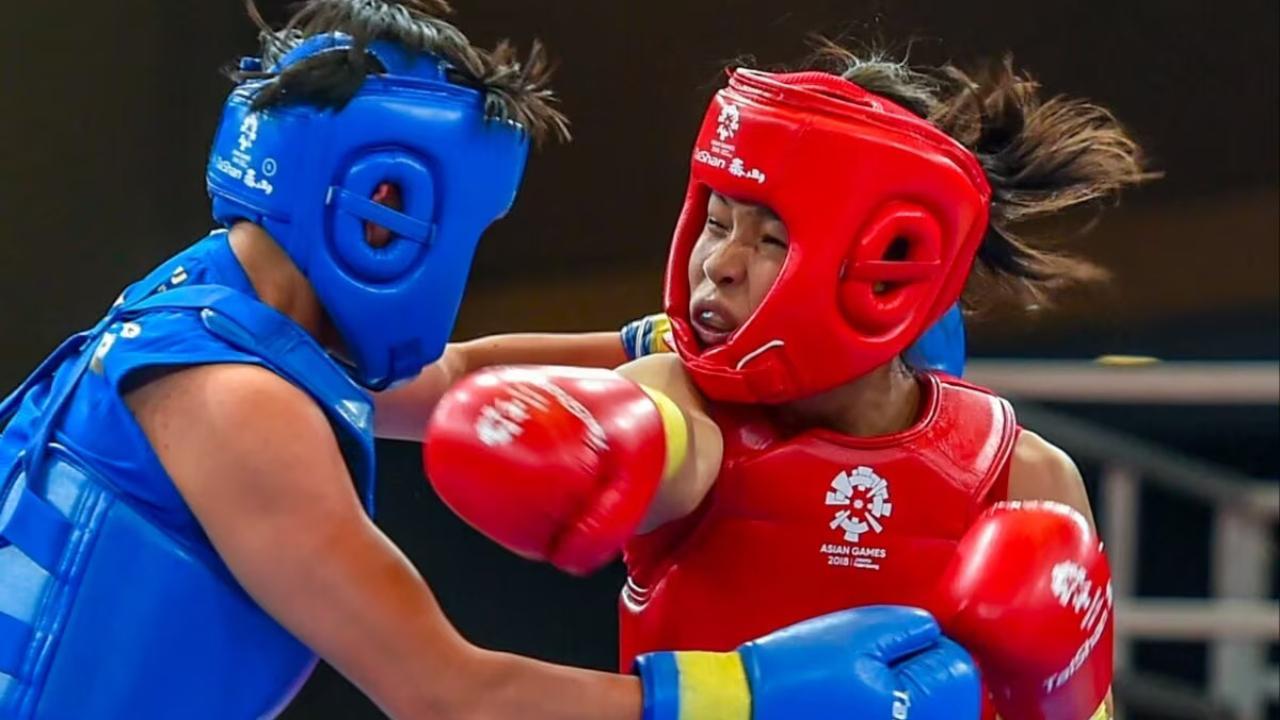 Roshibina Devi in action (Pic: @SAI_Media/X)
Listen to this article
Asian Games 2023: Roshibina Devi moves to final, assures India of silver
x
Roshibina Devi stormed into the Wushu 60kg finals
She guaranteed India another medal on Wednesday in the ongoing Asian Games
Roshibina emerged victorious with a final scoreline of 2-0 in her favour
Roshibina Devi lived up to the expectations of the Indian fans as she stormed into the Wushu 60kg finals and guaranteed India another medal on Wednesday in the ongoing Asian Games.
While facing a tough challenge in the form of Vietnam's Thi Thu Nguyen, Roshibina emerged victorious with a final scoreline of 2-0 in favour of the Indian.
ADVERTISEMENT
Roshibina will face now China's Wu Xiaowei in the final on Thursday. Hailing from Manipur, Roshibina has impressed with her performances. She stormed into the semi-final in the women's 60 Kg category on Monday, assuring the country of at least a bronze. She produced a dazzling performance in the quarterfinal, making short work of Kazakhstan's Aiman Karshyga.
Overall, it has been a bit disappointing start for India in Wushu. Suraj Yadav bowed out of the Men's 70kg quarter-final clash after suffering an injury midway through his clash against Afghanistan's Hotak Khalid on Tuesday.
Also Read: Nation comes first for Manipur's wushu star
A victory for Suraj would have ensured another medal for India but a single kick ended India's hopes for another medal.
Suraj in the blue corner lost the first round to Hotak as he edged past by 3-2. Running high on confidence, Hotak began the next round with a bang as he landed a brutal kick to Suraj's head, the Indian fell straight to the mat.
He required medical assistance to get up but that kick was enough for Hotak to advance into the semifinal.
Surya Bhanu also posted a win over Uzbekistan's Khaydarov 2-1 in the 1/8 final in the men's 60kg category to qualify for the next round. But in the quarters, he lost to South Korea's Kim Minsoo.
(With agency inputs)
"Exciting news! Mid-day is now on WhatsApp Channels

Subscribe today by clicking the link and stay updated with the latest news!"
Click here!