On Tuesday, India's wushu star from Manipur, Naorem Roshibina Devi, stormed into the semi-finals of the women's 60kg event, assuring herself of at least a bronze medal, even as her parents have been caught in the crossfire of the ongoing ethnic tensions back home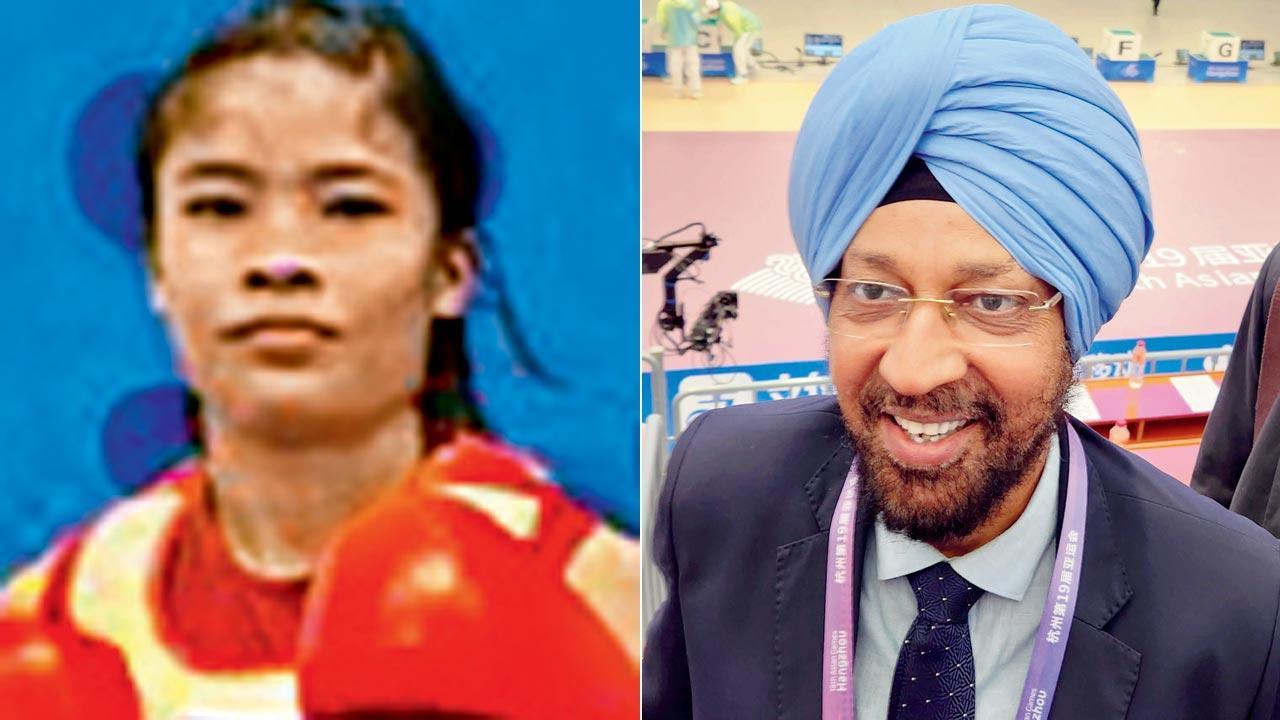 Naorem Roshibina Devi. Pic/ANI; (right) Wushu chief Bhupender Singh Bajwa. Pic/Ashwin Ferro
Listen to this article
Nation comes first for Manipur's wushu star
x
While your family back home is fighting to stay alive, how can someone so effortlessly go about their daily job hundreds of miles away from them, and furthermore go on to excel at it?
On Tuesday, India's wushu star from Manipur, Naorem Roshibina Devi, stormed into the semi-finals of the women's 60kg event, assuring herself of at least a bronze medal, even as her parents have been caught in the crossfire of the ongoing ethnic tensions back home.
ADVERTISEMENT
India's north-eastern state of Manipur has been witnessing violence across the last few months after clashes erupted between the Meitei people, a majority that live in Imphal valley, and the Kuki tribe, who reside in the surrounding hills, earlier this year. Consequently, hundreds have been killed in  
violence that began around May this year.
Also Read: On the verge of a historic medal
Roshibina Devi's family hails from Manipur's Bishnupur district, where incidents of violence are being reported every now and then. She has obviously been worried about their well-being and would have preferred to be by their side, but the country is her priority, according to Wushu Federation of India president Bhupender Singh Bajwa, who is also India's Chef de Mission here. "I spoke to Roshibina Devi a few minutes back and she is very confident of winning the gold medal for India on Thursday. She won the bronze medal at the last Asian Games [2018 in Jakarta] too. This time, she wants to better the colour of the medal. Our coaches have been constantly speaking to her, motivating her and trying to keep her at ease. She regularly calls her family back home too to find out about their well-being," Bajwa told mid-day on Tuesday. 
"We had a two-and-a-half-month-long camp at Patiala before these Games and Roshibina Devi remained at the camp and did not go home. This is the kind of dedication she has towards her country. Manipur is just a small part [state] of India. For Roshibina Devi, the nation comes first," Bajwa concluded. 
"Exciting news! Mid-day is now on WhatsApp Channels

Subscribe today by clicking the link and stay updated with the latest news!"
Click here!