Sana lost the opening three games before gathering herself together and producing a remarkable fight, to make it three games all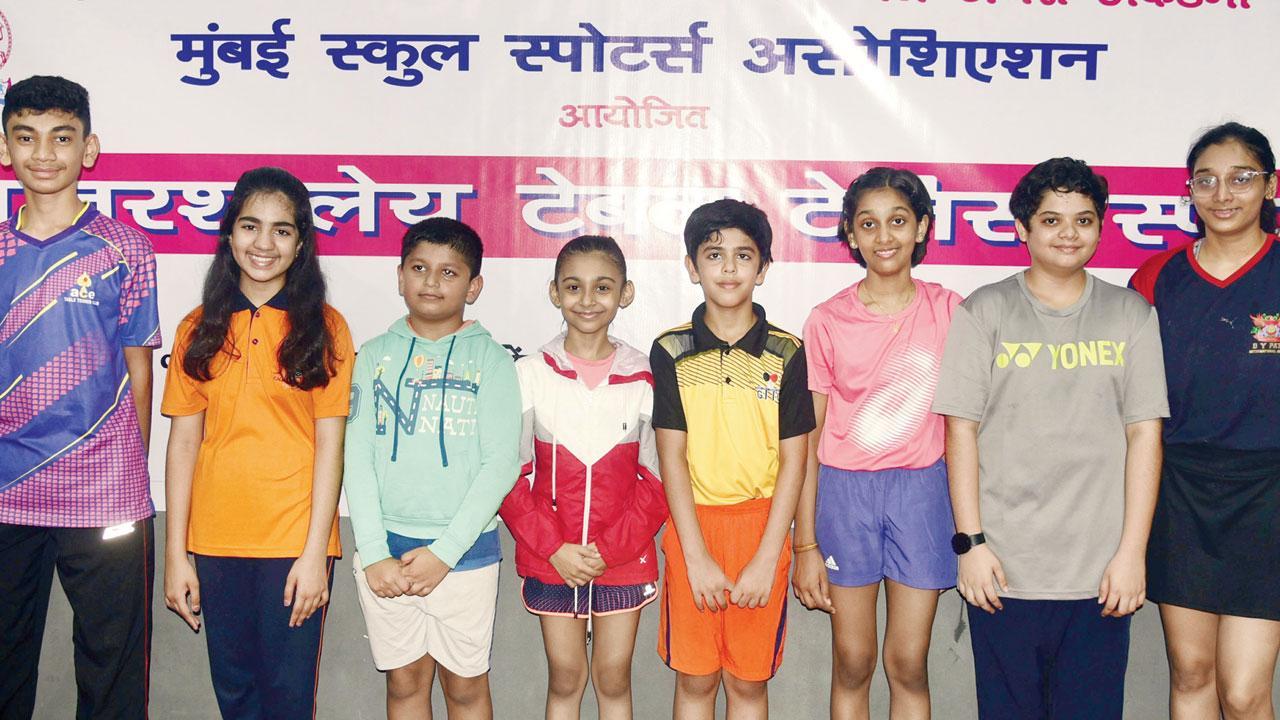 Dhruv Shah (second from right) and Keisha Jhavei (extreme right) with winners of all the other categories. Pic/Atul Kamble
High on confidence Dhruv Shah, 14, of Hiranandani International School (Powai) extended his impressive winning streak by clinching the boys' U-16 title in the MSSA inter-school table tennis tournament, organised by Spinart, at the Kamgar Krida Bhavan, Parel, on Saturday. 
Dhruv curbed the aspirations of Yuvraj Yadav of St Stanislaus (Bandra) with a 11-9, 11-8, 11-4, 11-4 win for his first U-16 title and second MSSA TT triumph. He had won the U-14 title last year. Last month, Dhruv had bagged the U-15 and U-17 titles at the JVPG-TSTTA District championship.
Also read: Vaishnavi Chattiar scores seven as Canossa thrash Podar 8-1
In the girls' U-16 final, Sana D'Souza, 15, of Carmel of St Joseph High School (Malad) went down fighting to Keisha Jhavei, 15, of DY Patil International School (Worli) 6-11, 7-11, 9-11, 12-10, 12, 11-9, 11-5, 5-11. Sana lost the opening three games before gathering herself together and producing a remarkable fight, to make it three games all. However, Keisha, despite the fight put up by her opponent, retained her composure to win Game 7 and clinch the title convincingly.
Other results
Girls' U-10: Vedika Jaiswal beat Palakh Jhawar 11-9, 15-13, 11-8. Girls' U-12: Ayaaana Beddingwala beat Myraa Sangelkar 8-11, 15-13, 11-8, 11-4. Girls' U-14: Divyanshi Bhowmick Vaishnavi Jaiswal 11-4, 11-6, 11-3, 11-5. Boys' U-10: Malhar Talwalkar beat Aakarshan Yadav 8-11, 11-6, 8-11, 11-9, 11-5. Boys' U-12: Moksh Shahri beat Zihaan Beddingwala 11-7, 6-11, 14-12, 6-11, 13-11. Boys' U-14: Moksh Prityush Bauva beat Ryan Hooda 11-6, 11-8, 11-1, 14-12.