In the girl's 200m, Aishwarya Borade of Gokuldham HS (Goregaon) won the silver in 29.70secs and the bronze went to K Keerthana of RN Podar School in 29.76secs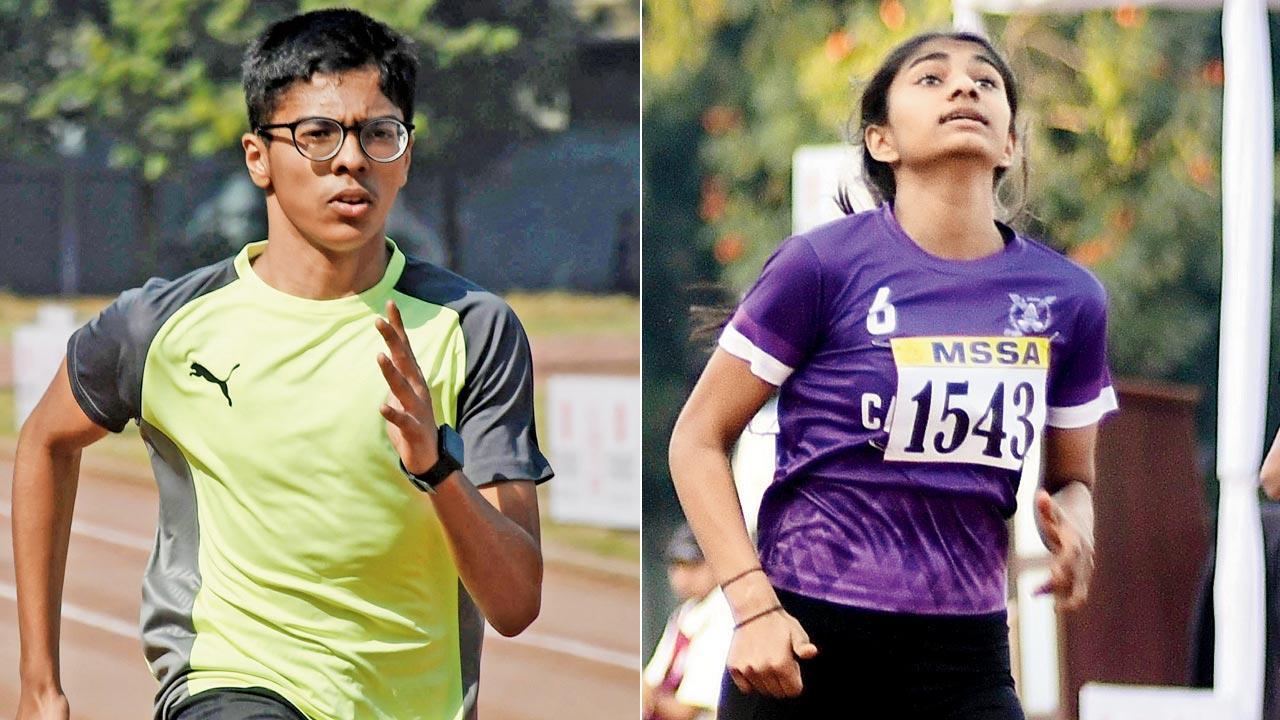 Adi Poojary of Pawar Public School, winner of the U-16 boys 200m, at the University Sports Pavilion. Pic/Ashish Raje; (right) Cathedral & John Connon's Riana Saraiya
Adi Poojary of Pawar Public School (Chandivali) and Riana Saraiya of The Cathedral & John Connon School (Fort), both 15, completed a sprint double, by also winning the 200 metres event in the under-16 category of the 128th MSSA inter-school athletic championship at the Mumbai University ground, Marine Lines, last week. 
Earlier, both Aadi and Riana had won the 100m dash on the opening day. The bespectacled Aadi comfortably crossed the line in 23.53secs to win his second gold medal. Himanshu Panchal of St Dominic Savio HS (Andheri) took silver in 24.47secs and the bronze went to Laxman Shetkar of Gokuldham HS (Goregaon) in 24.52secs. In contrast, Riana produced a solid performance to beat a strong challenge from Daphne Nadar of S John Universal School (Goregaon) to win the gold in 27.10secs. Daphne, who finished in 27.31secs, had to settle for silver, while Gargee Sawant of Sri Sri Ravishankar Vidya Mandir (Mulund), was third in 28.15secs.
In the under-14 category, Bhavik Bhanushali of Holy Family HS (Andheri) in a timing of 26.01secs and Saee Kambli Gokuldham HS (Goregaon) with a time of 29.46secs, won the boys' and girls' 200 metres gold medals. Aarush Powar of Pawar Public School (Kandivli) and Maahir Shah of SVKM JV Parekh International School (Vile Parle) won the silver and bronze respectively in the boys' 200m event. 
Also Read: Adi Poojary, Riana Saraiya emerge MSSA's fastest sprinters
In the girl's 200m, Aishwarya Borade of Gokuldham HS (Goregaon) won the silver in 29.70secs and the bronze went to K Keerthana of RN Podar School in 29.76secs.