Unprecedented scenes of police dragging Olympic and World Championships medallists shocked one and all when the wrestlers and their supporters breached the security cordon during their march towards the new Parliament building for the planned women's 'Mahapanchayat' on Sunday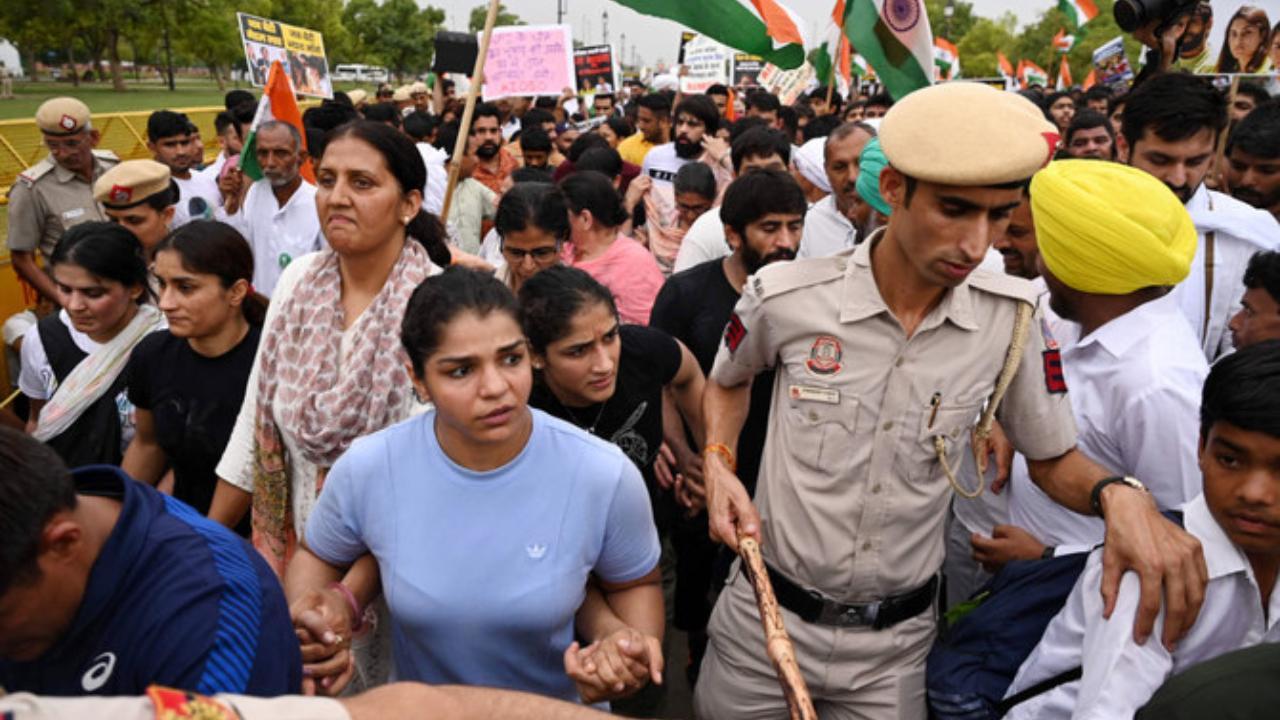 Protesting wrestlers in clash with the police (Pic: AFP)
Showing solidarity with the protesting wrestlers, former India midfielder Mehtab Hossain on Wednesday joined a protest march in Kolkata led by West Bengal Chief Minister Mamata Banerjee. The grapplers continue to demand the arrest of Wrestling Federation of India's (WFI) outgoing chief Brij Bhushan Sharan Singh for allegedly sexually harassing several women wrestlers, including a minor.
Unprecedented scenes of police dragging Olympic and World Championships medallists, including Sakshi Malik, Vinesh Phogat, Bajrang Punia and Sangeeta Phogat, shocked one and all when the wrestlers and their supporters breached the security cordon during their march towards the new Parliament building for the planned women's 'Mahapanchayat' on Sunday.
ADVERTISEMENT
"When the same athletes won you Olympic medals, the prime minister had the time to host them over tea and gave photo-ops. If the PM spared five minutes to listen to their pleas, this wrestling drama would not have reached this stage," the former East Bengal midfielder told PTI.
On Tuesday, the wrestlers reached Har ki Pauri in Haridwar, threatening to immerse their medals in the Ganges but were later stopped from doing so by Khap and farmer leaders.
"Remember, the whole world is watching us. It's bringing shame to the country, even the IOC and UWW have taken note of it. They are all international players who brought medals at the highest level. The country's image is dented," he added.
Also Read: Anurag Thakur urges wrestlers to not take any step that will undermine sports
Known as the 'Midfield General' in Kolkata Maidan, Mehtab hung up his boots in 2018-19 and joined the BJP, only to 'quit' within 24 hours in the build-up to the West Bengal 2021 elections. Mehtab was accompanied by about 20 former East Bengal players and officials who joined the protest rally.
"We're not coming under any party colour. We were there to support our brothers and sisters who have brought glory to the country. This is our way of expressing our solidarity with the wrestlers as we are not able to go there and support them physically. They are our brothers and sisters. As a fellow sportsperson, we are deeply touched by what they are going through. They have sacrificed their lives for the sport, to earn medals for the country. No common person can do such sacrifice. It's definitely a serious issue, are they are made to sit on dharna for so many days. They are putting at stake all their lives' earnings," he said.
Former East Bengal players who attended the rally included Syed Rahim Nabi, Alvito D'Cunha, Asim Biswas, Debjit Ghosh, Prasanta Banerjee, and Pintu Chowdhury among others.
So far, two FIRs had been lodged against Brij Bhushan including one in POCSO act, but it is now being claimed that the 'minor' who has filed a complaint against the WFI chief is actually not a minor. The oversight panel, which was formed by the government to probe the allegations, did not make its findings public but sources had claimed that the six-member committee did not find any incriminating evidence against Brij Bhushan.
Meanwhile, the WFI chief has denied all the charges and said that even if one allegation is proved, he will 'hang himself'. Brij Bhushan has alleged political conspiracy behind the protest.
(With PTI inputs)