Usha Stud Farm product, ridden by Antony Raj, races to glory at Mahalaxmi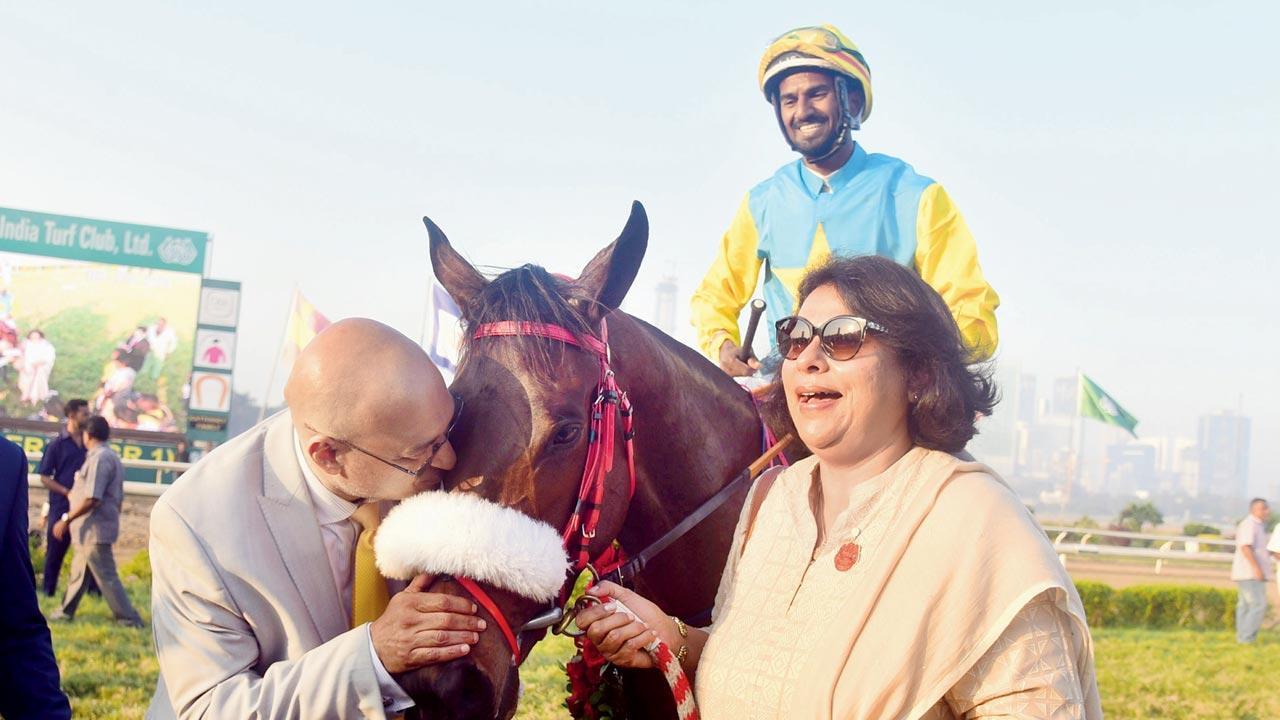 Indian Derby winner Mirra with jockey S Antony Raj, owner Ameeta Mehra (right) and trainer Arjun Mangalorkar (left)
Mirra ensured it was a special Sunday for racegoers by winning the Indian Derby (Gr 1) at the Mahalaxmi racetrack.
Owned and bred by Ameeta Mehra of the Usha stud farm, Mirra was trained by Bangalore-based Arjun Mangalorkar and ridden by Antony Raj S. This was the first Indian Derby victory for both, trainer and jockey while it was a record 15th Derby triumph for Usha Stud.
ADVERTISEMENT
Historic moment for farm 
The farm created history on Sunday when all the first four finishers in the Derby—Mirra, King's Ransom, Wall Street and Imperial Power—were their products. Interestingly, this is the golden jubilee year for the leading Indian stud farm, started in 1973 by Ameeta's father Major PK Mehra.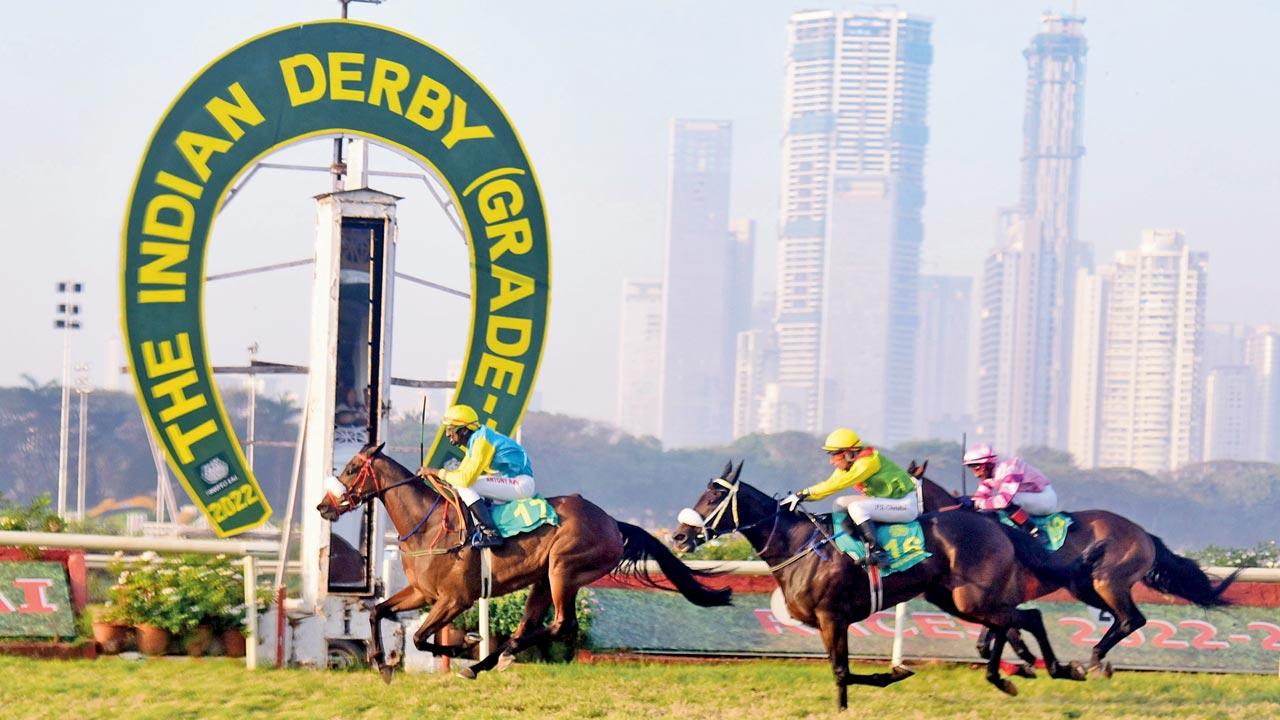 Jockey S Antony Raj guides Mirra across the finish to win the Indian Derby at the Mahalaxmi Racecourse yesterday. Pics/Shadab Khan
"My thoughts go out to my father," said an emotional Ameeta in a post-race interview. "I am very pleased with Mirra's victory for another reason. I had sensed she was special and named her after my guru, Mother Mirra of Pondicherry."
Jockey Antony Raj settled Mirra in mid-bunch as the starter flagged off the biggest derby field (19) in recent years. Hot favourite, King's Ransom (PS Chouhan up) chose to bide his time and raced near the rear end of the field, almost more than 20 lengths off the pace. Around the final turn, Chouhan skirted the field from the outside, and though King's Ransom put in a gallant effort to seriously threaten Mirra in the final furlong, it was clear King's Ransom had exhausted herself, and Mirra, goaded by Antony Raj, kicked on to inscribe her name in the Indian Derby record books.
Also read: Experts opinion on Indian Derby
"Antony Raj rode an absolutely perfect race," said trainer Mangalorkar. He also thanked owner/breeder Ameeta and her team at the farm.
Trainer enamoured
Interestingly, the trainer, after winning the Bangalore Oaks with Mirra, was so enamoured with Mirra that he decided to skip the Bangalore Derby, and requested Ameeta to give him permission to pitch Mirra for the Indian Derby at Mahalaxmi. Interestingly, Mirra is the daughter of Myrtlewood who had narrowly missed winning the Indian Derby—ironically, in the hands of jockey PS Chouhan—in 2016. Mirra made Myrtlewood proud by vicariously fulfilling her dream of winning the Indian Derby, again, ironically, when jockey PS Chouhan astride King's Ransom, had to play second fiddle to her.