Sania Mirza, 35, the biggest woman tennis player the country has ever seen, and co-owner of TPL side Bangalore Spartans, felt that the Indian tennis scene is going through a transition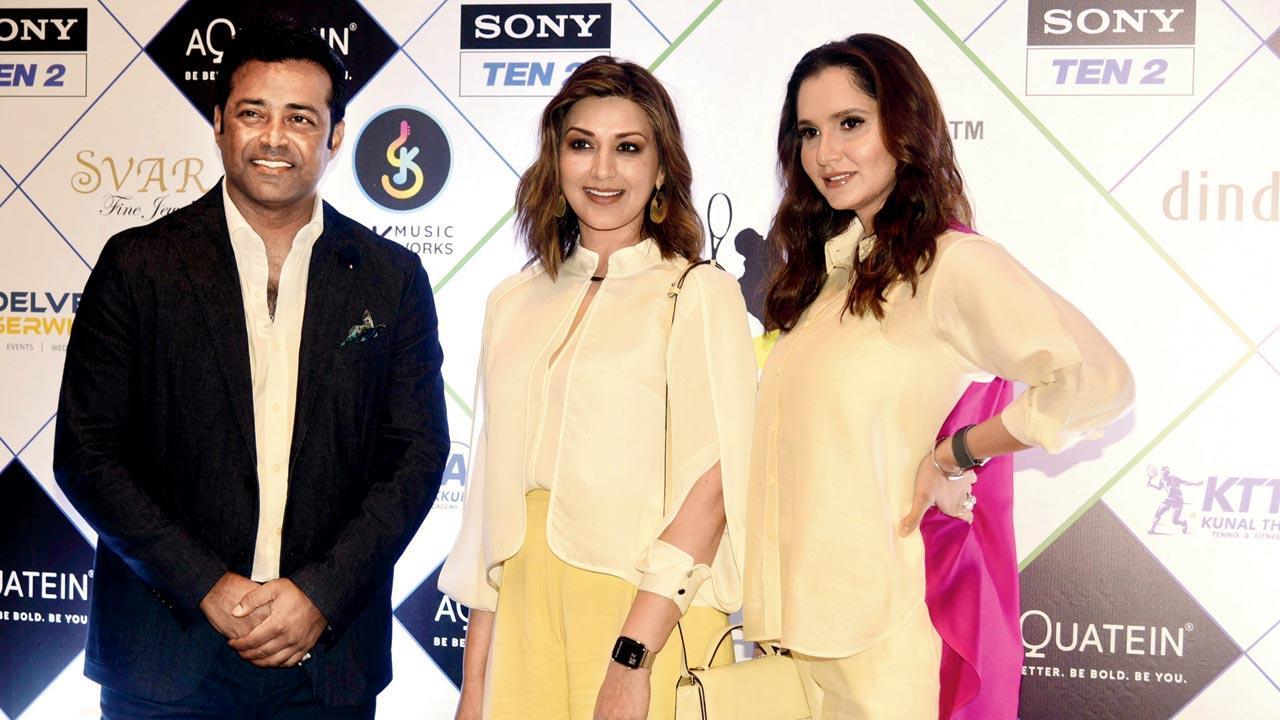 Indian tennis greats Leander Paes (left) and Sania Mirza (right) with Bollywood actor Sonali Bendre at the TPL auction. Pic/Atul Kamble
With major stars retiring or on the verge of it, and no sign of a fine crop of young talent coming through, the Indian tennis scene does not paint a positive picture. Consequently this has led to the absence of Indian players at the major Grand Slams and that's a major cause for concern, felt multiple Grand Slam doubles champion Leander Paes, 49. 
"Yes, that is a concern for me. As much as tennis is growing in India, the competition in international tennis is growing more fiercely. The No.1 player in the men's game today is a 19-year-old Spaniard [Carlos Alcaraz]. It is insane. The No.1 player in the women's game is a 21-year-old from Poland [Iga Swiatek]. 
It's an expensive sport: Paes
"But then tennis is such an expensive sport, so I greatly respect all Indian players, who have to travel abroad and spend top dollar to pursue their careers," Paes, who co-owns Mumbai Leon, one of the teams participating in the Tennis Premier League (TPL), said at the player auction on Tuesday. The fourth edition of the franchise-based eight-team TPL will be held in Pune this December.
Sania Mirza, 35, the biggest woman tennis player the country has ever seen, and co-owner of TPL side Bangalore Spartans, felt that the Indian tennis scene is going through a transition. "Leander [Paes], Mahesh [Bhupathi], Rohan [Bopanna], and I set this bar of playing and winning Grand Slams for so many years. We all have almost stopped now and when big stars of a sport go away from the game together, the sport does take a backseat," she said.
Also Read: Sania Mirza's son goes to school in Dubai
Payback time
Sania is keen to pass on the baton to the next lot of players in a bid to give back to the sport that has given her so much. "I just want Indian tennis to go forward and not backward and hence it was a no-brainer for me to say yes to being a part of this league. 
"I also have my tennis academy which has been going on for eight years. We are all trying to do our bit as individuals. The more kids play, the more popular the sport gets," said Mirza, who is currently away from the game due to an elbow injury that saw her pull out of the US Open. 
When asked about her recovery, she said, "It's been slower than I would have liked. I have torn my tendon and it has detached from the bone a little bit and it's very painful. I'm unable to even pick up a water bottle, forget hitting balls on the court," she said.
Also Read: Sania Mirza supports Kapil Jhaveri team Bengaluru spartans in Tennis Premier League What do you make of the new Team India jersey for the ICC T20 World Cup 2022?