How veteran tennis ace Rohan Bopanna and squash champion Saurav Ghosal inspired their teammates to clinch gold medals in the mixed doubles and men's team event respectively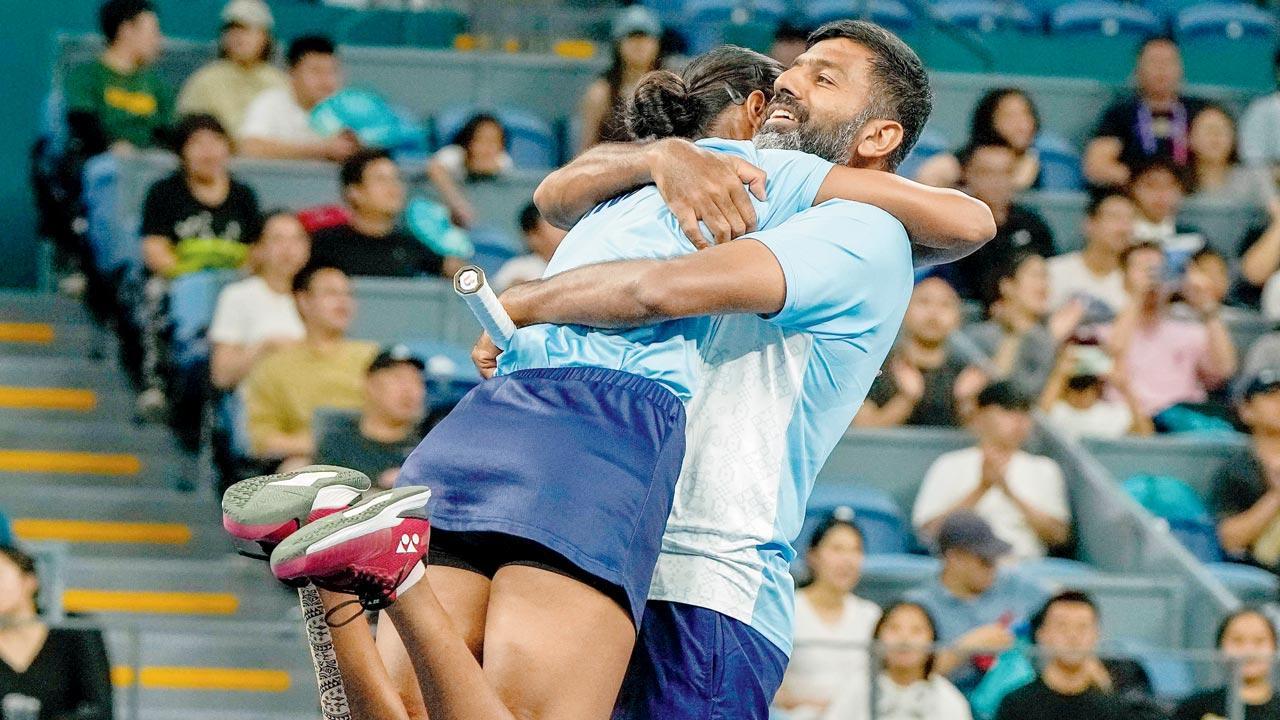 Rohan Bopanna and Rutuja Bhosale celebrate their win over Chinese Taipei's Tsung-hao Huang and En-shuo Liang
Listen to this article
India's Racquet Rockets rule
x

In a big ticket match, it's the experience that counts. India's veteran racquet stars Rohan Bopanna, 43, and Saurav Ghosal, 37, proved this on Saturday as they played stellar roles to help the country win Asian Games gold medals in mixed doubles tennis and men's team squash events here respectively on Saturday.
In the tennis final, Bopanna and Rutuja Bhosale, 27, beat Chinese Taipei 2-6, 6-3, 10-4, while in squash, Ghosal, Mahesh Mangaonkar and Abhay Singh conquered a power-packed Pakistan 2-1.
Similar contests
ADVERTISEMENT
The similarities between both finals are stunning. A nervous Bhosale, 27, began the match by missing some easy returns before Bopanna helped lift her game and excel in the super tie-break. In the squash final, Mangaonkar lost his opening match to Pakistan's Nasir Iqbal 0-3 before Ghosal stepped in to level the tie with a 3-0 win over Asim Khan. In the decider, Ghosal's animated chats on the sidelines with Abhay, 25, during his match breaks, inspired the youngster to a thrilling 3-2 win over Noor Zaman. 
Also Read: India vs England, World Cup 2023: Warm-up match abandoned due to persistent rain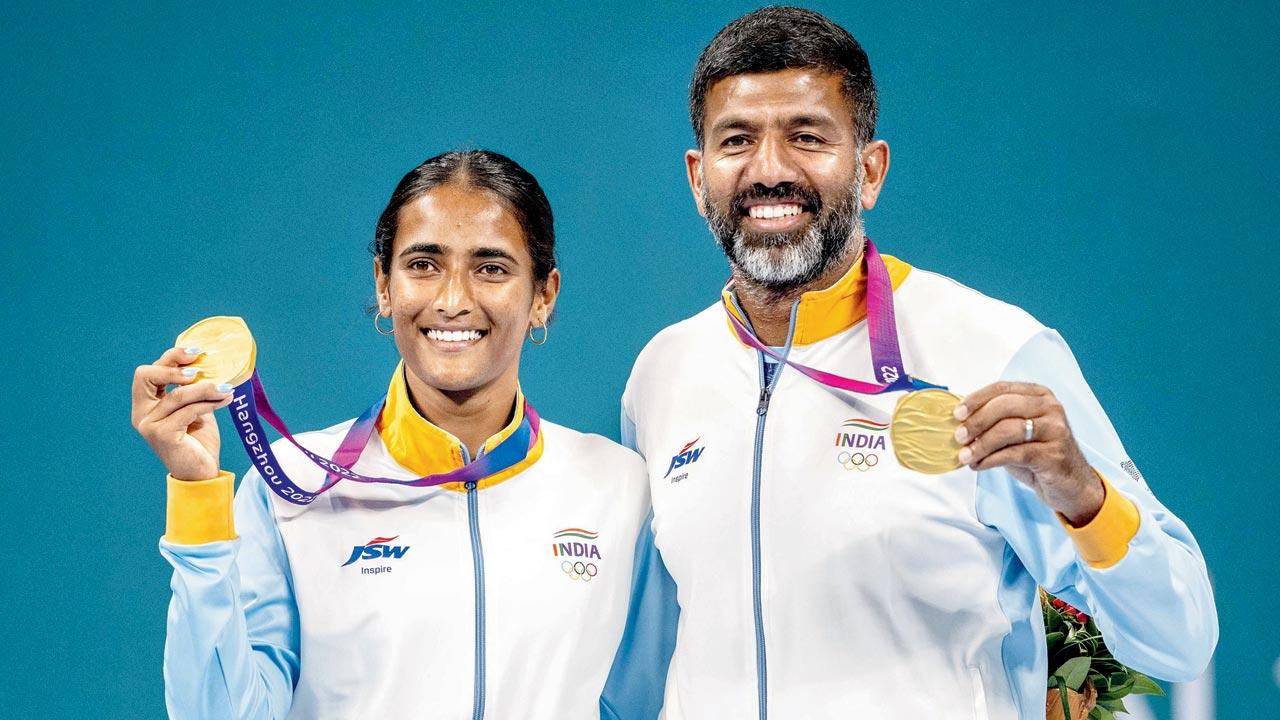 The duo with their gold medals at Hangzhou, China, on Saturday. Pics/PTI, AFP
Rutuja wholeheartedly attributed the win to Bopanna. "Rohan just carried me along the whole match. I was so nervous in the first set that I missed a couple of easy balls and started doubting myself. Rohan was setting me up at the net, but I was missing returns which are otherwise one of my strongest shots," said Bhosale.
Mangaonkar and Abhay similarly lauded Ghosal. "Saurav is our Mr Dependable and that's why, even after I lost the opening match, I did not give up hope because I knew Saurav was next. He's been winning for India for over two decades now," said Mangaonkar.
"Saurav is the reason I started playing squash. He's our poster boy, an absolute inspiration for me and the entire team," said Abhay.  
Interestingly, both Bopanna and Ghosal pulled a rabbit out of the hat on the day with some exceptional gamesmanship. "After we lost the first set, Rohan told me to switch sides. He said, 'let's give the opponents something to think about and put them under pressure' and it worked like magic. We raced into the lead, I suddenly got into rhythm and we never looked back after that," revealed Bhosle.
'Ghosal kept motivating'
Abhay explained how Ghosal kept motivating him on the sidelines: "He kept telling me to hang in there and was confident that I could pull it off, even when I was 1-2 down. He had more faith in me than I did."
India's victorious men's squash team members Saurav Ghosal (left), Abhay Singh, Mahesh Mangaonkar and Harinder Pal Sandhu (right) with their gold medals on Saturday. Pic/PTI
It is said that champions are humility personified, and both Bopanna and Ghosal were modest in their acceptance of the accolades from their teammates. "I decided to play with Rutuja after seeing her strong serve and aggressive game. I thought that would help me cover ground too and make my presence felt. I pushed her throughout our training sessions and I'm glad she delivered when it mattered most. Full credit to her," he said.
Speaking of that critical switch, Bopanna added that those are one of the tricks of the trade when you've been on the ATP Tour for as long as he has. "I have done it in the past. It's just one of those things you do to find your way back into a match by creating a doubt in the opponent's mind," he said.
Ghosal was simply grateful to his younger teammates. "We had to play really well as a team and I'm so proud of Mahesh and Abhay. I had to chaperon them a bit. I told them last night [Friday] that winning or losing is not in our control, but we can control the amount of effort we put in and how much we dig in. And both dug in deep," he said.
While Ghosal, the epitome of fitness, might just return for the 2026 Asian Games, Bopanna made it clear that he's happy to end things on a high: "I don't think I'll be coming back for another Asian Games. I won the men's doubles gold at Jakarta in 2018, so now to go back home with this mixed gold, I couldn't have expected to finish my Asian Games career any better." 
"Exciting news! Mid-day is now on WhatsApp Channels

Subscribe today by clicking the link and stay updated with the latest news!"
Click here!