Indian tennis icon Leander Paes is pained by the relegation of the country's Davis Cup team and feels it will take a "better half of a decade" to lift the standard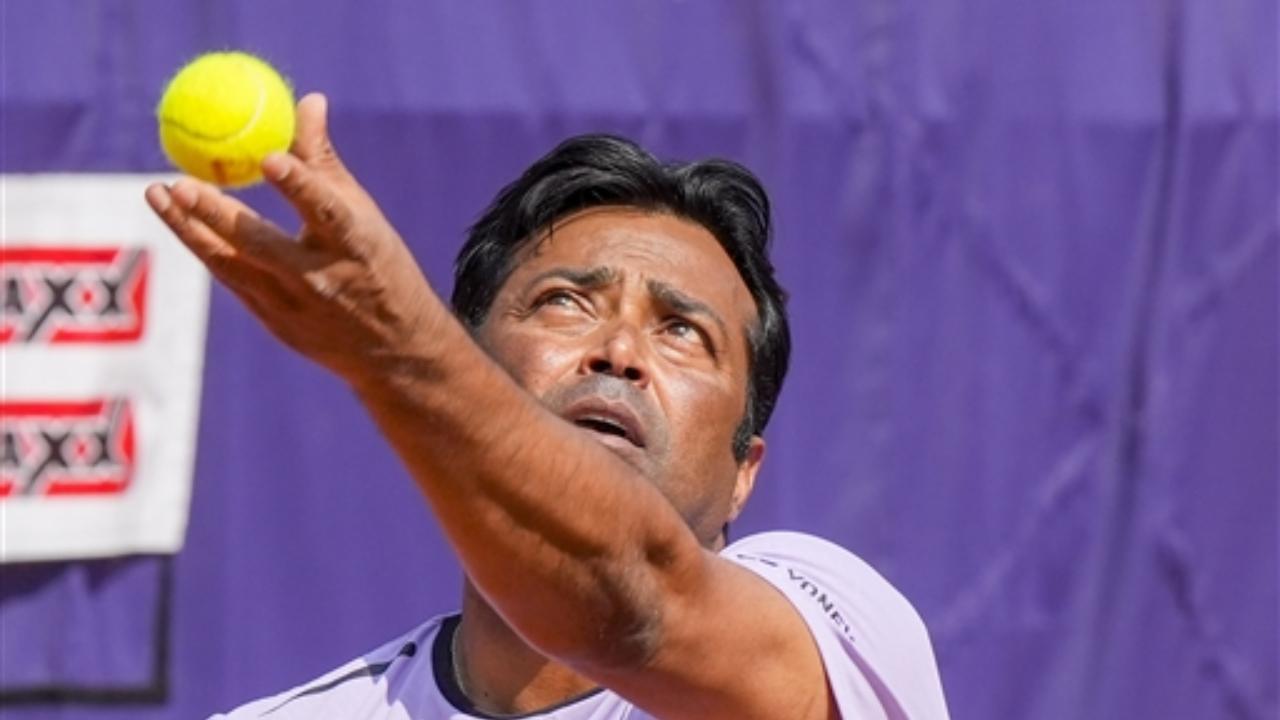 Tennis player Leander Paes plays an exhibition Tennis match at Saturday club, in Kolkata (Pic Courtesy: PTI)
Indian tennis icon Leander Paes is pained by the relegation of the country's Davis Cup team and feels it will take a "better half of a decade" to lift the standard.
The Indian Davis Cup team was relegated to World Group 2 for the first time after a 2-3 loss to Denmark in their away fixture earlier this month.
ADVERTISEMENT
"I feel like it's going to take a few years, until the Davis Cup team has some serious talent in it," said the player with a record 45 doubles victories in Davis Cup.
Indian tennis' decline was apparent during the Australian Open last month when, for the first time since 2017, no player from the country could make the cut to compete in the qualification round of a Grand Slam.
"I feel quite saddened in a way that we don't have one player in the singles ranking in the top-300. I don't think that's ever happened," said the Olympic bronze medallist.
Prajnesh Gunneswaran is currently the highest-ranked Indian in singles at 306 on the ATP list.
"I've tremendous respect for all our Indian players who are travelling on the circuit in a sport like tennis where the cost of training and conducting (making a) the career is so expensive."
"In tennis, where 99 per cent of the sport is played outside the country, being alone on the circuit is not easy. Zeeshan (Ali) and I have slept in locker rooms because we didn't have money to pay for a hotel.
"That being said, I think it's going to take a better half of a decade for the Davis Cup team to have that quality like we had when Ramesh Krishnan, Zeeshan Ali, Vijay Amritraj and all of us had... To get to the semi-finals in the Davis Cup is tougher now," he said.
Leander was addressing the media sitting beside his father Dr Vece Paes, a bronze medallist at the 1971 hockey World Cup in Barcelona, and the Munich Olympics in 1972.
Also Read: Looking back at the most significant performances from Sania Mirza's inspiring career
Biopic in the pipeline
Leander, who campaigned for the Trinamool Congress ahead of the Goa Assembly elections last year, refused to take any political questions and said he's currently busy working on a biopic to portray the father-son duo's legacy on the big screen. He revealed that it should be ready in 18 months.
"I'm working on my own story right now. I will give a little nugget today that the Leander storyboard is being worked on right now. I can't speak much about it.
"It will be a story of how baba (father) won his Olympic medal in 1972 and a few of you are old enough to know what happened there.
"You all will understand why a young boy growing up to my father's history, my passion was to emulate him. So it's going to be about 1972 to 1996 really.
"It's going to be an inspirational story on how not necessarily you have to be the tallest, most talented, skilled (person) to become an athlete... Not necessarily you will have to have great infrastructure either.
"I'm working on a storyboard at the moment and hopefully in 18 months you will get to see it and the posters will be out there."
Asked whether he wants to get into sports administration and join the All India Tennis Association (AITA), he gave an indirect reply.
"I was born into a house where both my parents played for Tiranga (Tri-colour), I grew up in a house where I ironed my father's playing jersey, which had No. 10 on it. My mother's jersey was No. 5," said Leander, who was born into a sports family with father a hockey Olympian and mother, Jennifer, an Indian basketball captain.
"When I look at India as a whole, for me doing things for the community and creating opportunities for the youth is the most important thing. The next decade would be very interesting as we are the youngest country in the world.
"When you talk about sports as a vehicle to give opportunity to the youth, that is where my passion is. My passion is giving opportunities to the youth so that they can live their dreams."
Djokovic, the GOAT
Leander also hailed Novak Djokovic's Australian Open victory last month, that brought him on par with Rafael Nadal's 22 career Grand Slams.
The win came just a year after the Serbian was deported from the same venue for not being vaccinated against COVID-19.
"Djokovic didn't get a chance to play in Australia because of COVID issues, but it was wonderful to see him winning the Australian Open on his return last month.
"For me his perseverance, his tenacity, his grit is something that I admire a lot. Yes, he gets a bit of a bad reputation because of the way he conducts the passion, the confidence that he has, the way he's bold in making statements.
"A few people may not like his personality but for me I've so much respect for his personality. He comes from a country that is really hard and tough and from there to become a champion, speaks a lot.
"He's got another four years ahead of him, that's 16 Grand Slams. Is he going to win one or two more? 100 per cent. He could win at least five more. I think in my humble opinion, Djokovic will go down in the history books as the greatest of all time," Leander signed off. 
This story has been sourced from a third party syndicated feed, agencies. Mid-day accepts no responsibility or liability for its dependability, trustworthiness, reliability and data of the text. Mid-day management/mid-day.com reserves the sole right to alter, delete or remove (without notice) the content in its absolute discretion for any reason whatsoever