In Toofan, he essays the role of a rival boxer, who takes on Akhtar in the semi-finals of a National Championships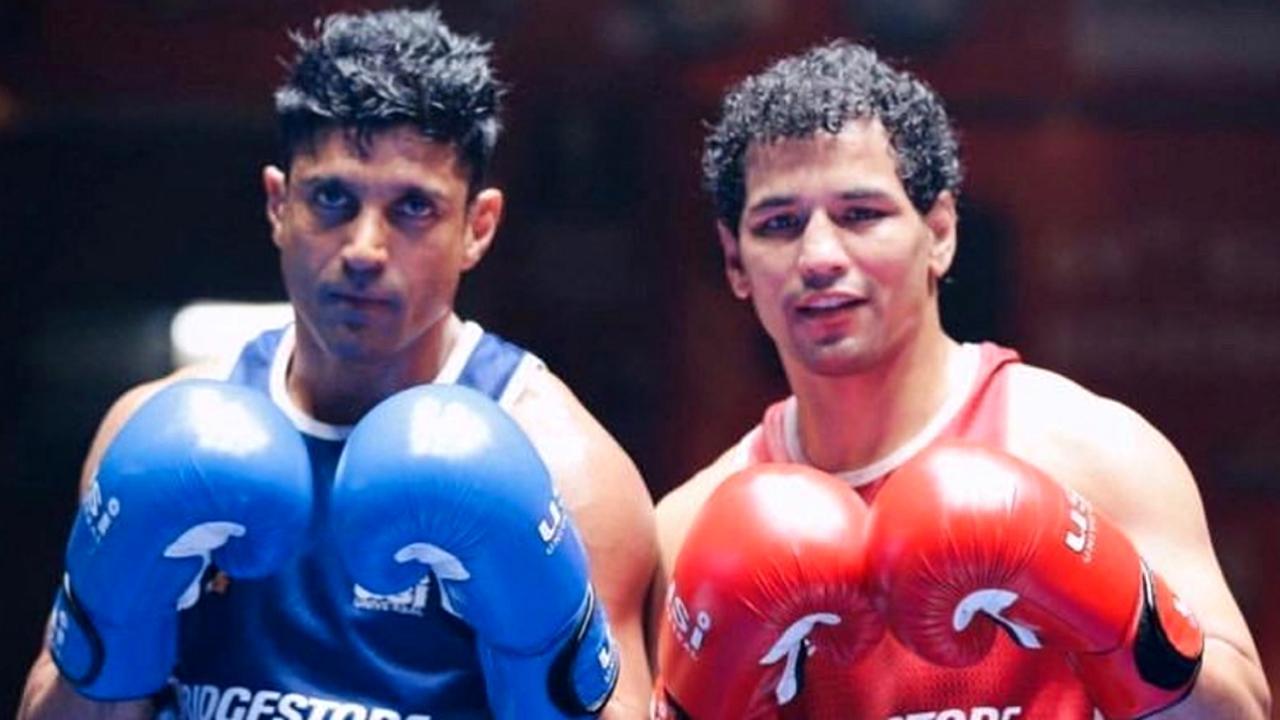 India's pro boxer Neeraj Goyat (right) with actor Farhan Akhtar during the shooting of Toofan
India's two-time WBC Asia title-winning professional boxer Neeraj Goyat has switched effortlessly between real and reel life again.
In his second stint in front of the camera, Goyat plays the role of a Haryana boxer in the Farhan Akhtar-starrer, Toofan that released on Amazon Prime on Friday. 
Goyat, 29, was part of another boxing-oriented film, Mukkabaaz in 2017. 
In Toofan, he essays the role of a rival boxer, who takes on Akhtar in the semi-finals of a National Championships. 
"I played a very small role in Mukkabaaz, but here my role is quite long. It's not easy to act in front of all those lights and stuff. Thankfully, I play a boxer and that comes naturally to me. I'm actually sharing quite a lot of screen space with Farhan. Initially, it was a bit nerve-wracking but I got comfortable later," Goyat, who has a 12-3 win-loss record in professional bouts, told mid-day.com from his home in Haryana on Friday.
Goyat is seen exchanging quite a few punches with Akhtar on screen and while some may feel that it's only acting, after all, the boxer insisted that the training schedules were as tough as they are before professional bouts. "The boxing in this film is as real as it gets. Farhan has trained as a true boxer. He did all the training drills that we boxers do and sometimes even better than us. We trained for long hours. Farhan is a great actor and we have become good friends. I think this is one of the best Hindi films on boxing to date. I'm sure people will love the film. I only hope they like my performance as well," he signed off.
Also Read: Shivam Dube ties the knot with girlfriend Anjum Khan