It should be noted that the tournament, however prestigious, carries no prize money from the World Badminton Federation (BWF)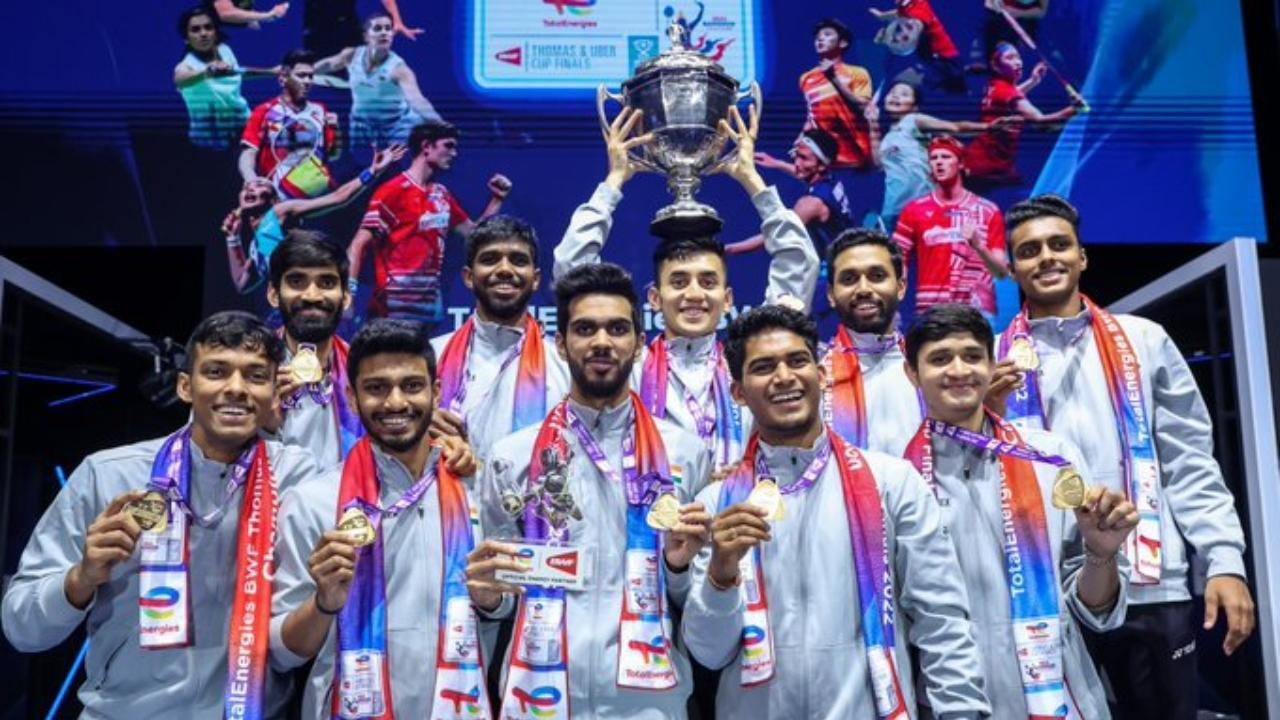 India's Thomas Cup-winning badminton team. PIC/Badminton Association of India
The Indian men's badminton team did the nation proud recently by winning the prestigious Thomas Cup in Bangkok, beating a much fancied Indonesia 3-0. It was India's maiden win in the tournament's 70-year plus history, and is special considering Kidambi Srikanth & Co beat badminton powerhouses like Malaysia and Denmark en route to their historic feat.
As things stand today, the super star shuttlers have been promised Rs 2 crore in total cash rewards. Of this, Rs 1 crore is by the central government, as announced by sports minister Anurag Thakur, and Rs 1 crore is by the Badminton Association of India as announced by BAI chief Himanta Biswa Sarma. Besides this, Sarma also anounced Rs 20 lakh for the support staff. The Thomas Cup carries no prize money from the organisers, the World Badminton Federation (BWF). This leaves us with the moot question: Is this prize money enough when compared to the magnitude of the achievement?
The Indian men's badminton team comprised 10 players—Lakshya Sen, Kidambi Srikanth, HS Prannoy, Priyanshu Rajawat, Satwiksairaj Rankireddy, Chirag Shetty, MR Arjun, Dhruv Kapila, Krishna Prasad and Vishnuvardhan Goud. A total of Rs 2 crore when divided by 10 players means just Rs 20 lakh per player.
That amount is a pittance considering the magnanimity of the achievement. The Indian men became world team champions and the incentive for becoming a word champion has to be much more than Rs 20 lakh. India's Olympic medal-winners in the past have received amounts totalling to much more than Rs two crore from the central and state governments.
Members of the 2011 ICC World Cup-winning Indian cricket team would have received a whopping Rs 2-3 crore each of the total prize money offered by the BCCI  (Board of Control for Cricket in India), central and state governments were to be taken into consideration. PV Sindhu also earned a few crores when she won the Olympic silver medal at Rio 2016 and ditto when she clinched the BWF World Championships at Basel in 2019. Javelin throw champion Neeraj Chopra, who won the country's first track and field individual gold medal at the 2020 Tokyo Olympics, has also taken home a few crores.
Surely our men's shuttlers deserve more. Not that they are complaining though. Instead, they are simply grateful at the opportunity of being able to represent a billion-plus nation in a sport that is played by nearly 200 countries.
"Not every player has the good fortune to experience this. It's only us 10 players and the support staff. The biggest motivating factor for us is that we have won this for our country," Srikanth had said moments after the win in Bangkok recently.
On Thursday, doubles specialist Rankireddy reiterated this on his arrival in the country. "A team win is always a different feeling. If you are winning individually and the team is losing, it's not of any use for us. Playing for India is the biggest thing," he said.