All these four Derbys were won by rank outsiders--the winners not only shocked their more fancied rivals and floored the racing pundits, but also stunned the mammoth Derby crowds into pin-drop-silence for a few moments after the initial furore died down and they realized a wrong horse had won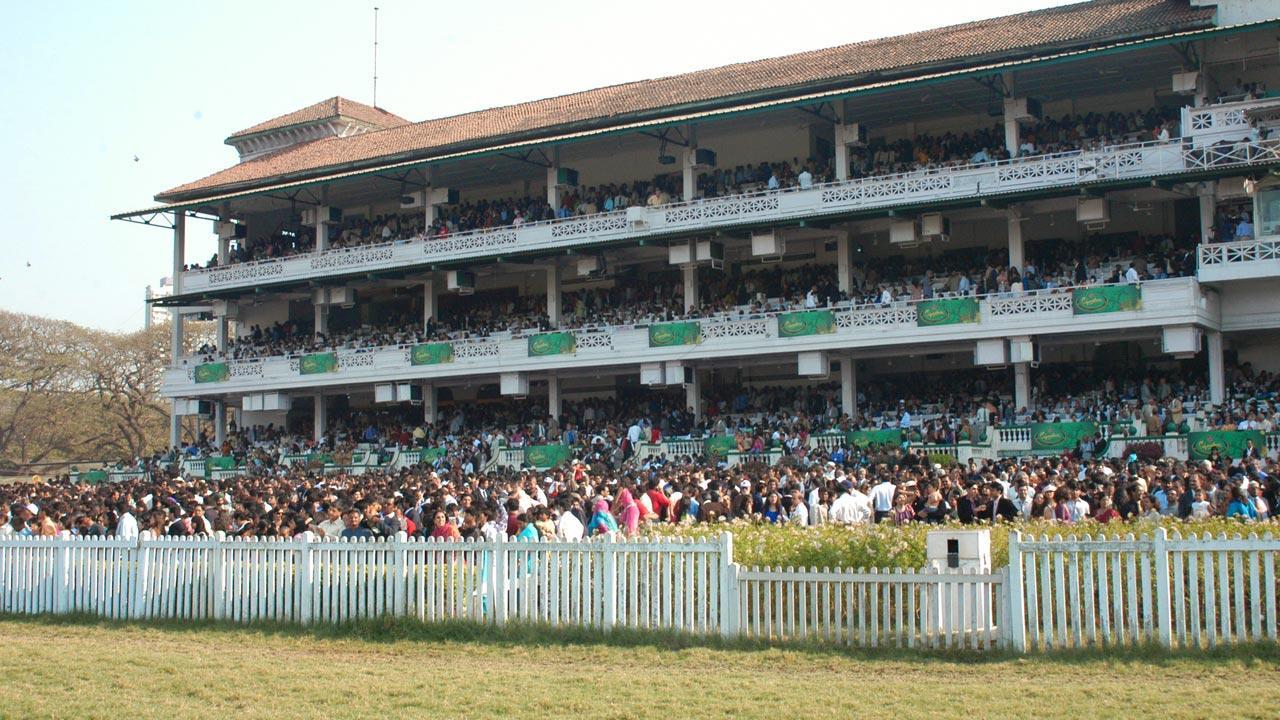 Derby crowds at Mahalaxmi racecourse. Pic: RS Gupta
In the last 45-plus years of racing that I have witnessed, there were four instances of the Indian Derby when, despite losing money, I just couldn't stop laughing hysterically after the race. 
All these four Derbys were won by rank outsiders--the winners not only shocked their more fancied rivals and floored the racing pundits, but also stunned the mammoth Derby crowds into pin-drop-silence for a few moments after the initial furore died down and they realized a wrong horse had won. 
ADVERTISEMENT
Then, as the clapping started from the stands, reminding the stunned souls they were there to applaud the new superstar, they would, like true sportsmen, stop mourning their financial loss, and rise to the occasion, cheering loudly and lustily for the newly crowned champion. 
In a very strange coincidence, three of these four winners won the Indian Derby not in their true master's name, but in the name of another trainer who had very little to do with the grooming of the these Derby winners.
Nelston (1983)
Legendary trainer, the late Rashid Byramji, after winning his sixth Indian Derby with Mohawk in 1980, was exiled from Mahalaxmi, and had shifted base to Bangalore. But he mocked the RWITC bosses by saddling two more Derby winners in 1981 (Track Lightning) and 1982 (Almanac). Byramji saddled them through proxies like Tassi and Nosher Cama. 
Also Read: It's not about money, honey!
Before the 1983 Indian Derby, most of the Derby talk was centered around the local 4y olds like Bizzie Lizzie, Camino and Columbia, with a few wondering if Dr Ramaswamy's raiders--Birthday Girl and Almagest--would be able to hurt the local pride. No one noticed the arrival of a horse named Nelston, owned by the late Major P K Mehra & his family, who was going to be ridden by Vasant Shinde, one of the great saddle artists this country has seen. 
Nelston ran friendless at 40/1, demolishing his more famous rivals. Thanks to this shocking victory, Neslton became the only horse to feature on the cover of India Today magazine--the title of the cover story was "The Wrong Horse Wins!".
Vasant Shinde, speaking to mid-day from Bangalore earlier this week, threw light on why no one took Nelston seriously before the race. "Everyone knew Nelston had an issue with one of his front hooves," Shinde said, "so he wore a specially designed shoe to address that problem, but unfortunately the shoe would come off during the race, especially when negotiating the turn."
"Finally I was somehow able control him well (around the turn) and won some races without the shoe coming off," the ace jockey continued, "but nothing could be guaranteed at Mahalaxmi as he was running there for the first time." 
Maybe this was the reason why Nelston was summarily ignored by all.
Noble Eagle (2003)
Veteran trainer M K Jadhav, who has been in the horse training business for over 50 years but has yet to win the Derby, has actually trained a Derby winner that did not take his name into the record books. The story is ironic, tragic--and perhaps comic too.
Khushroo Dhunjibhoy was expecting to win the 2003 Indian Derby as two of the main contenders were to sport his silks. They were Zurbaran (trainer S Padmanabhan) and Aldeburgh (the late trainer Vinayak). Malesh Narredu, who was Vinayak's friend, opted to ride Aldeburgh, and ace jockey Aslam Kader was asked to ride Zurbaran. However, Zurbaran would get very keen, so it was decided to have a "pacemaker" in the race. 
In layman's language, you can think of pacemaker as a horse which is sacrificed by asking him to run like a scalded cat and cut very fast fractions in the hope that such tactic would enable the main hope (in this case, Zurbaran) to deliver his best. The pacemaker generally pays for his suicidal effort, folds up, and drops back to the rear of the field as the race takes a serious turn.
Dhunjibhoy zeroed in on Noble Eagle, owned by his partner Vijay Shirke and trained by MK Jadhav, as a good candidate for the pacemaker's role. But there was a problem. Dhunjibhoy did not own a share in Noble Eagle, so technically he could not give instructions about the strategy to MK Jadhav in the paddock. So Vijay Shirke requested MK Jadhav to transfer the horse to the stables of Vinayak who, as explained earlier, was already training Aldeburgh for Dhunjibhoy. 
A young, inexperienced jockey, named Pramod Belose, who was riding his first Derby mount in Noble Eagle, received instructions from Dhunjibhoy. The instructions were simple, go to the front, set a solid pace, and fully ride out the horse. The idea was Zurbaran and Aslam Kader would easily pass the tiring Noble Eagle in the homestretch. 
But Pramod Belose was perhaps destined for a sensational Derby victory on debut. In the actual running of the race, Noble Eagle and Pramod Belose just did not tire despite setting a solid pace! 
Aslam Kader astride Zurbaran, who stalked Noble Eagle all the way of the mile-and-a-half Derby trip, used every trick in the book to go closer to the pacemaker, who was clearly defying the instructions by overstaying his role as a pacemaker. But Noble Eagle just kept going, and in fact, skipped away in the last furlong to post a decisive victory. Trainer Vinayak, who had earlier won the Derby with IndictmentIndictment in 1997, thus won his second Indian Derby.
Noble Eagle still holds the record as the highest priced Derby winner on the tote, paying over Rs 900 for Rs 10.
Velvet Rope (2006)
For Vinayak, it was a case of Deja Vu, when three years after leading in Noble Eagle, he also led in another Derby winner, Velvet Rope, which was actually trained by Cooji Katrak. Vinayak saddled Velvet Rope in the 2006 Derby as Katrak was under suspension during that period.
Mystical, the horse who later won twice at Dubai in the Poonawalla colours to make India proud, was all the rage in the 2006 Indian Derby betting. Nine out of ten people did not believe Mystical would get beat, though there was murmur and gossip in hushed tones that Holding Court trained by Padmanabhan for owner Haresh Mehta, could be a serious threat. No one paid any attention to Velvet Rope and his jockey P Kamlesh in the paddock--all eyes were on Mystical (B Prakash up), owned by Dr Ramaswamy at that point in time, and Holding Court for whom Padmanabhan had imported jockey Martin Dwyer from England.
After staying near the pace all through, Holding Court assumed command in the straight, but in the hands of B Prakash, the incredible turn of foot displayed by Mystical in the 2000 Guineas less than two months ago on the same track, was sorely missing this time. And just when it looked like Holding Court would go on to win, P Kamlesh brought Velvet Rope with an electrifying run and nailed Holding Court on the wire. Velvet Rope's owner Shiven Surendranath experienced the most ecstatic moments of his life when leading in Velvet Rope to a standing ovation, but Cooji Katrak, the original trainer, could not be there. Instead, Vinayak led in his third Derby winner.
Antonios (2009)
Let me share a story which is as unbelievable as it is true. In 1993, I was working as associate editor for The Indian Thoroughbred (now defunct). The owner of the magazine was Farouq K Rattonsey (FKR), a diamond merchant for whom horse racing was a passion. My cabin was next to the owner's cabin.
One day I had something to discuss with FKR, and when I was about to knock on his cabin door, it swung open and a man dressed like a Hindu priest came out, and left. I was surprised, and more intrigued when I saw FKR laughing uncontrollably. 
"This man who just left is telling me I am going to win the Indian Derby multiple times," he said. I also joined in the laugh. FKR had only a handful of horses in training and none of them, by any stretch of imagination, were showing great promise. If India were England, the bookmakers there who offer odds on any fancy proposition, would certainly have offered 10,000-to-1 for FKR's multiple Derby victories. 
However, 15 years passed by, and the unthinkable happened. In 2008, FKR led in his first Derby winner named Hotstepper, trained by SS Shah. The then septuagenarian trainer had tasted his last Derby success 35 years ago (Mansoor, 1973); and--hold your breath--he followed it up immediately next year when Brazilian rider SA DeSousa stunned the piping hot favourite Set Alight to bag the 2009 Indian Derby in record time, at the huge odds of 60-to-1!