Virar shuttler defeats friend and fellow Nitesh Badminton Academy trainee Tanay Mehendale to win first U-17 title at the Maharashtra State Open Badminton meet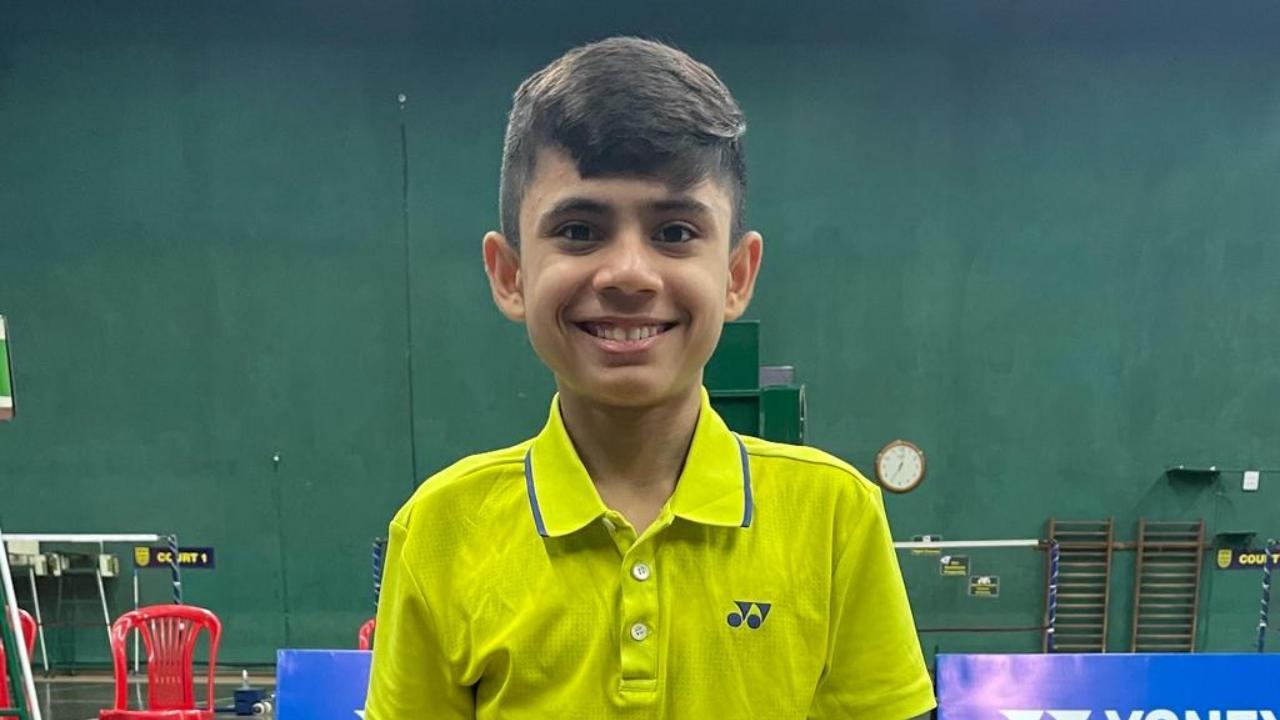 Dev Ruparelia
Virar-based Dev Ruparelia, 14, clinched his first U-17 boys singles title at the Maharashtra State Open Badminton meet at the Andheri Sports Complex last Saturday. 
Representing Palghar district, Dev registered a 21-17, 21-17 win over Tanay Mehendale, a friend and fellow trainee at the Nitesh Badminton Academy in Virar. 
ADVERTISEMENT
Top seeded Dev revealed he had to change the tempo to beat second-seeded Tanay as they know each other's game well. 
Talking about the win on Saturday, Dev, a class IX student of the National English High School in Virar, told www.mid-day.com, "This win was special as it's my first U-17 title. Earlier, I had won a bronze at the state meet in Nashik. Tanay is one year older to me and we both train at the same academy under Nitesh Kumar sir. We know our games very well. I had to change my game plan during the match to ensure I beat Tanay. The reason I had to participate in the U-17 category was because the tournament did not have a U-15 category. This win has given me the confidence to defeat players bigger than me."
Meanwhile, the teenager is glad that he is one of the four players (two U-15 and two from U-17 category) selected by the Maharashtra Badminton Association (MBA) for advanced training abroad. "I am looking forward to training in Indonesia. The only time I went abroad was for a holiday in Singapore. Indonesians are known for their speed and agility. I hope I can learn that and improve my game," said Dev, whose national ranking is six and 28 in the U-15 and U-17 categories.
Overall, the Virar academy shuttlers won as many as 10 medals (two golds, four silvers and four bronze)  in the tournament. 
Other final results:
Boys
U-13 singles: 1-Vishvajit Thavil bt 2-Ashlon Pinto 21-15, 21-17
U-13 doubles: Vishvajit/Rafael Mascarhenhas bt Dhruv Bhole/Sameehan Deshpande 21-12, 21-7
U-17 doubles: 1-Tanay Mehendale/Manas Parulekar bt Ahan Raheja/Pravit Sahu 21-17, 21-17
Men's singles: Krish Desai bt 2-Harsh Sharma 21-13, 13-21, 21-12
Men's doubles: 1-Viplav Kuvale/Viraj Kuvale bt 2-Siddhesh Raut/Arjun Suresh 21-5, 21-4
75+ doubles: Ashish Khedikar/Sandeep Mohan bt Raveesh Mohan/Sushant Shetty 21-13, 11-21, 21-19
85+ doubles: Ashish Khedikar/Sandeep Mohan bt Parag Ekande/Vikrant Karanjkar 21-16, 21-19
Girls:
U-13 singles: 1-Aditi Yadav bt Sanaaya Thakkar 21-7, 21-14
U-13 doubles: 1-Aditi Yadav/Pranjal Dedhia bt 2-Risha Parab/Sanaaya Thakkar 21-10, 21-12
U-17 singles: 1-Naishaa Bhatoye bt 2-Manista Mohapatra 21-18, 21-15
U-17 doubles: 2-Hita Agarwal/Sia Waydande bt 1-Tanvi Gharpure/Ketaki Thite 16-21, 21-13, 22-20
Women's singles: 1-Bhatoye bt Jiya Uttekar 21-7, 21-13
Women's doubles: 1-Karishma Wadkar/Riya Arolkar bt 2-Hita Agrawal/Sia Waydande 21-6, 21-13
75+ doubles (combined age): 1-Deanee Rodrigues/Neesha Springett bt 2-Sarita Jethwani/Priya Ambekar 21-15, 21-18
85+ doubles (combined age): 1-Deanee Rodrigues/Neesha Springett bt 2-Maisha Bhawatkar/Sarita Jethwani 13-21, 21-11, 21-12
Mixed doubles open: Viraj Kuvale/Bhatoye bt Viplav Kuvale/Riya Arolkar 21-19, 19-21, 21-19
Mixed doubles 80+ (combined age): 1-Vikrant Karanjkar/Priya Ambekar bt 2-Parag Ekande/Tejasvi Pilankar 21-16, 22-20.