Does a 7-year-old need concealer? The makeup industry for kids and pre-teens is seeing a fillip. Parents and brands argue that it's best to let the child decide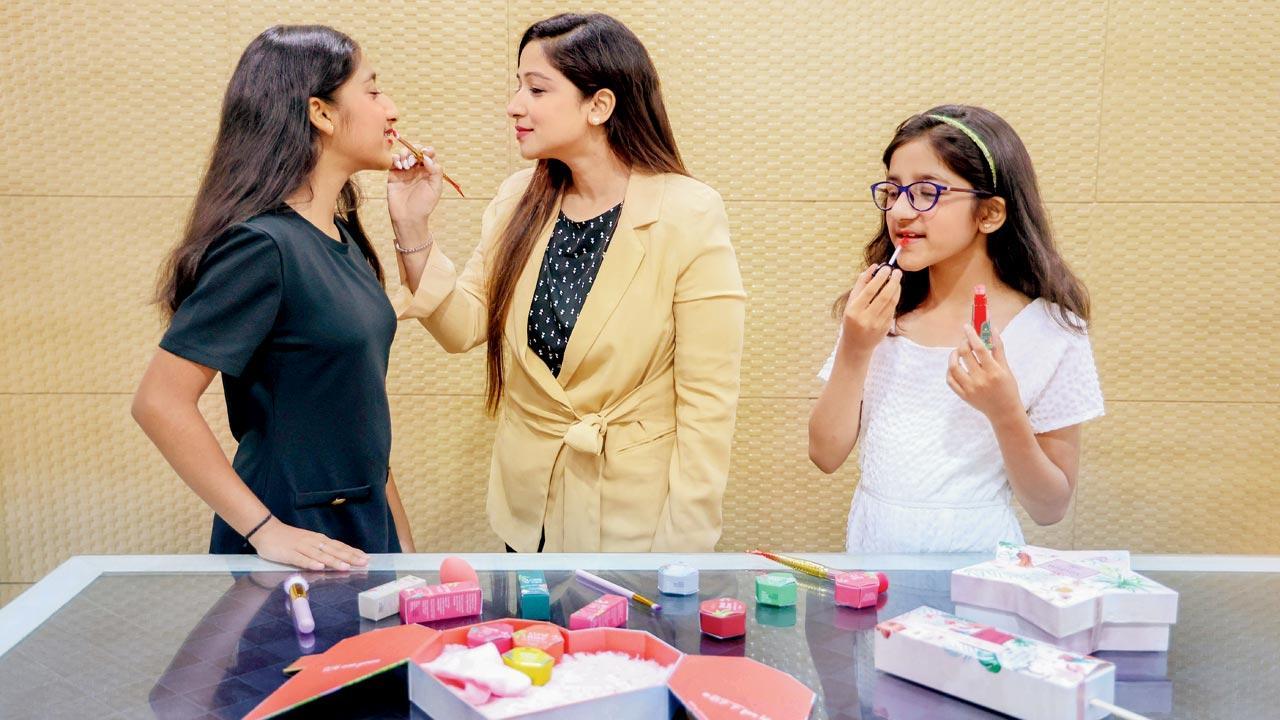 Riya Gupta started Whimsy Beauty after seeing her two daughters participate in school functions, dance and fashion shoots where they had to apply the same makeup used by adults she feared was harmful. Pic/Nishad Alam
As a kid, this writer's introduction to makeup was through a teacher who applied rouge lipstick before school annual day performances. So when we saw an Instagram Reel by a seven-year-old "fashionista", where she put on concealer, using a sponge to blend it, we were curious to know what was happening. And lo behold, we found some answers. According to the Global Children's Cosmetics Market Research Report—Forecast till 2026, published in 2021, the kids makeup market is expected to grow annually at 6.79 per cent and surpass $1,795.15 million during the review period. "The rising use of cosmetics by children, coupled with growing consciousness about beauty thanks to social media and proliferation of organised retail stores in emerging economies is expected to propel the growth of the global children's market during the study period. However, the rising awareness of toxic ingredients in cosmetics is expected to restrain the growth of the children's market during the assessment period," the report stated.
India is also not far behind in the kids makeup revolution. The past few years have seen many players enter the market—Whimsy Beauty started a month ago, Elitty Beauty launched in 2021 and RENEE Cosmetics also introduced a kids makeup line called Princess. "Young adults and pre-teens watch their moms, who are also applying more makeup than they ever did, so this has piqued their curiosity. Today, the average woman in India uses upto 3.4 more products than women did 20 years ago. This shift has influenced young girls to also want to experiment and try out products on themselves," says colour cosmetics nerd Sarvangi Shah, who is also founder of Noya Beauty Works, a D2C brand builder.
ADVERTISEMENT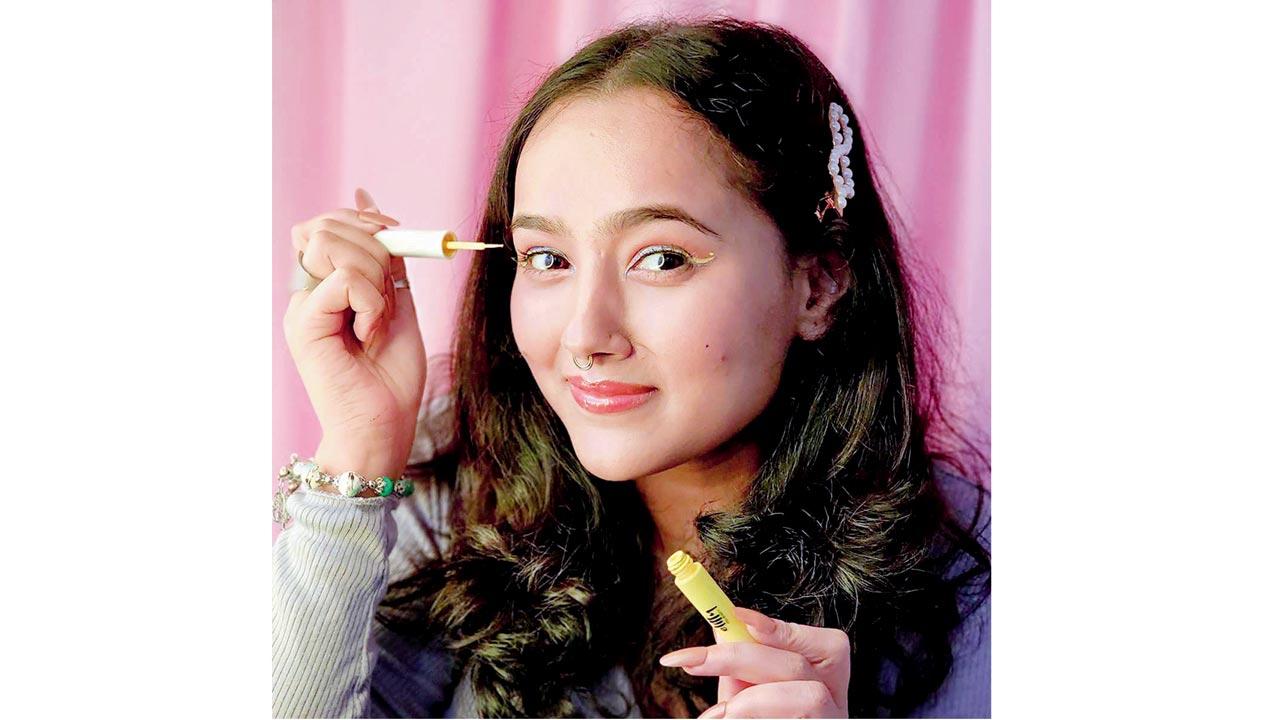 Elitty Beauty is known for having 16 shades of eye liner such as lilac, white, yellow, green and pink priced at Rs 499
While entrepreneurs are seeing the potential and need for such products, brands like Whimsy Beauty emerged from personal experiences. "Kids participate in school functions, attend weddings and other events where they end up applying something that is not safe for their skin. That's how the idea of the brand came to me," says Riya Gupta, the Delhi-based founder, who has been in the industry for eight years now. "I have two daughters—Avya,13, and Avanya, 9—who are into dancing and do regular fashion shoots. I  felt there was a need for makeup that would suit their skin," she says. Gupta believes that children these days are more evolved and want to look trendy, be it when they are going out, at school functions, or to parties. Whimsy Beauty is an organic, skincare infused makeup brand priced between Rs 199 and Rs 3,999. The one-month old brand has products such as lip and cheek tints, lip gloss, eye glitter, concealer, makeup brushes, sponge and make up kits for kids, pre-teens and teens. Gupta's eight-month-long research included tying up with a cosmetologist and discussed mild Ayurveda-based ingredients for lip balms and tints. "So our products are not exactly makeup. The lip balm has natural food-based colours such as beetroot and raspberry. We have jojoba oil and petroleum jelly which is transparent, to which we have added natural colours. Even our concealer is just a moisturiser with shea butter and brown pigment from almonds for the tint," she explains. 
Unlike Whimsy, Gurugram-based Elitty Beauty was launched specifically to cater to this segment. "I have been in this industry for six years and after talking to a lot of consumers, I realised that not a lot of brands were catering to pre-teens," says Pranali Janbandhu, co-founder of Elitty Beauty. "The second thing I decided was that the colour choices, shade spectrum, packaging, communication and positioning should be fun. These help because when teens are interacting with makeup, it is more with a child-like approach and curiosity." Shah agrees that youngsters are interested in pop characters and thus, there is a growing need of creating makeup in bright colours. Janbandhu argues that makeup is more than just glam or rocking a red lip. "It is art. It's fun and a medium to express yourself. But we don't want to pre-define the relationship teens would have with makeup and never want to tell youngsters that you need makeup to look and feel good about yourselves." Elitty has products for lip, face, eyes and nails for the ages 13 to 19. One of their most popular products is their eyeliner, which comes in 16 colours, like lilac, white, green, pink, blue and yellow.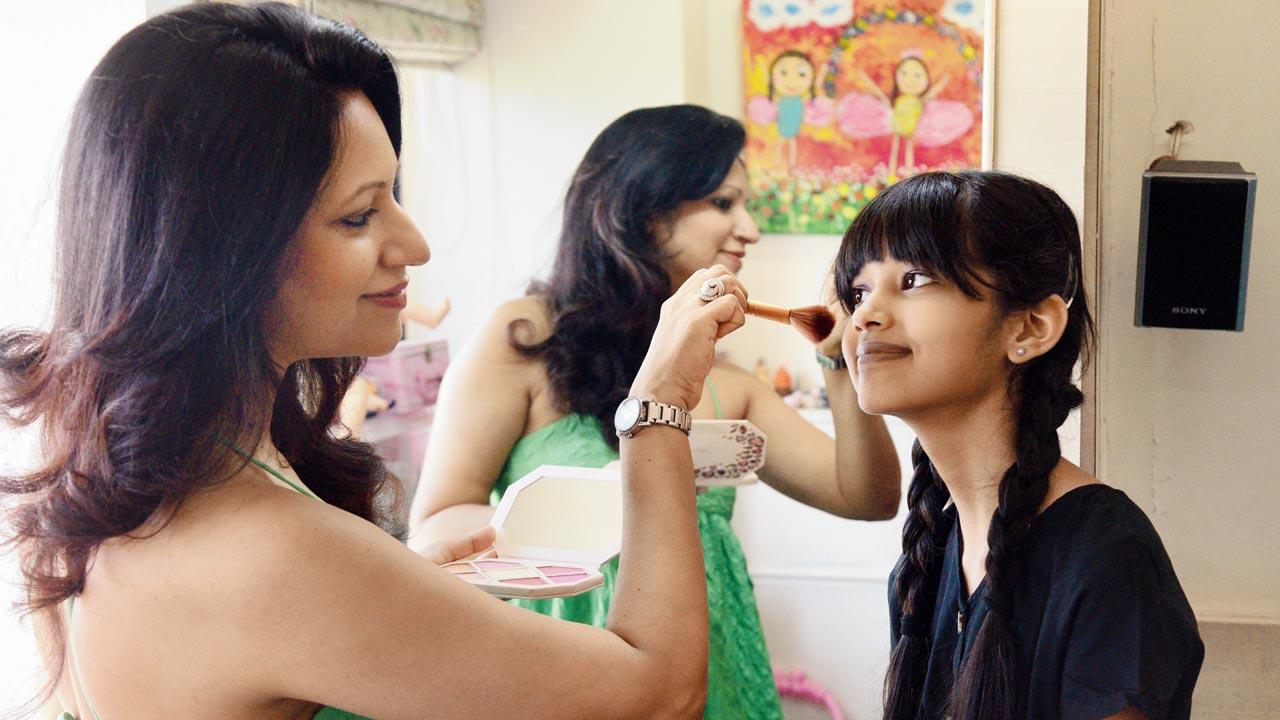 Versova-based Aanchal Saxena-Kannan is supportive of her 10-year-old daughter, Tiara,  applying makeup as long as it is 100 per cent safe. She trusts MAC Cosmetics, SUGAR or KIKO Milano. Tiara says her current favourite is goth makeup. Pic/Pradeep Dhivar
A year-long research led them to create products that they claim to be 100 per cent vegan, cruelty-free, sulphate and paraben-free. One of their key ingredients is witch hazel, which is known to have strong healing properties for sensitive skin. "We studied both, pre-teens and teens," says Janbandhu, "and we realised that a majority of the parents of pre-teens were not comfortable about makeup. Parents of teens had concerns, they were agreeable, as teens make their own decisions. Even for pre-teens, some parents were willing to let their child use makeup, as long as it was safe."
Much like Versova-based media professional Aanchal Saxena- Kannan, who is supportive of her 10-year-old daughter, Tiara, applying makeup. "As a parent, especially with this generation, if you do everything in limits, it is fine. Tiara and I have an agreement, if she is stepping down, it is just kajal, but if it is a party or a formal dinner she is going for, she can take her time and apply more makeup," says the mother. "My favourite product is kajal," says Tiara. "I do like the gothic look a lot and I learnt how to do makeup from watching YouTube tutorials." Saxena-Kannan believes that it is fine to use makeup as long as it is a good brand. "I buy these specialised products, because I don't want her to apply a brand she may have an allergic reaction to." She also believes that as parents, teaching their children a proper skincare routine right from the start is important.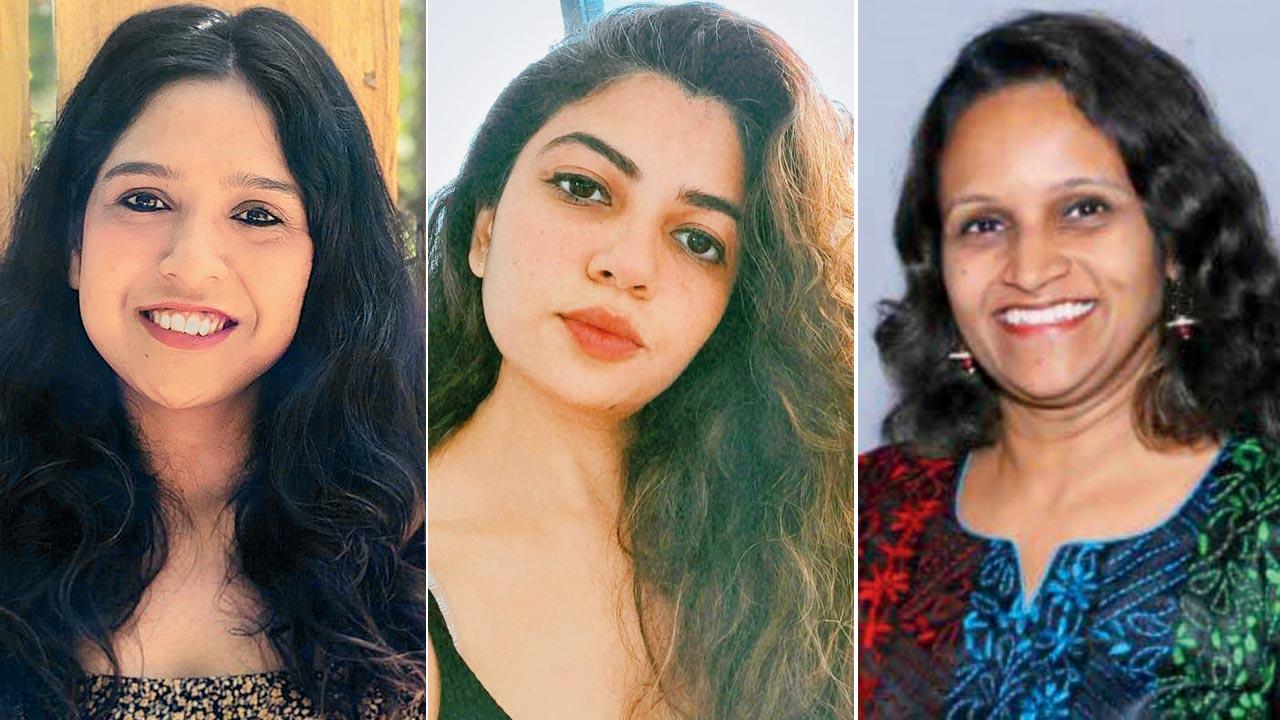 Pranali Janbandhu, Sarvangi Shah and Dr Dipti Shah
Much like Sneha Arora, who was glad that her 14-year-old daughter Adaa wanted to take care of herself, when she showed an inclination towards makeup. Earlier, Adaa used to use her mother's products, but soon Sneha realised that, "the ones she was using might not be appropriate for her skin and we can't experiment". 
While founders agree that makeup for kids is almost like a taboo topic, they believe that perception will change, when parents are aware about the products. "Parents need to understand that pre teens are evolving. Maybe five years down the line, society will be more accepting," says Janbandhu. According to Dr Dipti Shah, consultant and psychiatrist and counsellor specialising in child and adolescent psychiatry, "there is no right age to apply make up and to feel confident". She says that until the age of 20 or 22, identity formation—the process in which humans develop a clear and unique view of themselves and of their identity—is still a work-in-progress. "If young people rely on makeup to boost their confidence, it could lead to an identity crisis," says Shah. 
The reason why parents are supportive of their younger ones applying makeup is because this generation of parents is very competitive, feels Shah. "They want their child to be the best and are unwilling to accept the child's weakness. So for parents, their child becomes an extension of their identity and want their child to be appreciated."
What does a dermat suggest?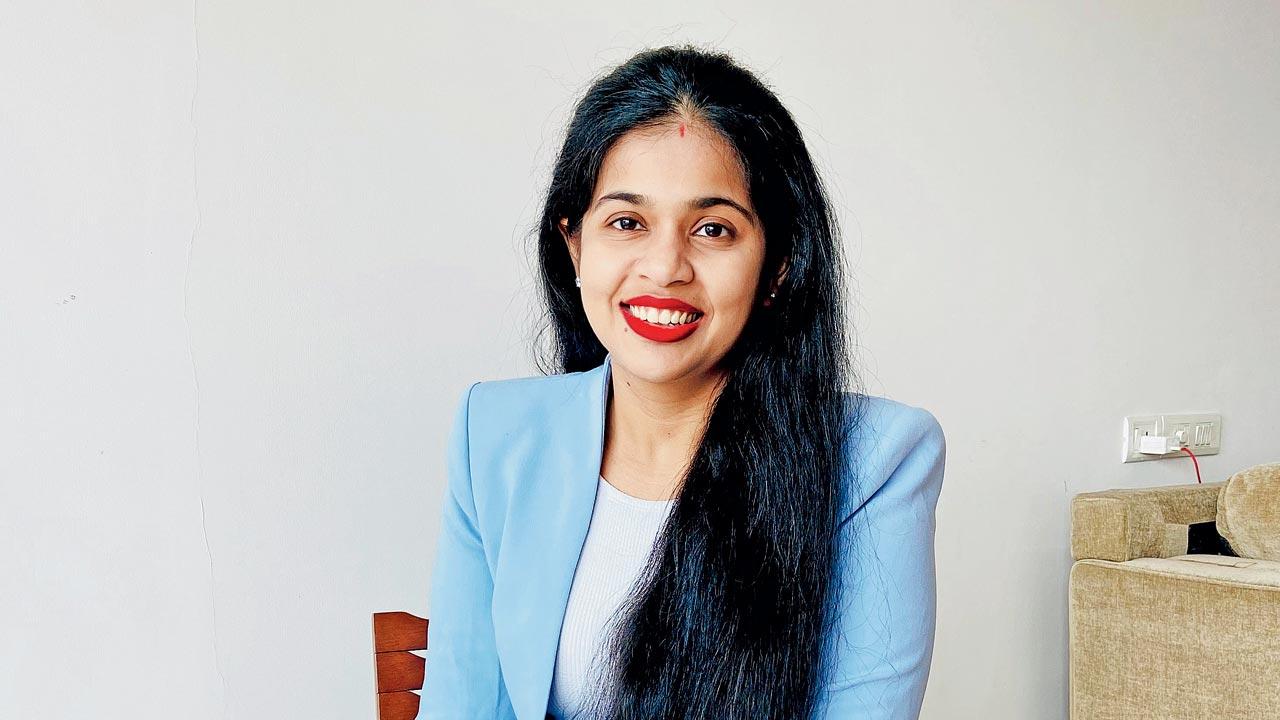 According to Dr Stuti Khare Shukla, MD Dermatologist, Founder of Elements of Aesthetics, "All makeup, especially lipsticks, contain elements like lead and mercury. So even organic products would have some amount of paraben, glycerin, propylene, glycol but in a lesser quantity. Most children are prone to developing atopic dermatitis [a type of skin allergy that causes inflammation, redness, and irritation of the skin]. Even the smallest amount of these chemicals can lead to this, which is why it is advisable to avoid makeup until 12 years of age. After that, they can apply makeup but judiciously"