Raghavendra Rathore, who has put the quintessential Indian bandgala and Jodhpur breeches on the global map, talks to Ananya Ghosh about copyrighting patterns, working with Oscar de la Renta and his affair with Jodhpur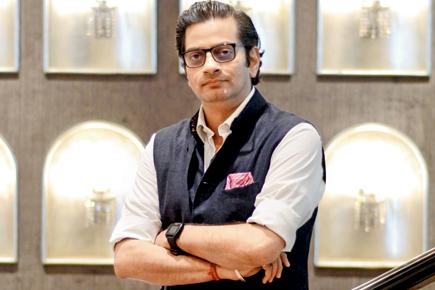 Raghavendra Rathore
Founder of the Raghavendra Rathore brand and RR Foundation
All my colleagues in the industry tell me that they always knew this is what they wanted to do. But, my life was very different. Before I went to Hampshire College I had hardly seen three English movies. While growing up, I was allowed one hour of television a day. I had absolutely no exposure to the fashion industry. I had never drawn doll figures," reveals Raghavendra Rathore, the dapper designer who is showcasing his latest womenswear line in the city today and will launch a new store at the Taj Mahal Palace hotels by end of this month.
ADVERTISEMENT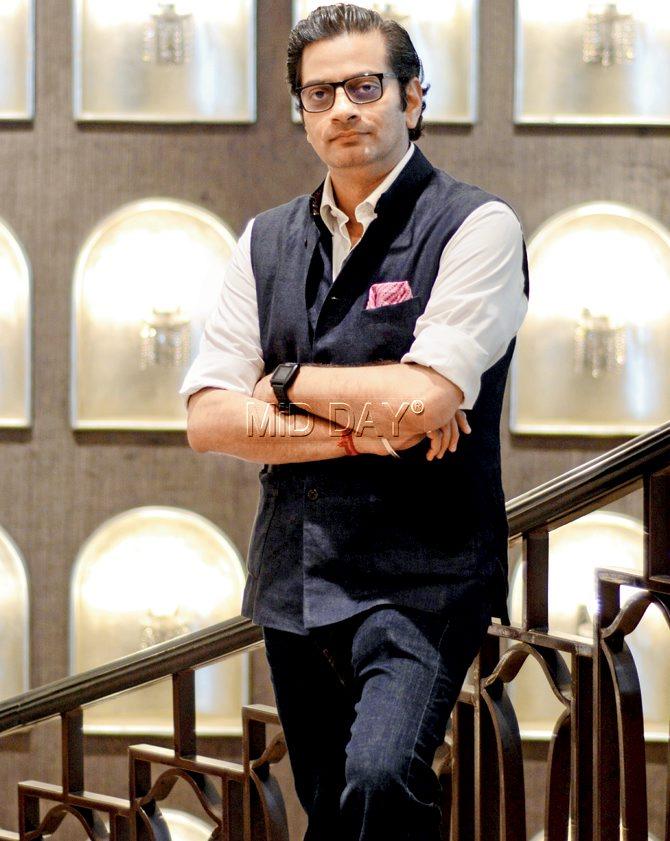 Raghavendra Rathore is coming up with a new store at the Taj Mahal Palace Hotels this month Pic/Bipin Kokate
Hailing from a royal family of Jodhpur, Rajasthan, Rathore finished his Intermediate from Mayo College, and left for Hampshire College in Amherst, Massachusetts, to pursue higher studies in electronics and robotics. Life was almost how it was supposed to be although he was the first in the family to make the transatlantic trip for higher studies. But a change was around the corner.
A posh start
Although, he was born into royalty, his father Maharaj Shri Swaroop Singh and mother Rani Usha Singh Rathore made it sure he remained rooted in reality. "They never forced me to take conventional paths. There was no ROI (return of investment) ever discussed," says the 47-year-old.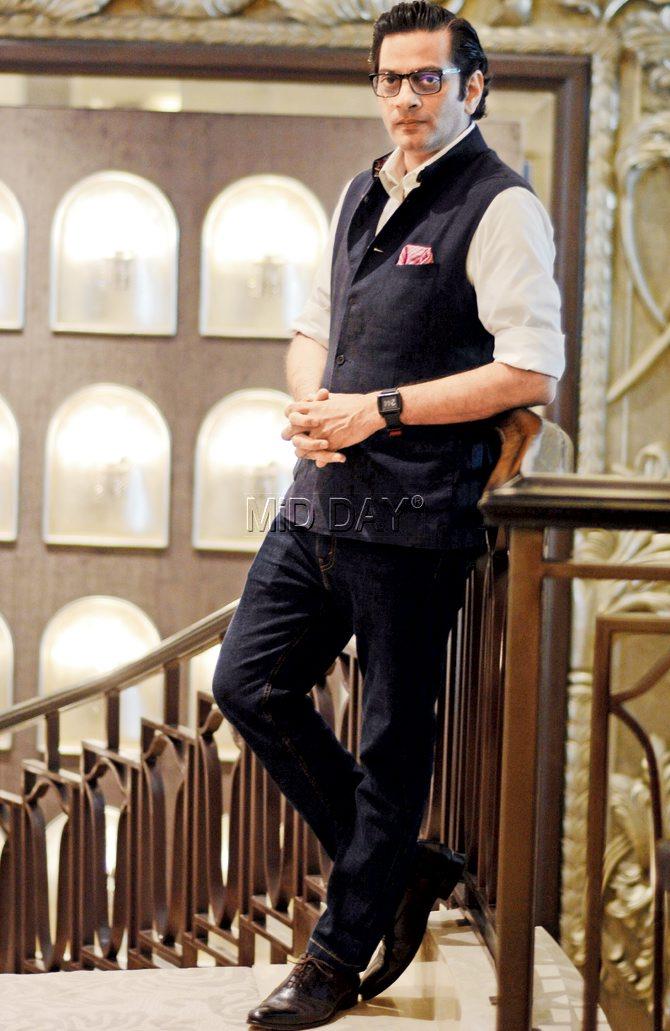 And the liberal atmosphere of Hampshire College gave his creativity the wings it needed. "It was a uniquely designed course where we were taught how to design a phone but not necessarily the hardware part of it. I could sketch very well and my advisors in college encouraged me to focus more on that and eventually I got into product design," says Rathore. However, his parents wanted their son to be independent and after the first semester, he was asked to 'figure out his own finance'. Hampshire was one of the most expensive colleges. "I couldn't afford it anymore, so by the end of the semester I started looking for colleges that would give me financial aid."
Learning arts and painting houses
Marlboro College in Vermont fitted the bill and he took up a course in fine arts. Apart from exploring the works and techniques of the great masters of European Art, here he got exposed to various practical sides of designing. He would take up odd jobs to earn some extra cash. Although, related to designing, these were as diverse as fixing old engines of broken down cars to painting old houses.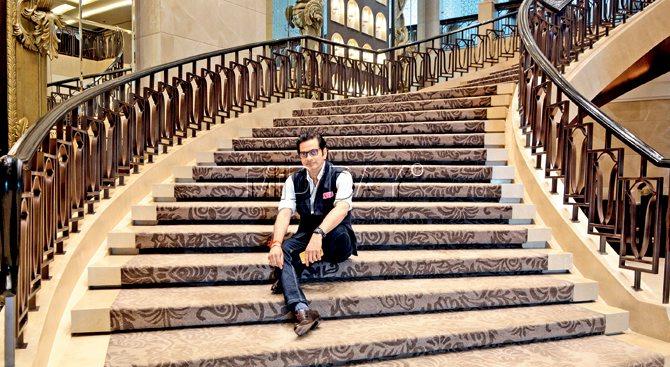 Raghavendra Rathore at the Palladium Hotel in Lower Parel Pic/ Bipin Kokate
"There is an area dotted with old heritage buildings. The paint of these wooden houses chip easily and hence they require a fresh coat each year. It is a delicate job and art students are usually summoned for it. I, along with a friend, would wear a mask and would hang ourselves from these old wooden houses. First we would scrape off the old paint of the whole bulding and then repaint it. It is the best painting assignment I have got till date!" he reminisces. And he not only managed to sustain himself without taking financial help from his parents, but also managed to save up enough to buy a car. "I bought a fancy Honda Prelude so that I could impress the girls in the campus. But, I bought it second hand and fixed it myself," he reveals.
The first job
After a few years of sampling various aspects of designing he found his true calling and enrolled himself in Parsons School of Design, New York City. And while in his final year he was offered a job at DKNY. "One day, Donna Karan, who was an alumnus, came to our class and gave us an assignment. My story revolved around two European travellers who go to Rajasthan for a trip and one of them falls from the camel. I sketched the kind of clothes they would be wearing using a lot of DKNY branding. She took the sketches and left. Later she came back and picked three of us for an internship from a class of 125 students. But while I was chosen as a designer, a classmate of mine, a Swedish girl, was picked to be my assistant. It was quite embarrassing," Rathore recalls.
This was just the beginning. Within a few months he landed himself a job as a senior assistant to the legendary designer Oscar de la Renta.
Bagging the Oscar glory
"His office was in the same building as DKNY and once I met him in the elevator and introduced myself. It was a goosebumps moment. A few days later, I was working at my office when I got to know that his head designer Carolyne Roehm was leaving." He didn't waste time and rushed down and called de la Renta's office from the nearest telephone booth. The person who received the call, connected him directly to the veteran designer.
"I instantly recognised the voice as that from the elevator a few days back. It was Mr De la Renta! He asked me the purpose of my call and I somehow mustered enough courage to tell him that I have heard that there is a vacancy in his office and was wondering whether he would be interested in seeing my work. He said "Sure, come right now." I was in the middle of my day's work at DKNY and my portfolio was at my apartment.
But, I knew it was an opportunity I coundn't let go of." So, he told his senior at DKNY that Oscar de la Renta had asked him to meet him and he was immediately granted the day off. "It was a dream opportunity for every designer at DKNY and they were surprised that the man himself had asked to meet me. I had told them the truth, but just omitted the part where I had called his office asking if there was a vacancy!" he says solemnly.
Rathore didn't waste any time that day. He hopped onto the first train, went back to his apartment, got his portfolio, rushed back to de la Renta's office and got himself a job. "Unlike the DKNY office, which had hundreds of designers, Mr de la Renta's team strength was just four, including me. On the very first day, he told me that we are going to Paris. When I got the job, I thought I would be assigned some peon's work. And here I was going to Paris as his assistant. I hurriedly bought the cheapest suit I could find and send it to my mom back home to get it altered," laughs the designer recalling the initial days.
Is that business card real?
Back in India, the news that a fellow Indian, straight out of college, has landed such a coveted job spread like wildfire. Many initially thought he was bluffing. "One day a Delhi-based designer, who is one of the biggest names in the industry today, called me from India and asked whether I really worked with Mr de la Renta's office. I casually asked him to come over and see for himself. A few days later, he and his briefcase actually landed at my office to verify the 'news'!" he laughs.
However, this helped. Not only did the two designers become thick friends but when Rathore came to India and put together his first show, he had his contemporary designers rallying around him.
The First Show
"I had come to Jodhpur to meet my parents on a short break when I was asked to do a show for the Maharaja of Jodhpur. I had no models, no dresses, nothing. But the entire designer community came together and pitched in. I had almost fourteen odd designers helping me—everyone had flown down to Jodhpur. There was Mehr ( Jesia) and Rohit (Bal) working up till three at night, Tarun(Tahiliani) helping with the choreography with Lubna (Adams) and what not. Anybody was willing to take up any job—big or small. And each of them was so earnest in their effort," says Rathore, remembering the time when competition had not yet smothered the scope for friendship.
And while today's newcomers walk a lonely walk on the ramp of this glamorous industry, these first men of fashion still remain friends, occasionally raising a toast to one another's achievements. The show was a huge success and Rathore, who was supposed to report back to de la Renta's office 'in four days', stayed back to start his own brand. Thus his brand Rathore Jodhpur was born and today his eponymous brand across the globe for their iconic bandgala suits and Jodhpur breeches.
Brand India
According to him, the idea behind his brand is an extension of his personality. "I had realised very early in my career that you can have the best designs and talent, but if your works do not have a soul, you'll not be able to connect to the people. And for me, 'soul' was Jodhpur.
"When I first came to Bombay, I got lost at the Chowpatty Beach. There were no mobile phones then and I didn't even have the landline number of my my aunt's house where I was staying. I never wanted to revisit that 'lost' feeling. Later on, the more I travelled away from Jodhpur, the more its roots dug deep in me," he says.
Once he started his brand, he realised the potential of the menswear market and shifted from women's wear, which was then considered a much safer option. He wanted to create a product that was not there in the market. "In those days, menswear had a lot of razzmatazz and would be replete with heavy embroideries. I decided to create a range for people like me, who believe in simplicity." And armed with that 'simplicity' his brand grew from strength to strength and in 2012 Rathore Jodhpur became the first Indian company to copyright patterns. And it was done for their bandgalas and breeches, which are today synonymous with the company.
"When I took up the bandgala it was very primitive. It looked boxy and had huge armhole. We started fixing it and contemporising it. And once we were satisfied, we got the Jodhpur Bandgala pattern copyrighted," he says.
A man of many talents
Apart from designing his bespoke clothing line and creating garments for movies like Eklavya and Khoobsurat, he has also designed uniforms, furniture, and chocolates. He has recently launched a ready-to-wear brand named The Imperial India Company. Ask him about how he manages to do so many things and comes a simple answer: "Creativity is like sugar. It depends on you whether you want make gulab jamuns or pastries," he smiles.
Working with the weavers
He is also associated with the RR Foundation, a humanitarian initiative that offers employment options by promoting rural handicraft. "It works the same way as a news agency. Designers working on a collection can call us up and we can source them from the weavers and artisans working in our clusters spread across the country," says the designer who roots for Indian fabrics but insists it is important to get the right blend.
The hermit within
This royal kid has a heart of a hermit and says that he can pack all his essentials in one single suitcase. And when the din of the city gets too much to bear, you'll find him at his heritage hotel at Rawla Narlai — a quaint town tucked amid lush forest and mountains. There are times when he plans a family outing with his wife Kavita and their 11-year-old son Amar and eight-year-old daughter Devyani. "But rather than a luxury trip, I prefer to be close to nature," he signs off.