Gimmicks, not taste alone, bring in footfall at restaurants. And some Mumbai foodies are up for a serious eating challenge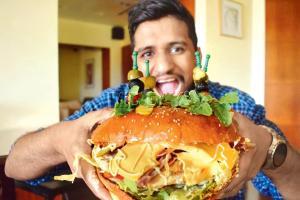 Amrith Padmanand
It was in 2008 when Man vs Food premiered on television that the world woke up to the concept of competitive eating, and host Adam Richman became a household name. The formula was simple: polish off gargantuan amounts of food within a stipulated time A decade later, the fad is far from fizzling out. Nachiket Shetye, founder of Cellar Door Hospitality Pvt. Ltd., a culinary consulting firm, says after Richman's show, the concept caught on like wild fire.
"In the US, it's very common. The moment an establishment gains popularity, they organise these challenges to advertise further," he says. In Mumbai, the story is no different. Last month, restaurateur Pankaj Gupta of Oye Kake organised a lassi chugging competition that saw participation from over 70 people. "I wanted to offer non-drinkers a chance to compete in a chugging competition. Why should beer lovers have all the fun?" he says. The fact that Oye Kake is centred only around Amritsari food necessitated working within a set framework.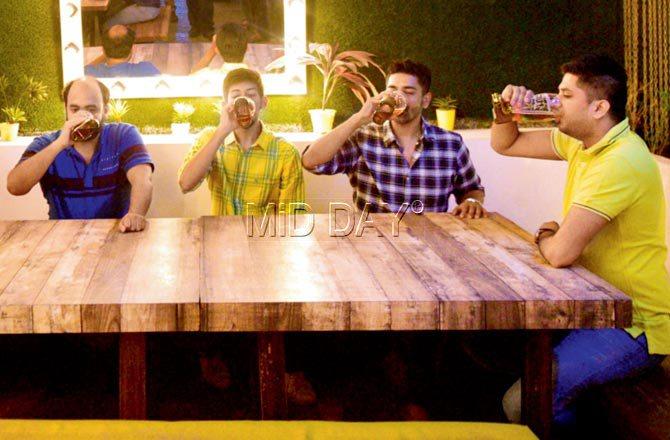 The ongoing beer boot challenge at Light House Cafe, Worli. Pic/Bipin Kokate
"You have to come up with innovative ideas and concepts in order to make people return," he says.It's for the same reason that Light House Café, Worli, has been experimenting with eating challenges since 2016. This month, they're running the beer boot challenge that involves chugging two pints of beer in the shortest time span. The holder of the best time is rewarded with vouchers worth R25,000. "In India, F&B is normally the only recourse for people after a long day. So these challenges work well," says Karan Dharod, partner Lighthouse Cafe.
Shetye believes these events work as an effective marketing ploy. "Participants often come in groups because they want people to watch them. Once it's up on social media, hundred others see and it catches on," he says. What adds to the fun is that there's no cap on food options. "Anything can be made into a challenge, from pani puris to pizza," he says. Having said that, the health implications of competitive eating may not be as favourable. Nutritionist Raheela Hasan advises against it. "I'd suggest don't try it all. It can lead to high cholesterol, diabetes and even obesity. Its effects will be visible years later," she says.
Jagruti Punjabi, lawyer
Strategy: Part-chew your food, and don't rush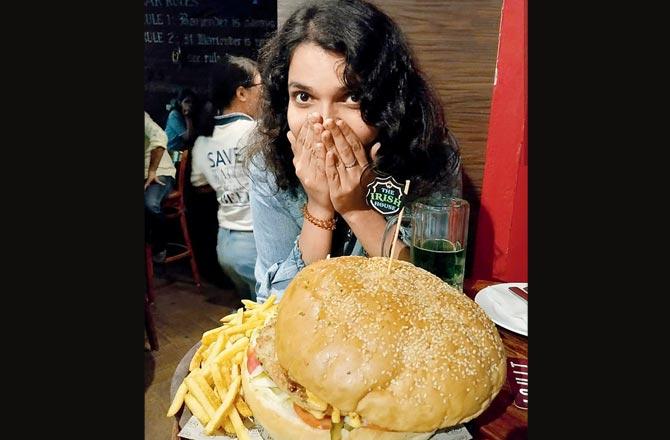 Jagruti Punjabi
One of the few female participants to compete at eating challenges, lawyer Jagruti Punjabi is all too familiar with stares. Her petite frame makes matters worse. "Initially, I felt intimidated being in the midst of all these hulks. While they might have the advantage of size, they tend to sometimes make the mistake of eating too fast," says the 28-year-old. The strategy that Punjabi employs is to go slow and steady. "You have to chew your food a little. Swallowing it too soon doesn't help." Another cardinal rule is to not starve before the challenge. Her first-ever challenge was to down dimsums at an Asian joint in Bandra where she had finish 100 pieces in two hours. "I managed to do it, but after that day, I did not look at dimsums for the next three months," she laughs. She, however, advises against taking up eating challenges too often. "It does take a toll [on the body]. Which is why you need to space them out," she says.
Amrith Padmanand, PR professional
Strategy: Tells himself it's just another meal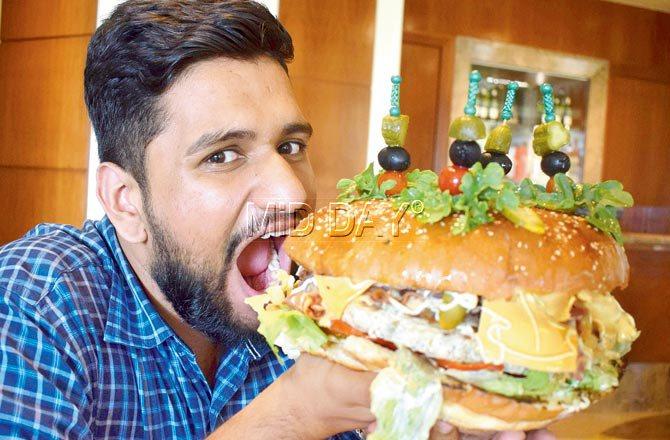 Amrith Padmanand at Juhu's JW Marriott's 1 kg burger challenge. Pic/Ashish Raje
Public relations professional and food blogger Amrith Padmanand's Twitter handle reads: Eat. Sleep. Eat again. Repeat. It's the passion he harbours for food that makes him a regular at eating challenges. "The food needs to taste good. If it's bland, energy levels dip almost immediately. Then I have little motivation to carry on," says Padmanand, whose tryst with competitions began in 2015 at Andheri restaurant, Frisbees. Last week, he tried his hand at finishing the 1 kg gourmet lamb burger at Reflections, The Lobby Lounge and Bar at JW Marriott Mumbai Juhu. The trick is in holding the burger right, he shares. "It's best not to deconstruct the burger because finishing the bread is the toughest part. You need a lot of fluid to wash it down, and many a times, they don't allow you to sip water or cola, so eat it in cross sections and you are better off," he says. And it's best, the contestant doesn't make a big deal of the challenge. "I have myself believe it's just another burger. A lot depends on your mental state. Frankly, that's all the prepping I do," he says. Although, he came a close second, Padmanand is yet to nail it. "I'd love to win, but the bigger goal is to have fun."
Varun Poduval, MBA aspirant
Strategy: Distend-tummy trick 24 hours prior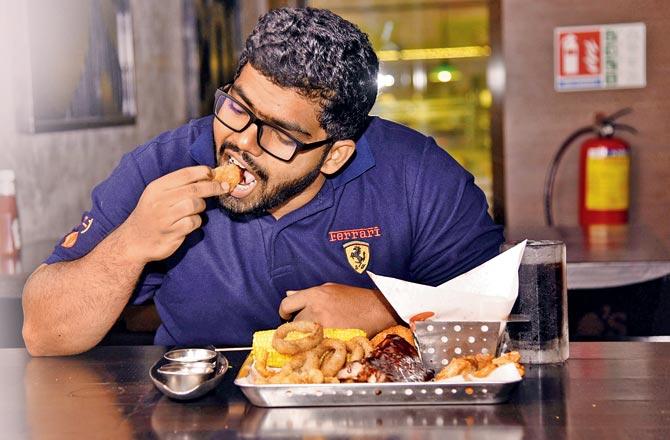 Varun Poduval. Pic/Pradeep Dhivar
Last month, Varun Poduval, an MBA student from Bandra, won Hard Rock Café's nationwide burger-eating challenge by ploughing through the Japanese Katso burger in 37 seconds flat. In the last two years, Poduval has attempted five eating challenges (he doesn't drink) and has won them all. "It's all about speed. If an average person takes a minute to eat a dish, I do it in half the time," he says. The pre-competition ritual begins a day prior to the finalé with a stomach expansion trick, he says. "I drink large quantities of water, sometimes two litres at a time. This is to distend the stomach so that it can hold more food in the immediate aftermath." Once he realised he was a pro at finishing burgers, Poduval pushed the limit when he attempted the Chili's Eating Challenge Platter at BKC. Here, he had to flatten a mountain of meat — baby back ribs in BBQ sauce, crispy chicken crispers, chicken wings in hot sauce, onion rings, fries, corn on the cob and a cola — in 15 minutes. He finished it in 12. The reward was R5,000 worth of vouchers and free grub at the restaurant. "The reward matters. 'I'm not going to harm my body if I'm not going to get a good bargain," he says.
Adarsh Munjal, food blogger
Strategy: Lets beer chug straight into food pipe

Adarsh Munjal
Adarsh Munjal aka thebigbhookad, one of India's first food bloggers, has spent close to a decade breaking eating and drinking records. "Being the big guy, gluttony comes easy to me," he laughs. But it has taken a whole of trial and error to come this far. He recalls one of his earlier beer chugging challenges where he ended up throwing up before he could even reach the washroom. "I puked on the dancefloor and was fined a thousand rupees," he says, still embarrassed by the episode. But now, he's the go-to guy to learn the hacks of the game. "Chugging is an art. You let the beer flow straight into your food pipe. Ideally, you should start with small sips, and then swing the glass quickly so the beer rushes to the back of your throat, and right into your stomach."
Catch up on all the latest Mumbai news, crime news, current affairs, and also a complete guide on Mumbai from food to things to do and events across the city here. Also download the new mid-day Android and iOS apps to get latest updates