Mr Faisu is the new Internet sensation with 10M followers, hitting an Engagement Rate three times that of Bollywood superstars. Until two years ago, he was making the rounds of Linking Road, luring customers into the shops for Rs 50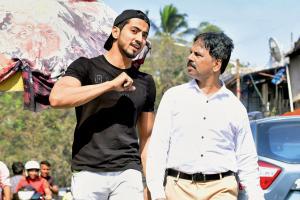 Faisal Shaikh, aka Mr Faisu, 24, with his father Javed in their Bandra East neighbourhood, where he grew up and lives. Pic/ Shadab Khan
Once in a while you hear a story that reminds you why Mumbai is called the city of dreams. Once in a while, somebody, by their sheer will to 'become someone', decides to turn their circumstances around.
Mr Faisu is that story.
In 2017, Faisal Shaikh, then 21, would stroll the streets of Linking Road, urging passersby to come into the modest shops that lick the commercial hub, and buy denims and dresses. For this, he'd earn Rs 50 a day.
It's taken him one year to turn into Mr Faisu, an Internet sensation with 10 million+ followers on Instagram, boasting of even more engagement than his role models, Bollywood superstars Shah Rukh Khan, Salman Khan, Ranveer Singh and cricketing giant Virat Kohli. Here's a bit of comparison to put his stardom into perspective. On October 4 last year, Shaikh went live to launch a deodorant called Crush. He spoke to 90k watchers, and 5,000 bottles were sold in two hours, raking in lakhs in a day. An a-list actress, who stays in the US, went live the same day, and had 5k people watching her session.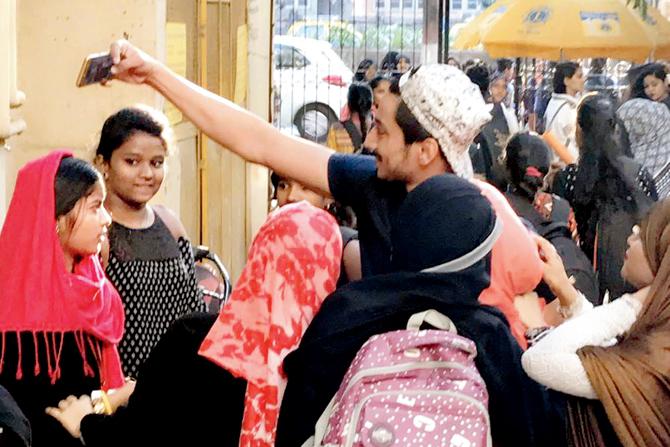 Mr Faisu takes a selfie with female fans
Shaikh is the son of a nightie embroiderer from Bandra East. Javed Shaikh has specialised in making embroidered nighties all his working life. His business dipped when readymade, cheap night gowns flooded the city's roadside stalls and shops. "Daddy's work is too much mehnat [labour], with too little paisa [money]. Maine sab ab band kara diya hai [I've got him to stop tailoring]," he says. Shaikh continues to live with Javed, his mother Tanzila and two sisters near Bandra East station.
A few years ago, while he was a student of commerce at Rizvi College, he decided to earn a few bucks by working at the retail shops that line Linking Road's shopping hub. Along with luring customers in, he also spent some time working as salesperson at a Hill Road shop for Rs 300 daily. "I had responsibilities. My mother told me to go look for a job. So, I had to work," he remembers. This was also the time when he stopped spending time with friends or working on videos. "My friend Sohail and I used to experiment with Dubsmash," he says of the then-popular video messaging app. "We would sing along to a hit number, dubbed for actors like SRK. We liked making one-minute back-to-back Dubsmash videos that we'd upload on Facebook. Suddenly, people in college had begun recognising us. I realised that if you did something cool on digital, even those who didn't talk to you, came up to approach you." says Shaikh.

Gradually, the friends move on to Musical.ly, a platform that allowed users to create and share short, lip-sync videos. Shaikh, with his friends Hasnain Khan and Adnan Shaikh, decided, "kuch kartein hain". He had saved up enough to buy an iPhone 6. And that was the beginning of him making romantic and comedy videos for Musical.ly where he eventually managed to gain 80k followers. In one such video, he was wearing white pants with a black zipper. The illusion of an open zip unleashed the trolls on him. Shaikh was crushed at the negativity heaped on him, and decided he wouldn't make any more videos. But, two days later, when he logged in, he realised that he had gained 2.5 lakh additional fans. "Negative publicity is also good publicity. That night, I made 13 videos straight. I wanted to change the negative followers into positive ones."
That turnaround taught Shaikh to ignore trolls. All he wanted to do was to make video after video, show up on the Explore section of the app, where viewers could discover him. His videos were therefore, easy. So easy in fact, that his followers would copy them. "My parents had given up on me, and relatives would wonder, 'what are you doing!' But, I have to say, my parents didn't deprive me of my freedom. They never took away the phone. All they said was, 'go work!'"
Realising that the family wished that he gain conventional employment, he quit his passion in 2017 and went back to being a salesperson. "I didn't have the luxury of choosing a job. I was paid R50 a day to get people in [to the shops]. I worked a lot. I would go to college early, then make some videos, turn up at the shop, visit the gym, and make videos before I hit the bed." It was then that he made the video on the song, Tere jaisa yaar kahan from Amitabh Bacchan-starrer Yarana, with friends. It has to date received 57 million views. "We shot at Bandra Bandstand," he recollects, and spent just Rs 2,000 on it."
Soon, TikTok came along. The short-form mobile video sharing platform owned by Beijing-based ByteDance, launched in 2017, saw Shaikh amass a million followers. It was enough for digital artistes-focussed network, Qyuki, to sign him on. "That's when I learnt coding, how to lock collaborations, and what brand deals are all about. We got to know all about the hustle. But the content is solely ours to create," he says of the other six artistes that Qyuki signed on including Adnan and Hasnain, who call themselves Team 07 and post back-to-back 15-second videos daily of them singing, lip-syncing, dancing and goofing around.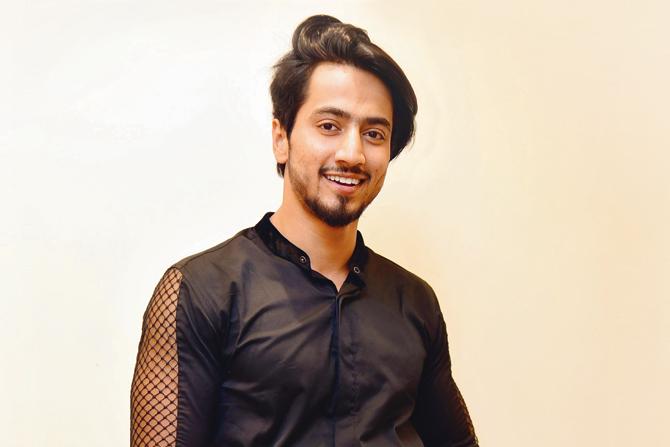 Last year, TikTok overtook Facebook in global downloads, according to US-based market intelligence firm Sensor Tower, and much of the spurt had to do with growth from India.
After TikTok suspended the accounts of three users last July, including Shaikh's, following an FIR registered by the Shiv Sena's IT cell, Shaikh posts video exclusively on Instagram. It was a video by Hasnain questioning Tabrez Ansari being beaten to death in Jharkhand on claims of theft that led to a debate on whether the platform promoted violence. Shaikh's fans didn't take the decision well. "Faisu nahi toh TikTok bhi nahi [If there is no Faisu, there is no TikTok]," one fan wrote.
According to Instagram figures (shared by Qyuki), Shaikh's engagement rank is number 1 in India. At 10.3 million followers, his Average Engagement Rate is 15.20 per cent. Compare that with Salman Khan's (around 30 million followers) 4.04 per cent, or Virat Kohli's (50 million followers) 5.38 per cent. "We knew we had to keep one thing consistent—create clean content. We would never put up anything you can't watch with your parents. Somewhere down the line, we went off track. Mummy told me, 'If I can't watch it, don't do it'. I want to be like SRK; he has always maintained a clean image." Shaikh's content strategy seems to be working. On a trip to Ahmedabad two years ago for a small-scale event, he uploaded a picture of himself inside the hotel room. Two thousand people turned up outside the hotel to see him. "Main kuch ban gaya, bada ho gaya. Log mujhe samajh gaye, I feel," he says. He surely is someone now, and his brand collaborations are proof. Recently, he did brand endorsements for the candy brand, Chupa Chups and Oppo phone.
On February 11, Shaikh hit the 10 million target on Instagram, and the celebration party was attended by a stream of digital stars, including his rumoured girlfriend and digital influencer Jannat Zubair. "I was so happy. But, I know that I haven't landed this by jhatka [sudden stroke of fate]. It's only because I have put out content every day and done something different [that I have been recognised]."
Once the interview wraps up, we get onto Shaikh's Enfield to search for an appropriate location where he can be photographed. He has a mask on, but the crowds gradually begin to follow. It's evident he is set for bigger things. His father, who once was against his video making, says of his son's stardom, "He has told me not to work, but I continue to. I had once asked him to give up his work. But he is good boy, and he is doing well. We can all see that he has made it work for himself."
What's next? "This year, inshallah, my fans will see me on the big screen." Salman Bhai, are you ready?
Account Videos views
Mr Faisu 583M
Salman Khan 410M
Catch up on all the latest Mumbai news, crime news, current affairs, and also a complete guide on Mumbai from food to things to do and events across the city here. Also download the new mid-day Android and iOS apps to get latest updates