A first-of-its-kind audit of toilets used by nomadic and denotified tribes in the Thane district conducted last month reveals that Swachh Bharat is a long way off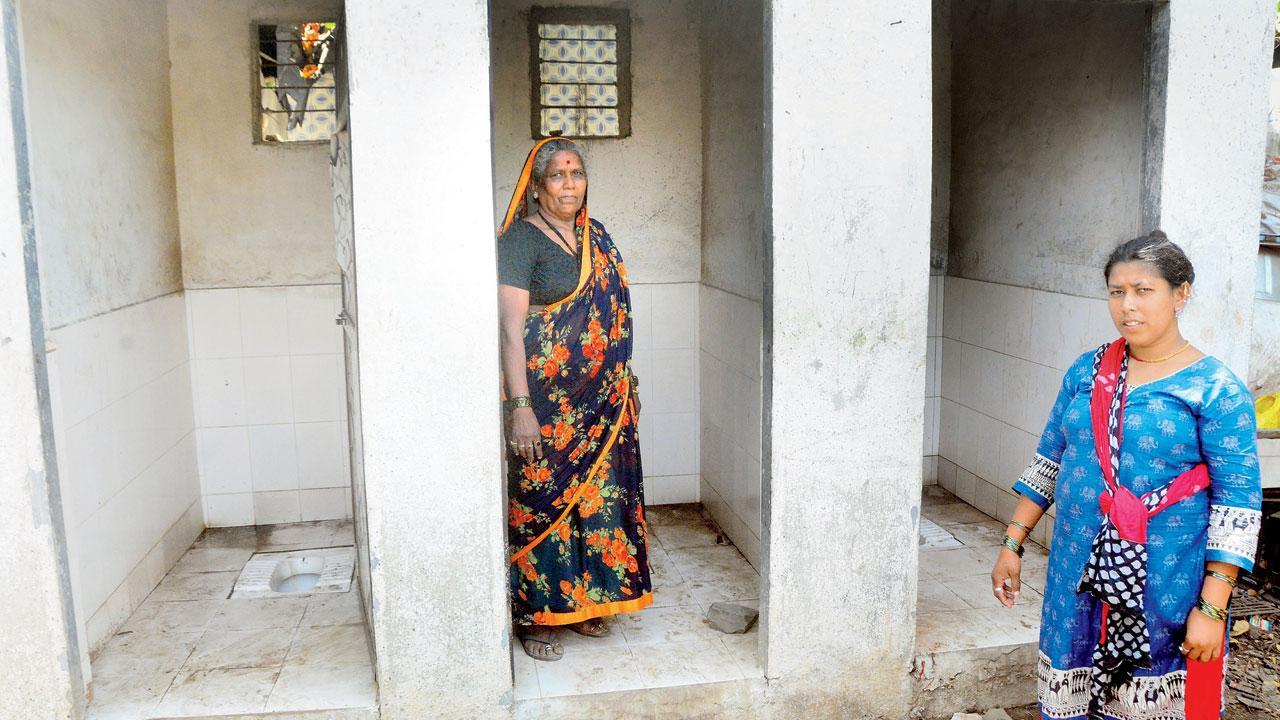 Pics/Sameer Markande
Image caption: Bhangari Ratan Jadhav, a rag-picker, who lives in Lasoonwadi, Shirgaon in Badlapur, says that a local politician built three toilets for the community two years ago. With nobody to maintain them, they are now falling into disuse. "The doors are broken. If we enter we need to place a stone to hold the door. Even then, men try and enter while we are inside," says the elderly woman. 
For the first 30 years of her life, Deepa Pawar lived in a slum in Sewri. As founder of Anubhuti, which is perhaps the only intersectional feminist organisation led by a woman from a nomadic community, Pawar has often dipped into her lived experiences from that time to raise issues of rights and rehabilitation for her people. A grim memory from then that stayed with her, was access to toilets. Once while in Class IX, she remembers inviting a friend over from school to her 8-by-10-foot kutcha home that she shared with four sisters and mother. Pawar had pasted a schedule chart of her day on one of the walls. When her friend read it, he couldn't help but laugh. His chart listed activities like sports and tuition, while Pawar had put aside one-and-a-half hours against "toilet". She recalls feeling awkward then, but "that was my reality".
ADVERTISEMENT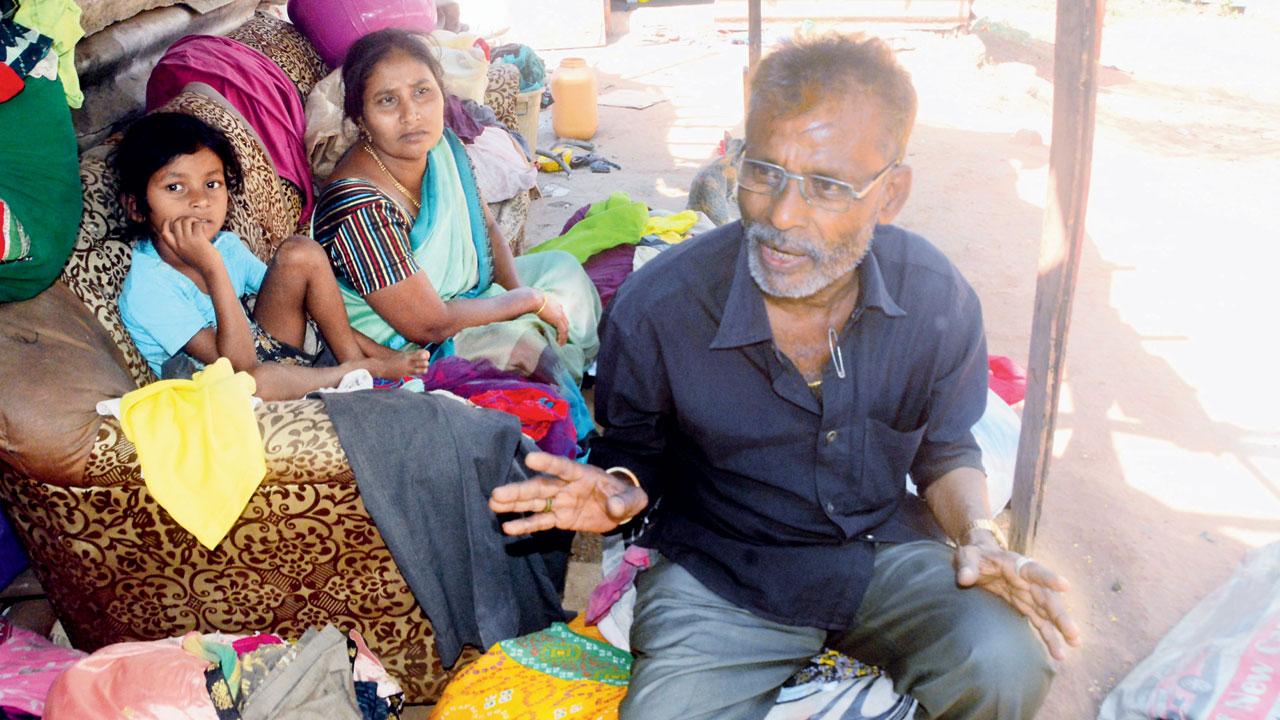 Chhaban Jai Singh Shinde, who hails from the Nathpanthi Davri Gosavi community, says there are only six toilets for 350 people who live in their basti near Shiv Mandir Road in Ambernath's Prakash Nagar
"We used to wait in queue for over an hour daily, just to use the toilet. Even when our turn came, there'd be no peace. Before we could even squat [and do our business], we'd have others asking us to hurry up," she says. Sometimes the community toilet would have no water, or would be running over, clogged. "We had a mori in our home, but no running water. I remember my mother would hold her pee for hours, just to avoid going to the toilet. Even when I became pregnant [at the age of 18], I had to wait in the queue. Often, I had to rely on the kindness of strangers to allow me to go before them. It was an undignified life," she shares over a telephonic chat.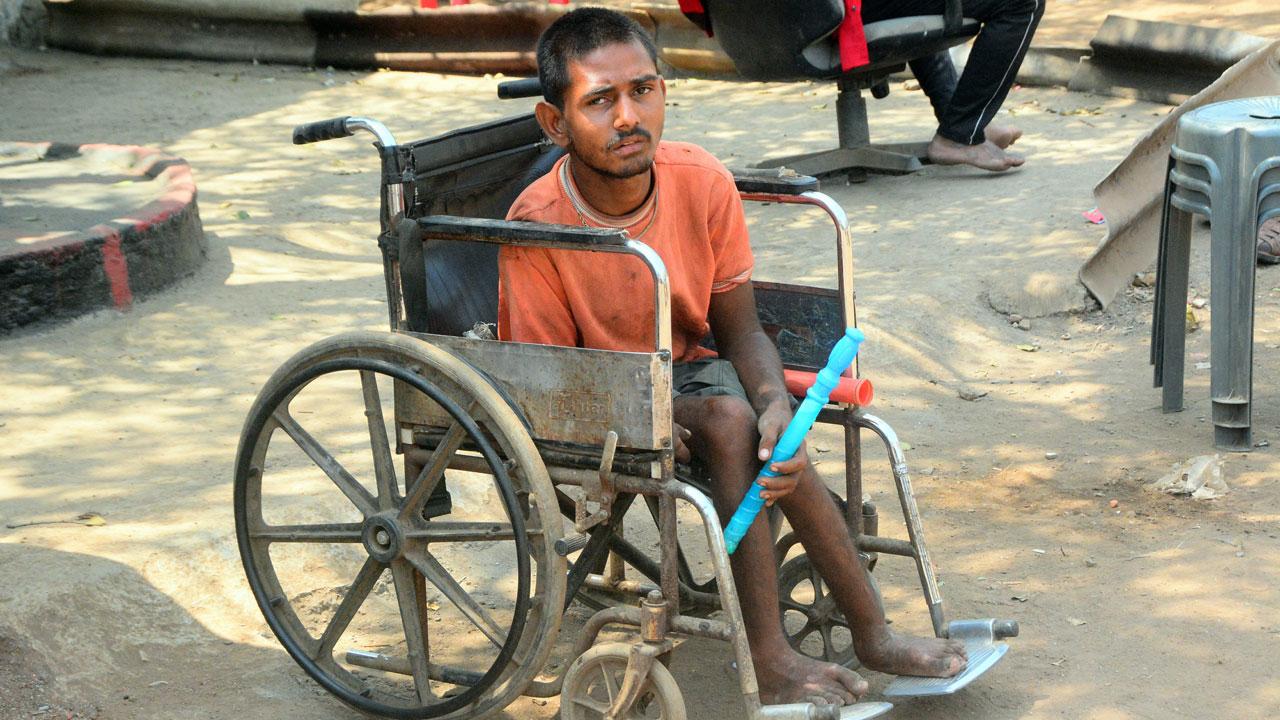 Most of the toilets audited were not disabled-friendly. Those with disabilities are often forced to defecate in the open 
While working with people from the nomadic and denotified tribes (NT-DNTs), Badlapur-based Pawar realised that the Right to Sanitation was indeed a dire issue. "They live on disputed land, and in deplorable conditions. Where home means nothing more than a bamboo pole and two sheets of plastic with no walls, there is no question of toilets. Public toilet facilities are built keeping in mind the needs of 'settled' communities, not nomadic tribes," she says. When toilets did get built, they were hardly ever maintained by local authorities. "In some cases, a decent public toilet would be a whole 10-minute walk away." The problem only worsened during the pandemic. Community members, most of whom are daily wage labourers lost their source of income, and didn't have money to buy basic ration, so going to pay-and-use toilets was out of the question. If they stepped out during the lockdown and defecated in the open, they could face a fine. It's the women, children, elderly and those with disability who bore the brunt. Though "toilet accessibility for all" has been top on the priority of Prime Minister Narendra Modi's Swachh Bharat programme, benefits of the initiative haven't trickled down to the marginalised. But, to take up this cause, Pawar knew she first needed data.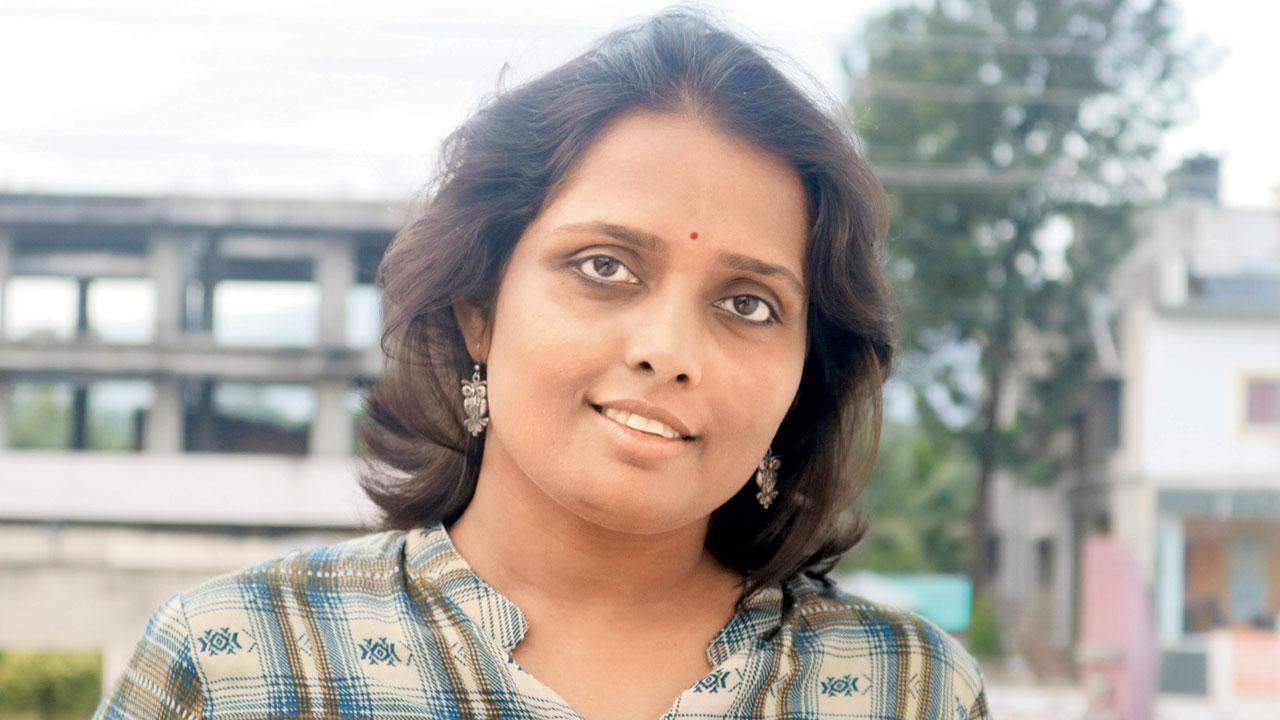 Deepa Pawar
This led Pawar to think up a one-of-its-kind toilet audit that concluded last month. Led by 15 youth from similar communities, and done in collaboration with leaders living within these settlements, the survey saw Pawar and her team audit 28 toilets, and conduct 187 interviews across 11 locations in the Thane district, covering Ambernath, Titwala, Kalyan, Bhiwandi, Ulhasnagar among others. Of these, three communities lived in tent settlements with no facilities built for them, while the rest lived in slums on the outskirts of settled bastis. The audit hoped to seek data on how many homes and communities actually have toilets, what people do if they don't have access, toilet-related accidents and sexual harassment, accessibility for trans persons and persons with disability, condition of facilities in available toilets, behaviour of service providers towards the NT-DNTs, and the monetary cost of using toilets. "We wanted to approach the subject as an issue of justice, dignity, right to life, privacy, and health," says Pawar.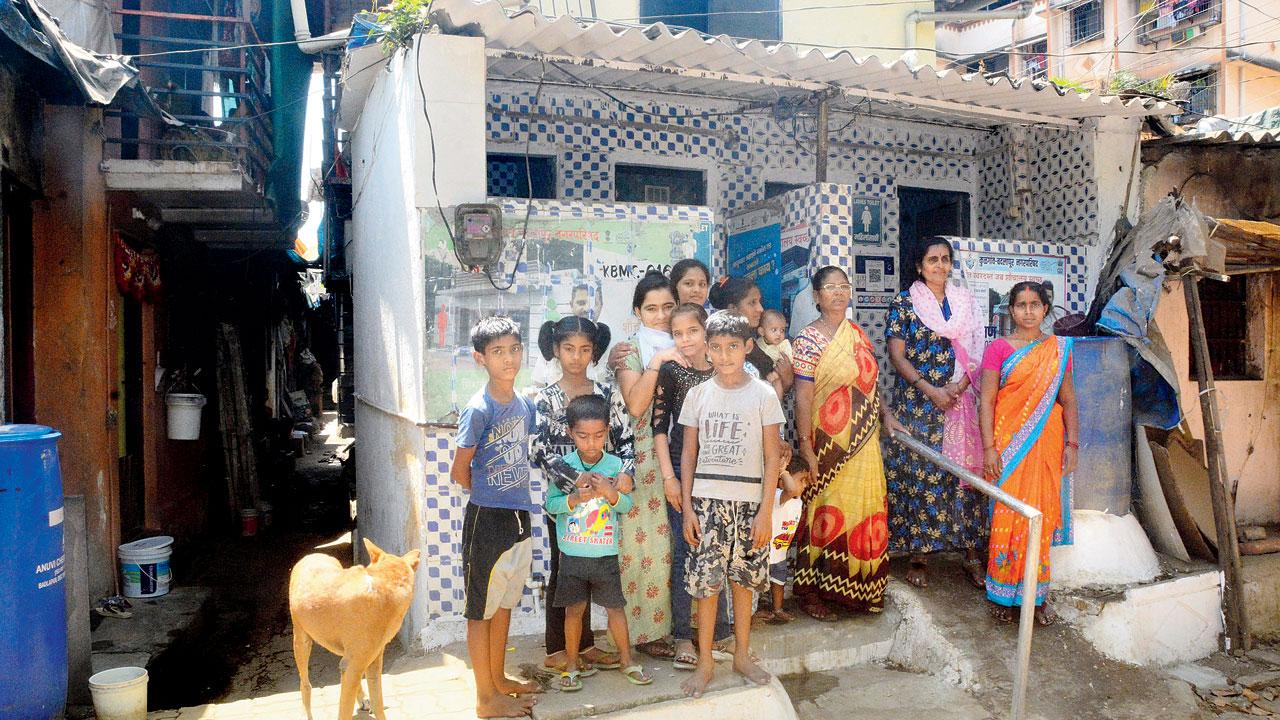 The community public toilet in Shashtri Nagar is a model example of public participation in ensuring clean sanitation facilities. Local leader Basavraj Rathod gave away his home to build it 20 years ago
mid-day visited five bastis that were part of the audit, to understand the ground reality.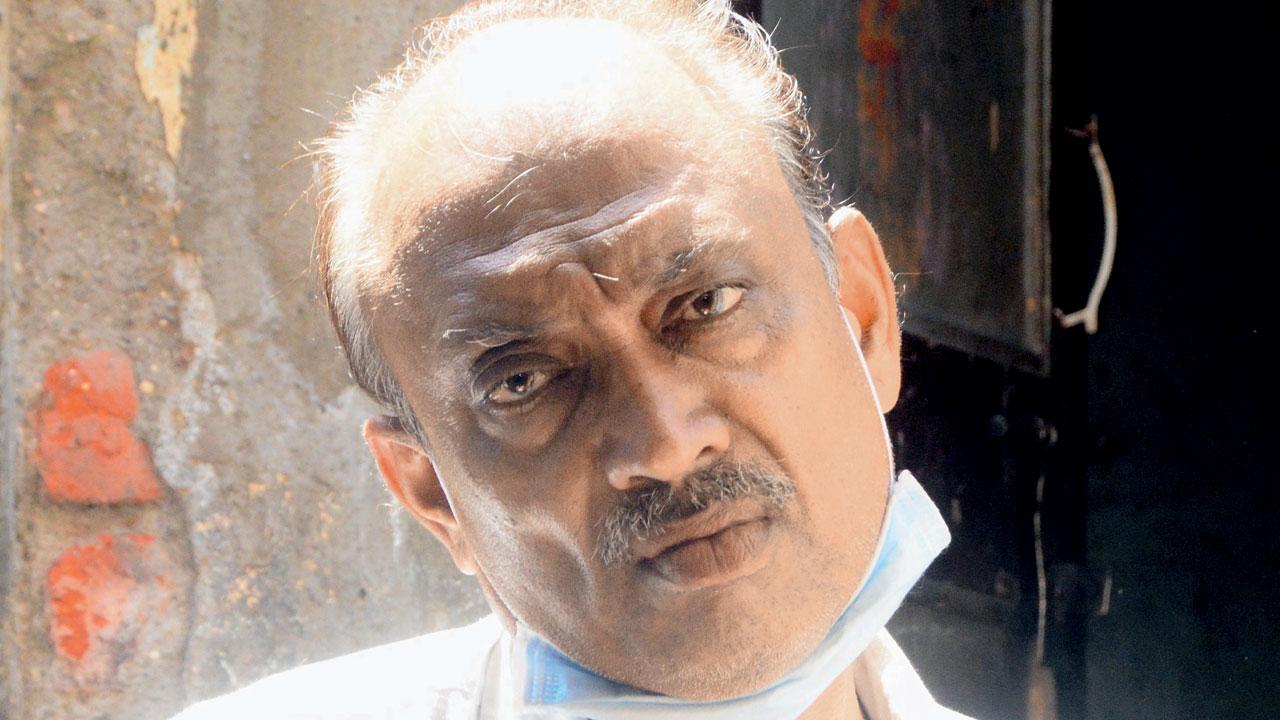 Basavraj Rathod
On the periphery of Shiv Mandir Road in Ambernath's Prakash Nagar is a basti comprising over 200 houses, on a vast stretch of arid land. The homes here are not like the usual crammed slum settlements. These are spacious—some as large as a tiny Mumbai flat. But the comfort ends there. The houses are made of bamboo sticks with old, corrugated metal sheets for walls, and tarpaulin sheets providing temporary roofing. Living here is a nightmare in the monsoon and felt like hell for this writer who visited the basti on a day when Mumbai was battling a heat wave and the average temperature was hovering at 42 degrees Celsius.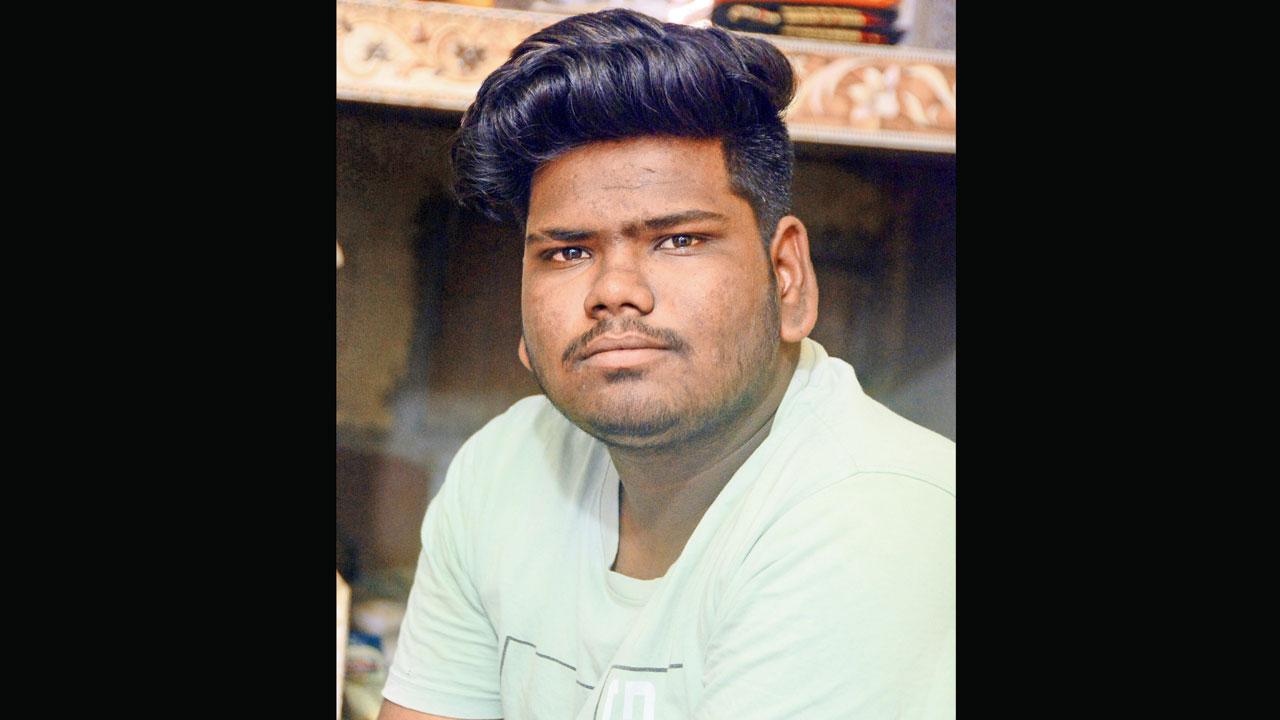 Santosh Sahibrao Athawale, 18, is among the youth who carried out the audit in February 2022
Chhaban Jai Singh Shinde, who hails from the Nathpanthi Davri Gosavi community that traditionally asked alms by showing pictures of gods, is seated under a shade on the afternoon that we visit. It's scorching outside, but he tells us that it's hotter inside the home. Shinde and his father Jai Singh Shinde were folk artistes, who travelled from village to village belting out songs that carried social messages. After his father passed away, he became a kalhaiwala, trading new utensils for old clothes. It's a struggle to make ends meet, he says. But it's worse to live in filth. "There's a public toilet a few metres away, which was built by the local municipality around four years ago. While three toilets are reserved for women, the other three are for men. But, they are in such a bad shape, you can't even go close to it. There's no door, no lights and no water," he shares. "One of the toilets gets clogged every now and then. When that happens, we go to the nearby public toilet in Kailash Colony, where we have to pay R5." Seema Shinde, another resident, says that the toilet they use, doesn't even have a board identifying that it's for women. "Sometimes, in the night, men also enter the toilet, which makes it unsafe. We don't go there after 10 pm. If we do, we go in pairs." Shinde says that there are around 350 people in the basti. Ideally, as per the audit, they would need at least 10 toilets for both men and women. "But that's the last thing on the mind of local authorities. We don't even have access to water supply, and have to pay to buy it."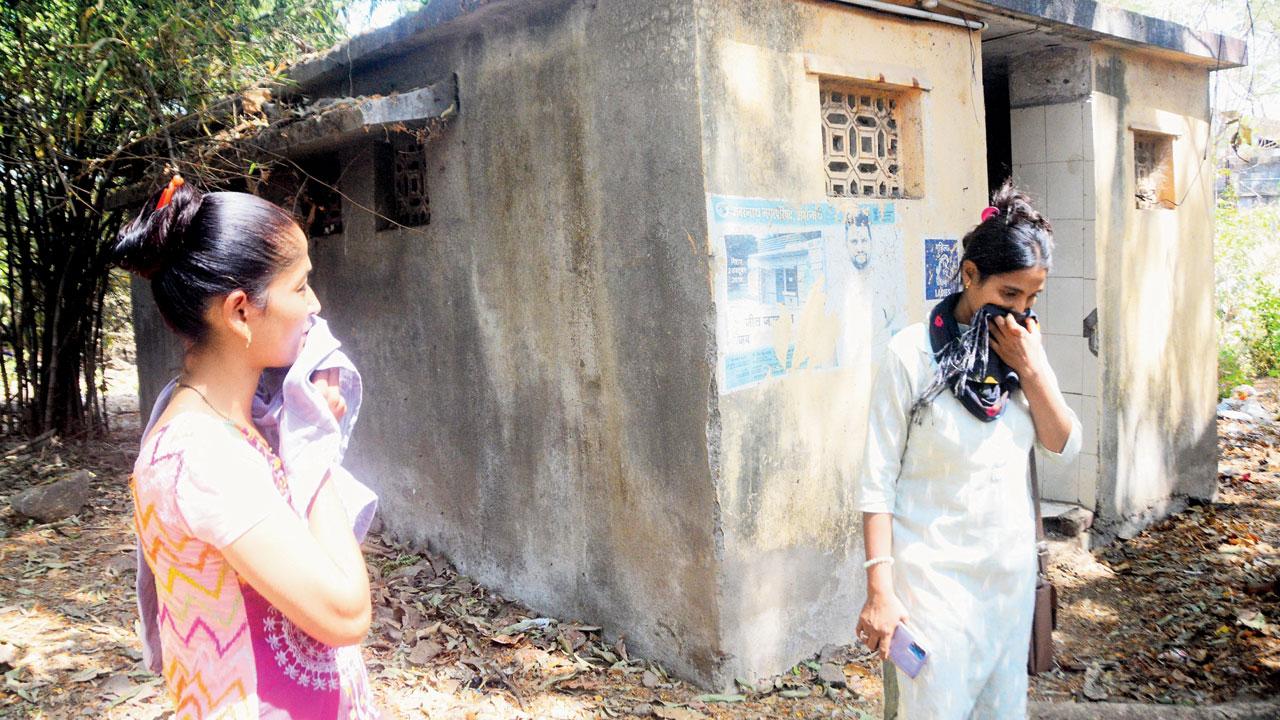 Reshma Babita Bhaskar Ahire, a member of the social organisation Anubhuti, seen outside a poorly-maintained toilet in Forest Naka, Ambernath, which is now infested with flies. Kiran Mohan Singh, a resident, says they send their children to defecate in the open. "We can't send them to take a dump in such a filthy toilet. They will catch diseases"
At another basti in Forest Naka in Ambernath East, when we arrive, a toilet cleaning truck of the municipality has just passed by. "They have come here after more than a week," says Kiran Mohan Singh, who belongs to the Vaghya Murali (religious performers) community. There are two sets of community toilets in the area. But the truck has skipped cleaning the one infested with flies. "It's too filthy to even enter," she cautions, when we try visiting. Before the local authorities built toilets in the area, people would defecate in the open. "When these toilets got made [six years ago], it changed our mindset a bit. We started using them. But with nobody to clean them, and no lights and water, they are impossible to use. Now most of us have started defecating in the open again, including our children. We can't send them to take a dump in such a filthy toilet. They will catch diseases," she adds. There are around 3,500 people living in this particular settlement, with just four public toilets. "Some have built their own toilets through Modi Sarkar's scheme, where they pay half, and the government pays the rest," says Singh, saying that she cannot afford one of her own.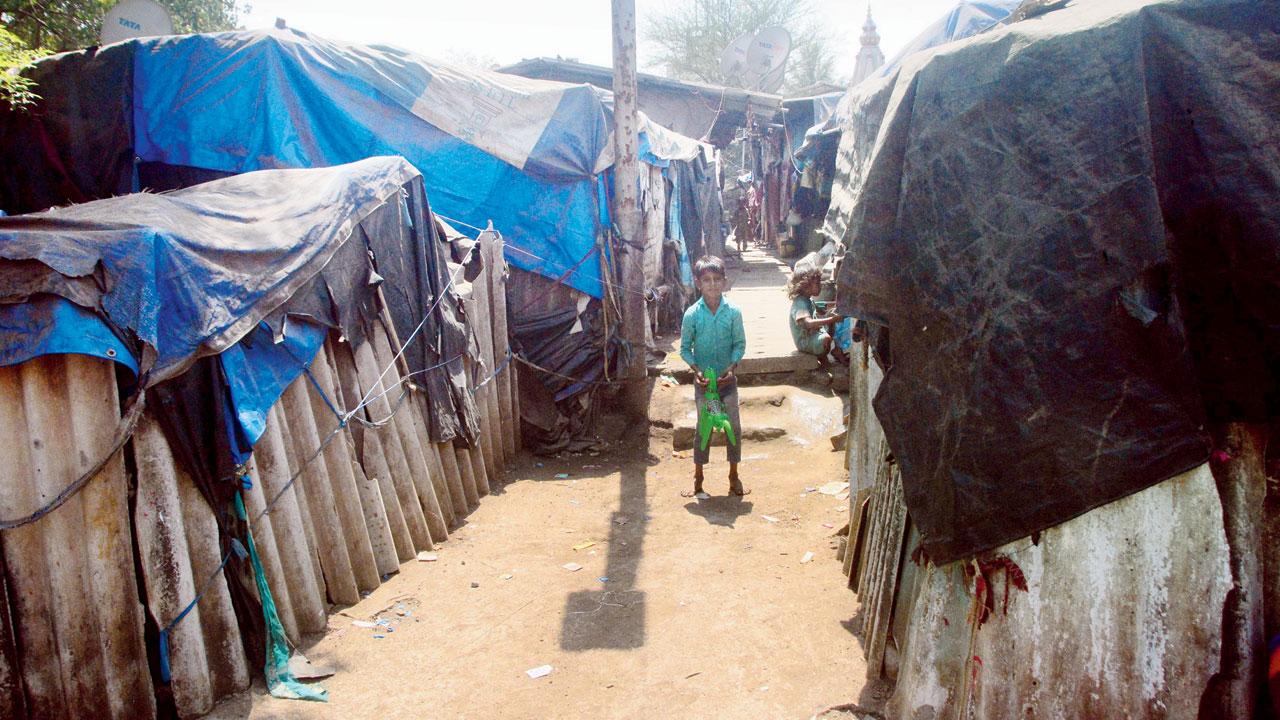 Further ahead in Badlapur's Lasoonwadi in Shirgaon, the situation is no different. Bhangari Ratan Jadhav, a rag-picker, who has lived in the basti for more than 28 years, says that when she moved in the area, there was a pond. "We reclaimed it on our own, and settled here," she says. Around two-and-a-half years ago, a local politician built three toilets for the first time, she says. "But we are 350 of us, and many of us have to go to work at the break of dawn. People line up by 5 am. Most of the time, they are only fighting to use the toilet. It is big headache," she says. With nobody to maintain these toilets, they are now falling into disuse. "The doors are broken. If we enter we need to place a stone to hold the door. Even then, men try and enter while we are inside," says the elderly woman. Her niece Baina Subhash Jadhav is visually challenged. "She needs my grandchild to take her. Otherwise, she won't dare to go."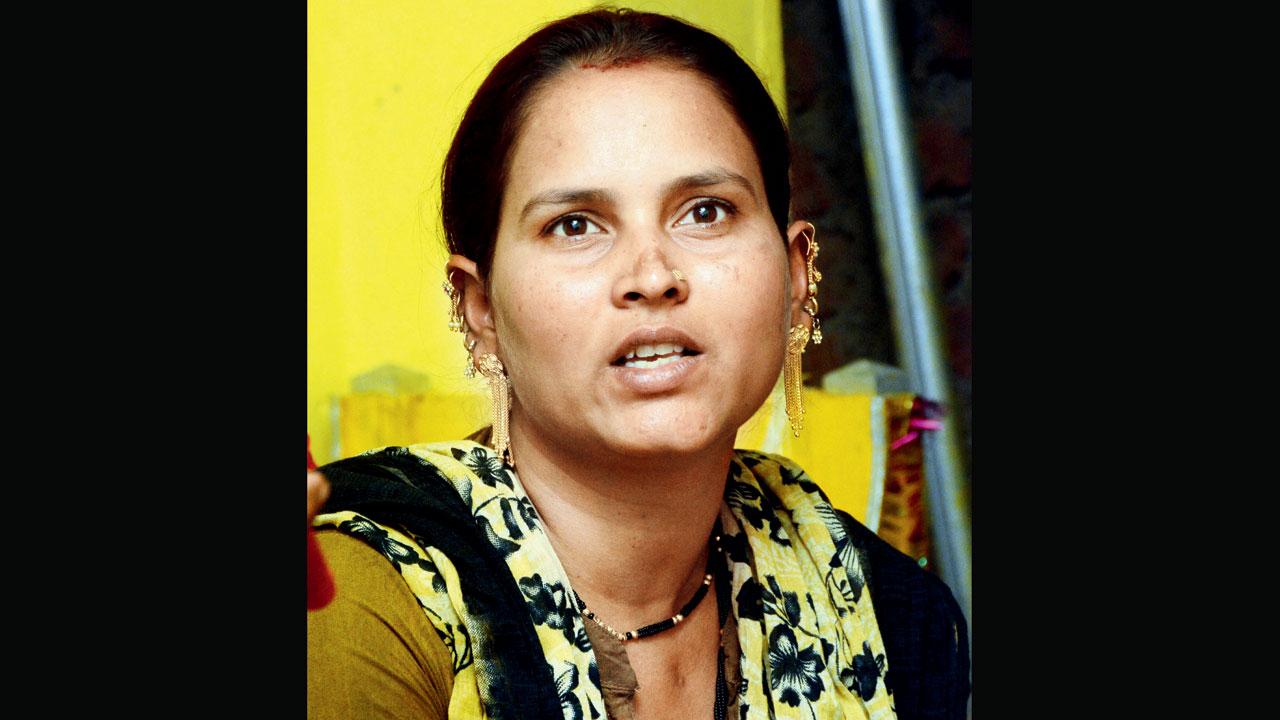 Kiran Mohan Singh
Of the 187 people interviewed by Anubhuti, 72 said that their neighbourhood public toilets were unsafe because they had no lights, 16 said that they had no locks and doors, and 25 complained of having no separate toilets for men and women. Another 32 interviewees said that men would sit outside these toilets, while five women shared that when they defecated in the bushes, men would specially come to look at them. Eighteen-year-old Santosh Sahibrao Athawale, who was among the youth that carried out the audit, said that at some of the locations that he visited, there weren't toilets at all. "Many women are scared of using these toilets in the night. So, they wait till morning to relieve themselves," he says.
In a basti in Kalwa, a 10-year-old had died in a septic tank near a public toilet. "Another elderly woman slipped inside a toilet and injured herself badly," says Athawale. "These nomadic communities contribute to our language, and the arts. When they play such an important role in our society, why are we denying them basic rights to sanitation?" asks Pawar.
Reshma Babita Bhaskar Ahire, a member of Anubhuti, says that they have been trying to spread awareness about the same, among members of the community. "It's not that they like defecating in the open or using bad toilets, but they don't really have any other choice."
In Shastri Nagar, Basavraj Rathod, a local leader and activist, gave away his own room to build four public toilets for men and women, around two decades ago. "There is someone to clean the toilets every day. The residents also contribute to carry out repairs when needed," he says. Since the last one year, local authorities have been maintaining the toilet."     
Pawar says more such public partnerships are needed. "Organisations like ours are willing to help facilitate this," she says. The team is now analysing the data, and preparing to advocate for the sanitation rights of NT-DNT populations. "These meetings are being planned at the local administration level, as well as with state-level decision makers. Having first-hand data is a starting point to have these conversations."
04
No. of public toilets for 3,500 residents of a basti in Forest Naka in Ambernath East 
Survey highlights
Problem with safety 
No separate loos for trans persons: 7
No locks on doors/
no door: 16
Unsafe for children, old, disabled because structure so bad, far away: 18
Unsafe because of animals, snakes, scorpions: 48
Unsafe at night, no lights: 72
Men are sitting outside: 32
Someone has to accompany for safety: 10
Men specially come to look at us (women) while we sit in the bushes. They peek from surrounding buildings too: 5
No separate toilet for male and female: 25
The health repercussions 
Have to control bladder: 23
Health issues due to severely dirty loos: 40
Feel like vomiting seeing the overflowing toilet tanks, due to the smell: 10
 
Do officials from the municipal corporation or nagar parishad come to inspect condition of the toilets?
No: 135
Yes, but not frequently: 34
Someone comes 
regularly: 4
Numbers indicate responses from total of 187 respondents