Funnymen from around the world, gathered in Mumbai for the International Clown Festival, tell us just how serious the business of clowning is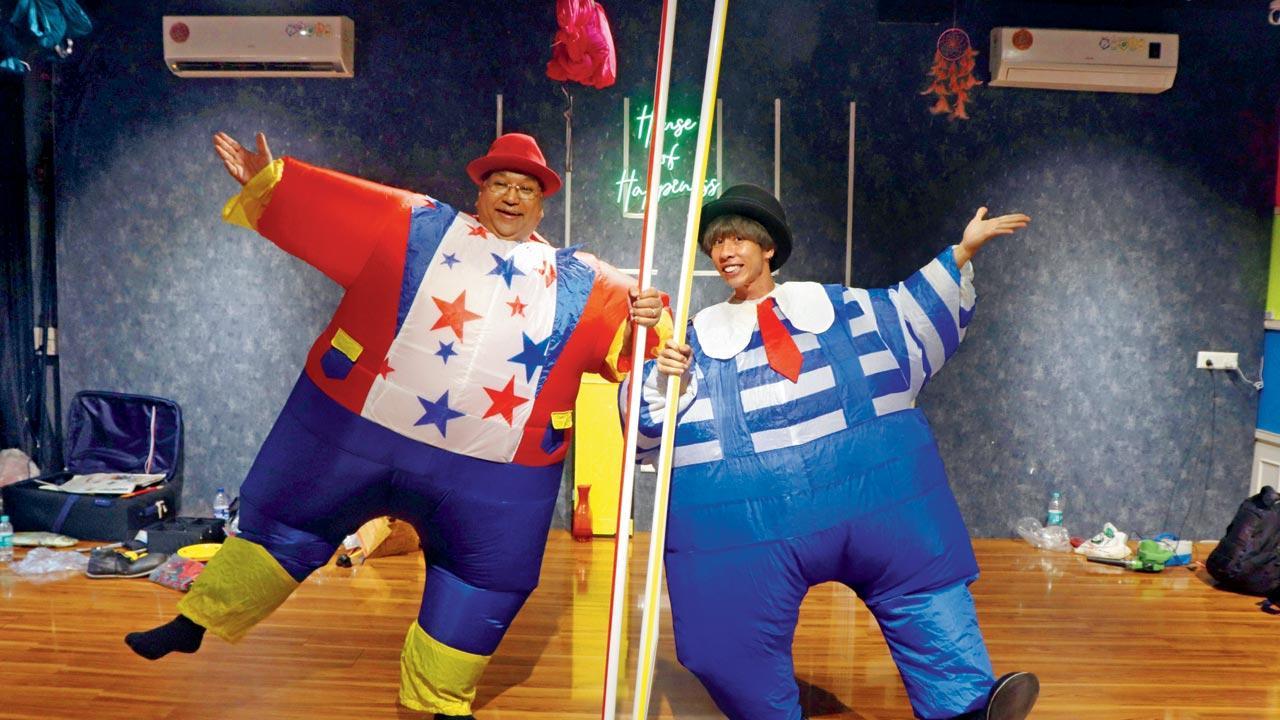 Professional clowns from across the world, who are in the city for the International Clown Festival this month, practice mime and balance at the House of Happiness in Marol. Pic/Anurag Ahire
Much like superheroes in plain clothes in the movies, Charles 'Sleepy' Lauder, Edmund 'Captain Dazzle' Kong, and Daigo 'Toppo' Mizutani, wear an element of their alter-ego as they monkey around at the House of Happiness in Marol.
Captain Dazzle's socks are in broad black-and-yellow stripes; Toppo's right leg ends in an oversized shoe, and when Sleepy removes his straw boater, a violently vivid violet mohawk unfurls. Upon closer inspection, Jeffrey 'Bungles' Potts looks like Johnny Bravo in his 50s—a retired US marine right to the haircut. Flubber, Gigi and Rone all wear T-shirts from various clown academies and schools.
ADVERTISEMENT
They are part of the ensemble performing at the International Clown Festival at NCPA, Nariman Point and St. Andrews, Bandra later this month, and right now, rehearsals are underway. They are all contemporaries to India's only certified professional clown, Martin 'Flubber' D'Souza, who is also the producer of the show. Hashimoto was teacher to most of those present here, and shares an act with her former student Rone.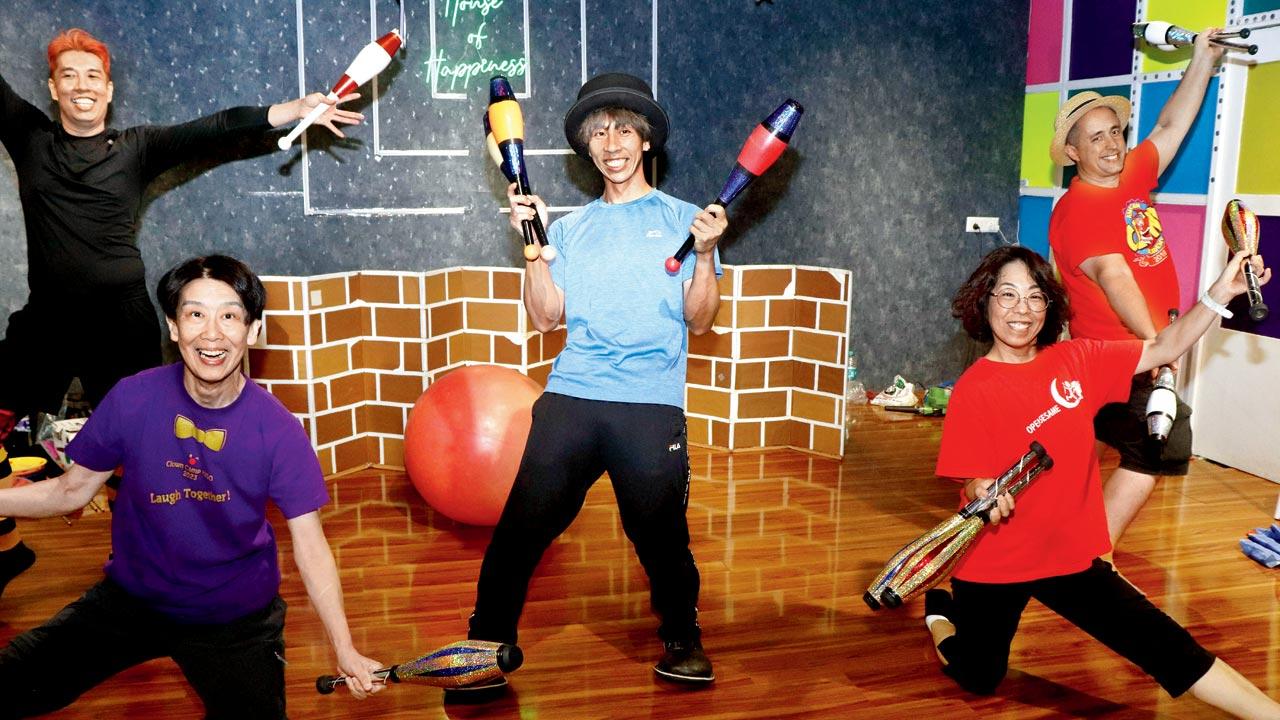 Professional clowns Captain Dazzle, Sleepy, Toppo, Gigi and Rone's agenda is to remind us to play. Pic/Anurag Ahire 
There is something deeper at play here—not just slapstick falls for laughter. There is skill—Sleepy, who is from Canada, juggles three bowling pins while balancing on a plank placed on a roller. Toppo from Japan, in a blown-up fat suit, does a one-arm lateral stand; Gigi and Rone, also from Japan, juggle in tandem. Potts shows the precise way to uncoil a magical prop. As they improvise and fine-tune their sequence, without discussing it out loud, they are careful not to overshadow or take away from each other. Each one gets equal time on stage to raise guffaws. There seems to be no set 'leader'.
"We are not clowns when in costume," says D'Souza. "We ARE clowns." "Clowning is both very simple and complex," helps Kong, when we ask what the essence of clowning, the performative art form is. "It's play, our natural state as children," offers Lauder, who's from Canada, and really does look like Sleepy the Dwarf. "Isn't it funny we lose this capacity for fun as adults?" steps in Kong from Singapore, just as synchronised as their act, "when actually, we should get better at it. It's interactive play—we are playing with each other, and with the audience…" "A clown also shows you different perspective to a situation," adds Gigi, "Like Charles Chaplin, he took very negative subjects, but drew humour from them by throwing a different light. We try to do the same—you may not agree with the perspective, but it's another one. This is important for people to get along—to see things from the other's point of view. For everyone to play together…"
What they are trying so hard to do, is to get their audience—especially the very important adults—to grant themselves permission to laugh. "Back at home," says Potts, an American, and the creative director, "there can be some really tough crowds—Wall Street bankers, say—who are too serious to laugh. They think it's immature or unimportant. It's hard to get them to give themselves permission to let loose. But that's not the case in India. I have toured here before and the audience here always wants more."
"Japan's people very shy," says Mizutani. "They think people will judge if they laugh…" "That's why I only work with tourists and children," it's Kong again, "I pass the other jobs to my friends, and they do the same for me."
D'Souza has ensured that the act is suited to Indian audience: "I personally don't like laughing at someone or putting someone down—that's not humour; that's humiliation. So, no jokes on communities or gender or nationalities…" "And toilet humour," reminds Kong. "Yes, there is an act showing a dog peeing…I don't like all that, or sexual innuendo. Even the act about the fatsuits—I am round, and you know, round is a perfect shape."
And the Hobo clown, a beloved character worldwide, made most famous by Charlie Chaplin. "But we found it doesn't do well in India because it is based on homelessness," says D'Souza. Understandably, given the omnipresence of poverty. "We don't want people to feel guilty [for laughing at someone else's misfortune]," he says. For instance, Lauder afraid whether they would left him perform, given the current political tensions with his home country, Canada. "I told him of course they would," stresses D'Souza. "What we are doing has nothing to do with that issue." "We are here to make people forget what is happening outside the four walls of the hall," says Kong.
So what does a clown do to laugh when s/he's sad? "You know what Jeff does," says Kong again, clearly the gregarious one; Rone and Toppo are limited by language. Everyone laughs seeing how Potts is built like a tank. "I used to go to gym," Kong continues, "but see what delicious Indian food has done." He pinches a ring of flesh around his waist. Most of them agree they divert their minds or connect with people they love: Lauder turns to playing with his children. D'Souza cooks or heads to the ocean. Kong performs for hospitalised children, and Hashimoto turns to music and theatre, and the performing arts. "But even when I am listening to music," she says, "I am thinking about clowning—how can I use this in an act…"
Like he said, they are all clowns. 
"Exciting news! Mid-day is now on WhatsApp Channels

Subscribe today by clicking the link and stay updated with the latest news!"
Click here!