A former law minister as father and an SC advocate for brother make Shefali Bhushan the perfect candidate to take on the mantle of writer-director for a series on crime and legalese in India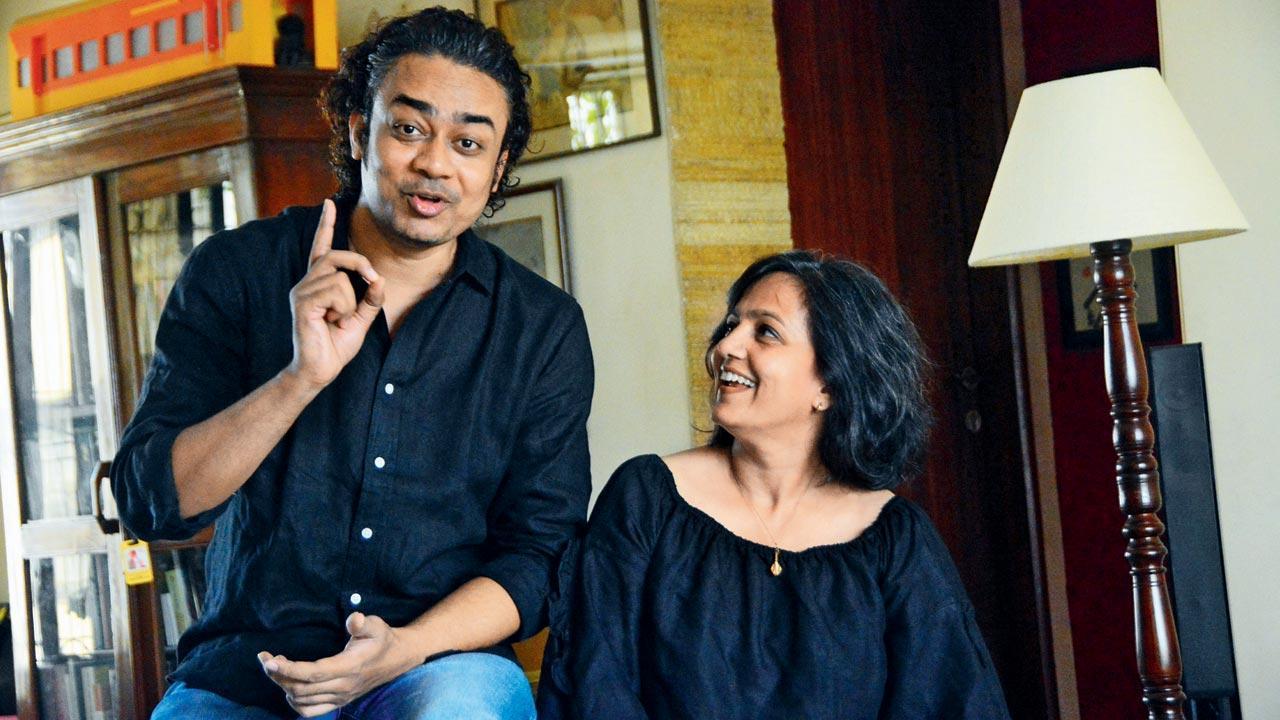 Shefali Bhushan and Jayant Digambar Somalkar have written and directed Guilty Minds. Pic/Sameer Markande
My father was animated in the courtroom, fond of cracking jokes and proving his point in a boisterous way," says director and writer Shefali Bhushan, daughter to one of India's most prominent legal minds.  senior Supreme Court advocate and former law minister, Shanti Bhushan. Her husband Jayant Digambar Somalkar laughs when he recounts the time he witnessed Bhushan charge towards the judge in court. "Humour is a big part of the show, as it is of life, and we have picked up some jokes verbatim as they were cracked by Shefali's dad," he tells us in a joint interview.
The Delhi-based couple is behind the recent Amazon Prime release, Guilty Minds, starring Shriya Pilgaonkar and Varun Mitra. Mitra is the good natured, endearing lawyer, who doesn't spend too much time thinking about who is guilty or not; Pilgaonkar plays the firebrand, idealist lawyer standing up for the "truth". Written and directed by the duo, the series sees the actors play lawyers, and while their career and life form the backdrop of the show, each episode deals with a different case. Research and nuances came easily to Bhushan, who comes from a family of lawyers, which includes her brother, Supreme Court lawyer Prashant Bhushan. And yet, she admits she was nervous before a special screening organised for a group of prominent lawyers from the capital. "They enjoyed most of it, but did point out a few things we got wrong, and we made notes. Interestingly, about the second episode, which sees a young boy commit a murder after he is inspired and obsessed with a video game, my father said he would have let him go scot free," she shares.
ADVERTISEMENT
The show's 10 episodes shine the light on India's social fabric and challenges modern life presents us with. Like in the case of the female actor who accuses a popular director and ex-lover of rape, most of the stories hold up a mirror to our real world. "We didn't wish to focus on one issue, and this format allowed us to play with a variety of subjects. Many of those who have watched the show tell us that the stories had them reflect on which side they would've been on, had they been asked to choose the wrong and right. While writers cannot always let our own personal opinions be left out, mostly we have tried to let the viewers decide."
Along with the selection of stories that the duo and its team—Manav Bhushan, a biomedical engineer with a law degree, and Deeksha Gujral, a human rights lawyer—has decided to tell, what stands out are the manner in which the courtroom scenes have been shot. Gone are the large, dusty courtrooms we are used to seeing. The art direction is a result of intense research that Bhushan says the team conducted in order to create courtrooms that are true to life. "For example, in the first episode where the case unfolds in Delhi's Patiala court, we recreated the fireplace we had seen at the actual location. It was all about it appearing as real as possible," says Somalkar. What the format didn't allow the team was to reflect the long periods of wait that are synonymous with judicial proceedings in this country. A case that would take 15 years to come to fruition, sees justice served in a matter of hours. And that's what creative liberty is all about.
At a time when the judiciary has often been a subject of debate in the country, Bhushan says its an institution that's seen as the voice of reason. "It's a tough time for the whole country, not just the judiciary," she thinks, "But, we are too young and insignificant to discuss that big a dilemma. All we can do, and we are doing, through this show, is to show the audience how things truly work, in the most authentic way possible."
"Exciting news! Mid-day is now on WhatsApp Channels

Subscribe today by clicking the link and stay updated with the latest news!"
Click here!