The ocean is Mumbai's oxygen tank. Its sea faces, our pride and refuge. Suddenly, they have become a place of conflict, between those who seek peace and those chasing leisure and company. mid-day took a stroll down the promenades to figure out what the shor sharaba is all about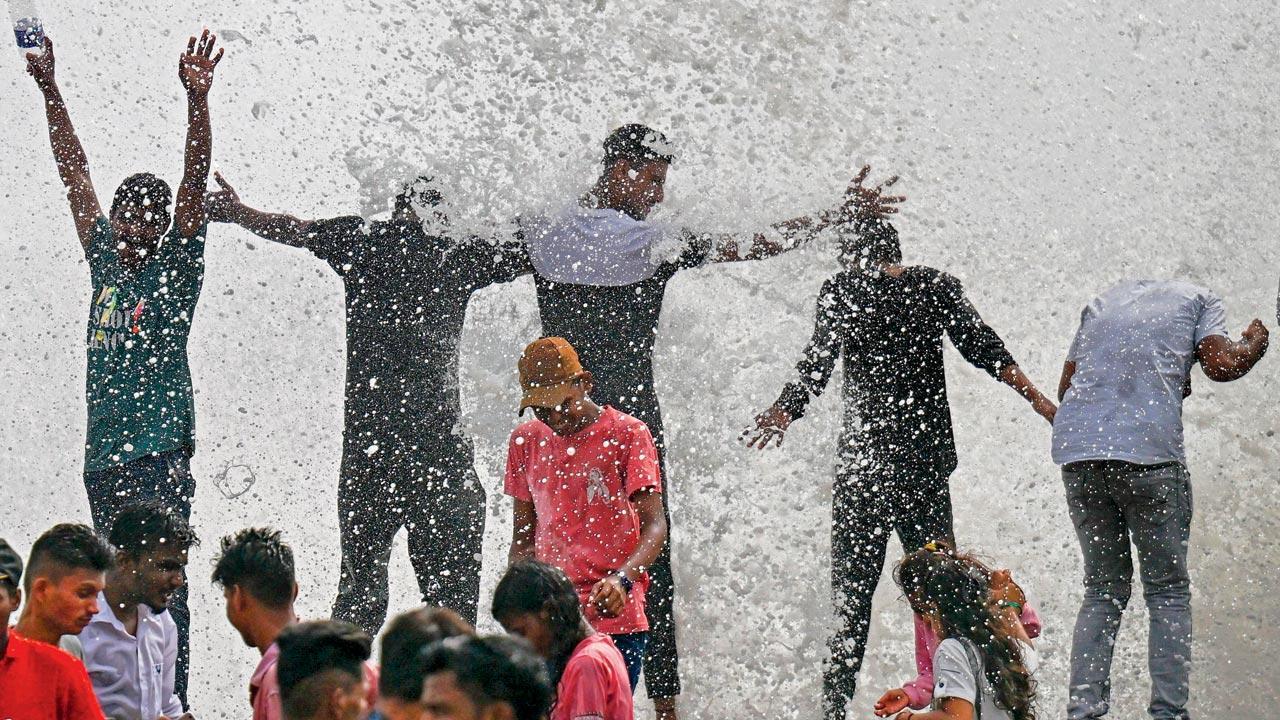 Visitors seen thronging Marine Drive during high tide and posing for photographs earlier this year in July. Pic/Getty Images
Last Monday, a reel by Dank Bombay on Instagram showed two visuals in a split-screen: The upper half showed a throng of people on Marine Drive on a Sunday morning singing, dancing, holding up placards, and offering free hugs… The lower half, a character from a popular web series shaking his head over the subtitle: The guy who bought a sea-facing flat worth R25 crore just to see this. The reel, which has since garnered 53.6k likes, 41.8k shares and 666k views, may be satirical but indicates what's fast becoming a concern for those residing around sea faces and promenades, as well as the authorities. South Mumbai's showcase stretch, Marine Drive, in particular, has been in the news for crowds that surge on Sundays. Every few steps, a content creator is shooting a reel, or a couple is posing for a pre-wedding/pregnancy/pet parent shoot; or a person is offering free hugs. Or a living statue is attracting curious crowds around him.
So much is the chaos that the Marine Drive police have officially sought to end Sunday Streets, a positive initiative started by former Mumbai Police commissioner Sanjay Pandey, in February last year. "We have sent a letter to the office of the Commissioner of Police, asking that Sunday Streets be stopped immediately. As it was started by superior officers, this move shall need sanction from the top," Senior Police Inspector Nilesh Bagul, Marine Drive police station, tells Sunday mid-day.
ADVERTISEMENT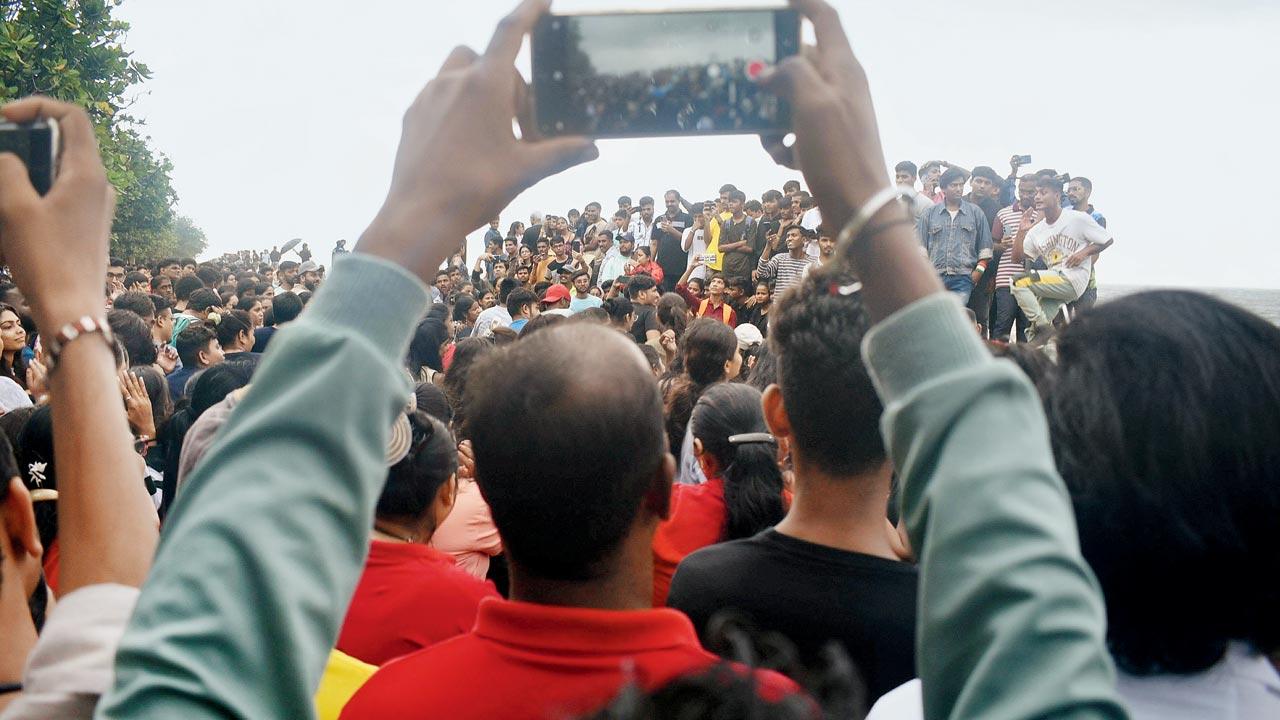 With people flocking to Marine Drive from Navi Mumbai, Thane and even Pune, the promenade is now a mess of revellers, social media creators, artists and hawkers, leading to a daily tussle between them, the residents and the police. File pic/Sameer Markande
During Sunday Streets, Mumbaikars—and residents of neighbouring Thane, Navi Mumbai and even Pune—gathered from the crack of dawn till nearly noon to play music, sing, dance and enjoy creative pursuits and the arts that others were showcasing. The road adjoining the promenade was closed to vehicular traffic; even actors have made the occasional appearance, drawing in larger numbers. "The problem," says Bagul, "is that people believe no rules apply [to Sunday Streets]. A public gathering of this size requires prior permission from the police station concerned, which is granted under certain conditions that ensure that law and order is maintained."
Bandstand in Bandra is facing problems more serious than overcrowding. Every year, couples stray too far into the waters during low tide, and often find themselves stranded on the tetrapods when the waters rise. During the rainy season, it is not uncommon to see a three- or four-member team of constables storming into Bandra Police station, dripping seawater and fury, having had to swim to fish out lovers. Terrified couples follow behind meekly, to be given a dressing down before they are packed off home. "Just to deter them, we try everything from saying we will call their parents to giving their names to the media," a police officer tells us on condition of anonymity. "But young love is a menace even the academy doesn't prepare us for."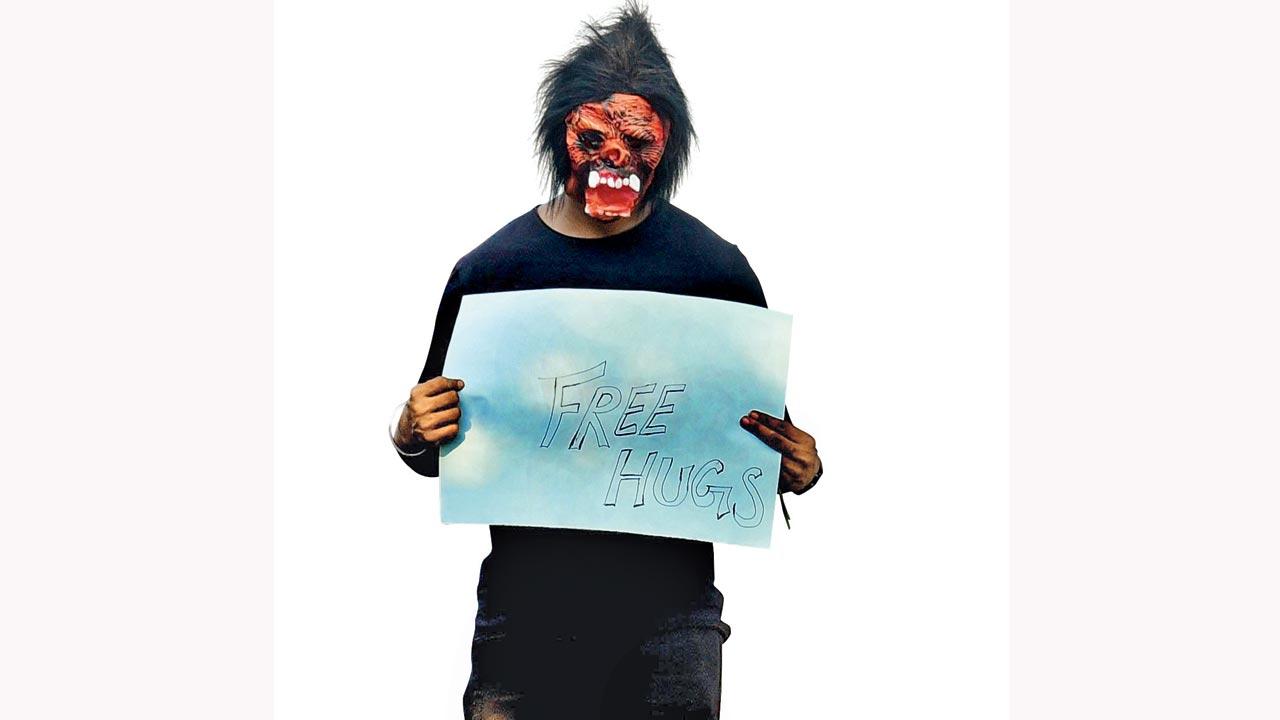 The Sunday Streets initiative, started last year by former Mumbai police commissioner Sanjay Pandey, allowed people to sing, dance, practice fitness activities, play games or simply offer free hugs at the promenade. File pic/Shadab Khan
Kajal Kapoor, a Bandstand resident and trustee, Bandra Bandstand Residents Trust, says, locals have tried time and again to warn couples about going in too far. "The only response we get, is who are you to tell us what to do?" she says, exasperated. "It is disconcerting to see bodies wash ashore, despite our best efforts. The authorities are also doing everything they can. We are trying to get the Maharashtra Maritime Board, which owns the land at Bandstand, to put up signboards in English, Hindi and Marathi so that everyone who arrives here can read them."
Back at Marine Drive, what Bagul, understandably, does not say is that because Sunday Streets had the blessings of the senior most police officer, no permissions were required and no rules applied. Gradually, the timings expanded, the crowds swelled, and the tradition continued for over a year even after Pandey retired from service last June. mid-day spoke to beat constables who regularly patrol the stretch, from Nariman Point to Girgaum, and found that currently, the police station personnel are grappling with increasing instances of law and order violations.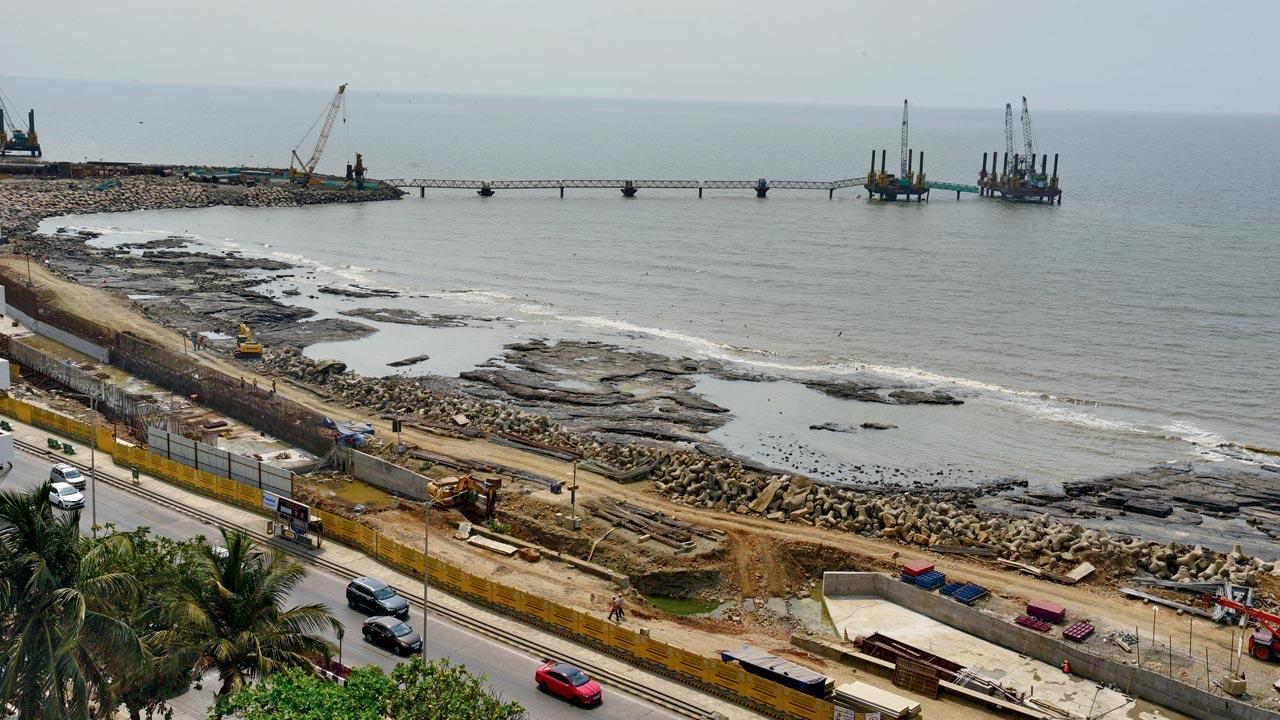 With promenades like Haji Ali and Worli sea face severely curtailed by the ongoing coastal road construction, as seen in this picture from March 2022, the sea of humanity automatically surges towards the remaining open spaces that are still available. File pic/Ashish Rane
"It started small," one constable says. "Theft of mobile phones or bag snatching incidents were reported. We later found out that many of the roaming vendors carry substandard goods in the guise of selling and steal valuables. Then came disagreements between various groups, all of them jostling for space. Worse, there have been instances of sexual harassment." Currently, the promenade is patrolled 24x7, with the police station pressing reserve staff—those usually assigned administrative jobs—into service.
Urban planners will say, locking up the public in their homes on their day off and refusing them access to open spaces is hardly the solution.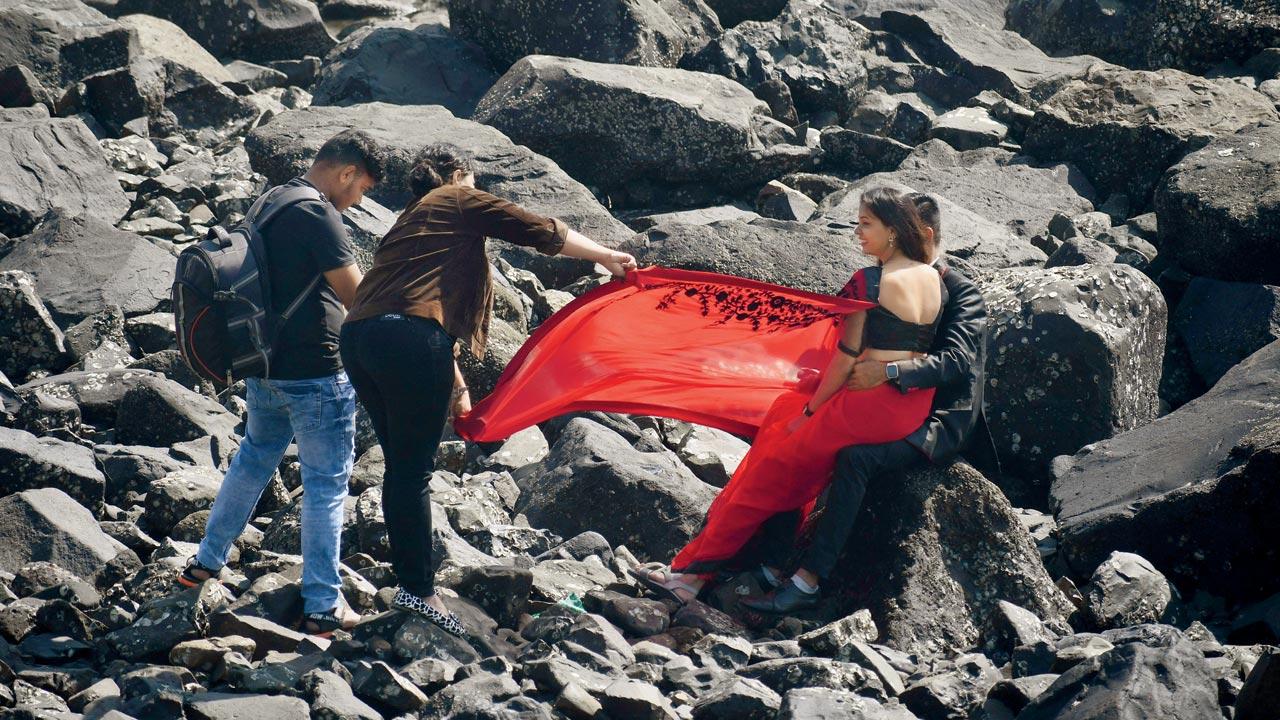 The Bandstand in Bandra faces its biggest nuisance in the form of couples, who venture too far into the water when the tide is low, and getting stuck when it swells. Residents of the area have taken to shooing couples away from the rocks bordering the sea. File pic/Ashish Raje
The extra tide of humanity also comes from a stretch of the city that no longer has a place to go: The promenades at Haji Ali and Worli sea face that were once open-air havens for strollers, friends and families, are now inaccessible due to ongoing construction work for the Mumbai Coastal Road. This has been the case for close to two years.  The south stretch of the Coastal Road is going to be 1-.6 km long and eight-lane wide separated by an expressway that's being built by the BMC, running parallel to Mumbai's coastline.
Khar-based architect Alan Abraham has filed a Public Interest Litigation to demand changes to the project's design, especially in the stretch from Nepean Sea Road to Bandra Worli Sea Link in order to create more accessible open spaces for the public. Abraham suggests that urban planners have a say instead of just highway engineering personnel, while suggesting the inward shift of the 45-km road stretch so that the open spaces sit on the seaward side of the reclaimed land for the public to use and enjoy. The BMC in an affidavit filed in reply to the PIL argued that the petitioner had in fact, suggested substantial changes which could have an impact on both, cost and speed.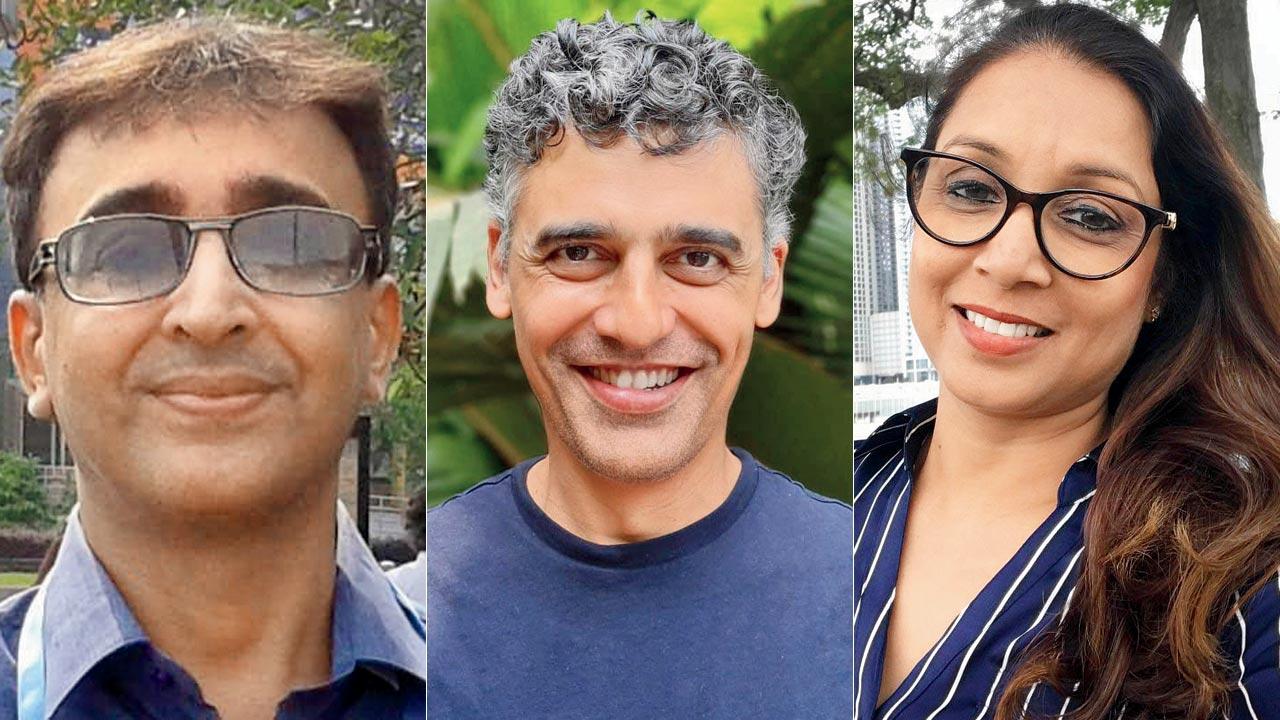 Mahendra Hemdev, Alan Abraham and Kajal Kapoor 
Abraham isn't surprised by the overcrowding. It's residents and revellers who will bear the brunt of a project that is ambiguous in planning, he thinks. "The Joint Technical Committee, appointed to propose the project, said that only 20 hectares were needed for the actual road out of the 111 hectares that have been reclaimed from the sea. The rest was supposed to be open space. How does open space between the existing road and the Coastal Road make sense?" he asks. If people are made to stare at vehicle smog where they once watched the waves, they will automatically gravitate towards the only remaining open stretches of the sea face, which is accessible segments of Marine Drive and the Worli sea face.
"I have a car," says Abraham, "I would love to use the Coastal Road for easier and faster commute. But I also want my open spaces, as do millions of Mumbaikars who stay in small homes and come to the promenades for recreation."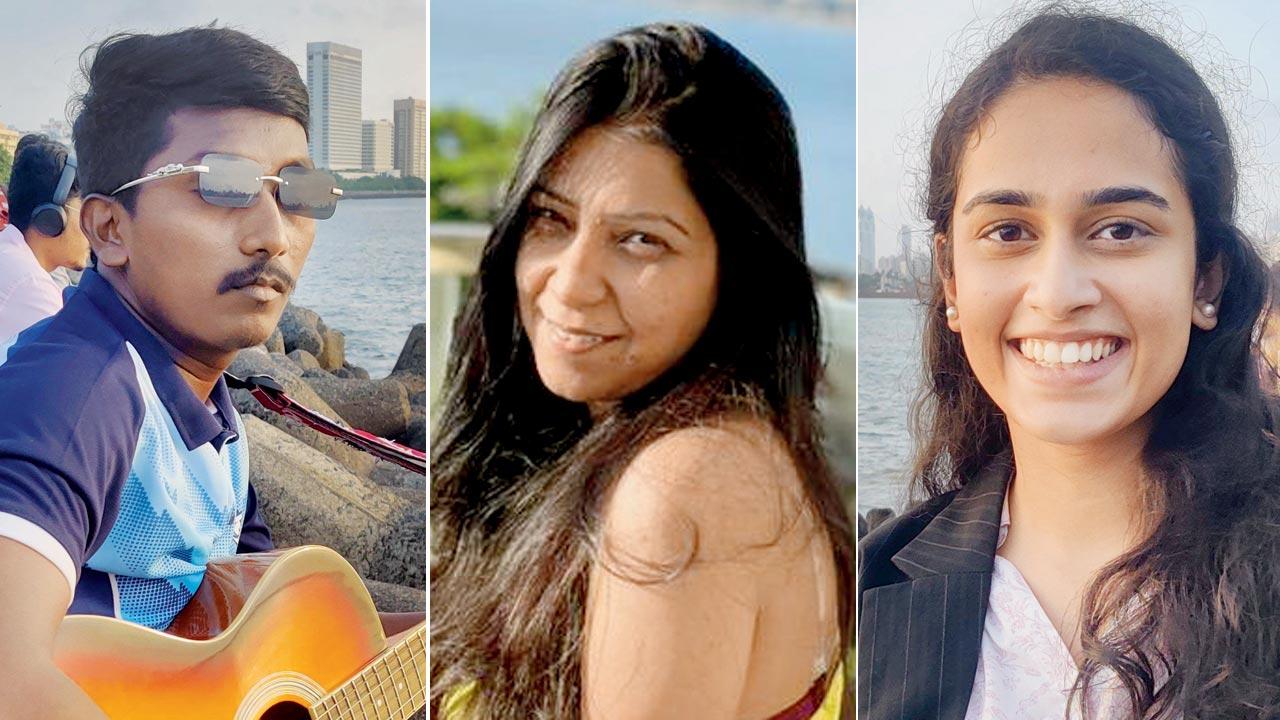 Devdas Kamble, Devdas Kamble and Shilpa Chawla 
At the Queen's Necklace, regulars rue that it's not the same anymore. Shilpa Chawla, 44, is a digital content creator. She says that she has seen the city's sea faces change for the worse. "When I was a child," says the Bandra resident, "or even as recently as seven years ago, it was very peaceful." She recounts how a stranger approached her at 12.30 am at Marine Drive three months ago, claiming to be a professional masseuse, and insisted that she get a full body massage. "I was with my family and friends, so I brushed him aside. But what if I had been alone, or with only female friends? We often hear the clinking of liquor bottles or catch men staring at you if we stop to enjoy the breeze." 
As if on cue, a group of men approaches this writer five minutes later, asking without preamble if she would like to be part of their YouTube video. We decline and it turns out to be a good decision, we soon see that they are making prank videos; where the subject isn't informed beforehand that they are going to be sprayed with water or otherwise violated for an "authentic" reaction.
Francine Carvalho, 22, a consultant from Santa Cruz, had halted to take in the view when we visited Marine Drive on a Wednesday evening. She comes here every few months but wishes she could more often. "It is a public place, so people taking videos can cause disturbance, but it doesn't mar the serene atmosphere. I understand why the residents might not want crowds here, but I also think it is [the space] for everybody to enjoy." Fair point in a city with shrinking public spaces, parks being taken over for parking lots, and people struggling to survive in matchbox homes.
The residents who live by the promenades say they have nothing against those who come to enjoy the sea, just as they do to take morning and evening walks, or stroll with their pets. "It's just that the crowds are growing rapidly and exponentially," says Marine Drive resident Mahendra Hemdev. "They make reels, take selfies, shoot prank videos and make a ruccus…  All of this is a hindrance to those who are there for an evening of relaxation. Marine Drive has always been a place for the people of Mumbai, but a little law and order enforcement is also necessary."
Earlier this month, the Marine Drive Residents' Association, which Hemdev is a part of, submitted a letter to the local police station drawing attention to inconveniences the residents are facing. This includes loud music, rash driving and persistent pesky hawkers. The letter states: "By evening, the promenade becomes nearly impassable due to the sheer volume of people. Given that a majority of Marine Drive Residents are senior citizens, the uncaring activities push seniors into a corner, or they avoid it altogether to remain safe." Bagul says that resident needs must also be respected. "Many of the complaints we get are due to reckless driving in the wee hours or loud music, and an uncouth public during the day," he says.
For many, the crowds at Marine Drive provide a source of livelihood. There are chaiwalas, peanut sellers, bhutta hawkers, balloon and flower sellers who hawk their wares. Devas Kamble who busks with his guitar here every evening, is 22 and a resident of Worli. He sings Marathi tunes from 6 pm to midnight. On Sundays, he is here as early as 6 am. "It's been a year [of following this routine]," the aspiring singer says. "Initially, there was no response from the public. Now they gather around, record videos and post them on social media. But the police start yelling if a crowd gathers. Now, I sit at the side in one spot, instead of standing at a prominent spot along the promenade."
Whether or not the authorities will come up with a long-term solution for a city bursting at its seams, remains to be seen. But Mumabaikars and visitors to it the city love the sea and will flock to it. To quote Chawla, "If I had to dedicate a song to the ocean, it would be, Hum tumhe chahte hain aise.. that tune from [the movie] Qurbani."
"Exciting news! Mid-day is now on WhatsApp Channels

Subscribe today by clicking the link and stay updated with the latest news!"
Click here!