Kendall Jenner made it look like fun to go through the day with a transparent drip running up her arm. And now, city's resto-bars are hosting IV parties and cosmetic clinics are offering Vitamin C and B shots for glow and energy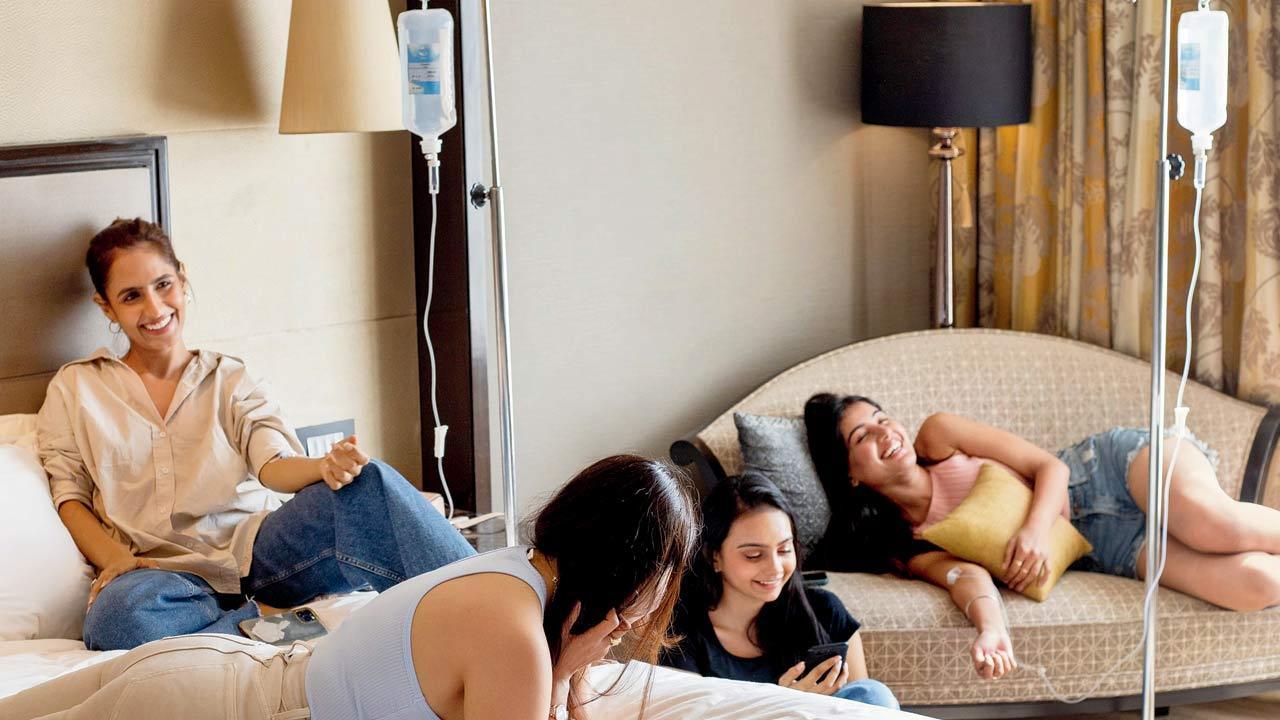 Clients try IV nutritional therapy by REVIV, which has gone from one clinic to three in the last two years. The pandemic was a catalyst in focussing people's attention on holistic wellness, say the founders. Pic CourtesyREVIV
Three years ago, on the morning of their wedding on January 11, entrepreneur couple Alyssa Chesson and Abedin Sham made an unusual visit to a Girgaum-based health and wellness hospital.
The mehendi ceremony the previous day had exhausted them, and they needed a quick-fix of energy for the evening's function, a fresh glow for their big day. They sat down together to be hooked up to a concoction of essential Vitamin C and B-complexes via an intravenous (IV) drip, bypassing the age-old oral path of popping supplements. "We had never heard of the hospital before," says 34-year-old Chesson, "but we had seen how people, mostly in Los Angeles, were getting IV drips for energy boosts, and wanted to try."
ADVERTISEMENT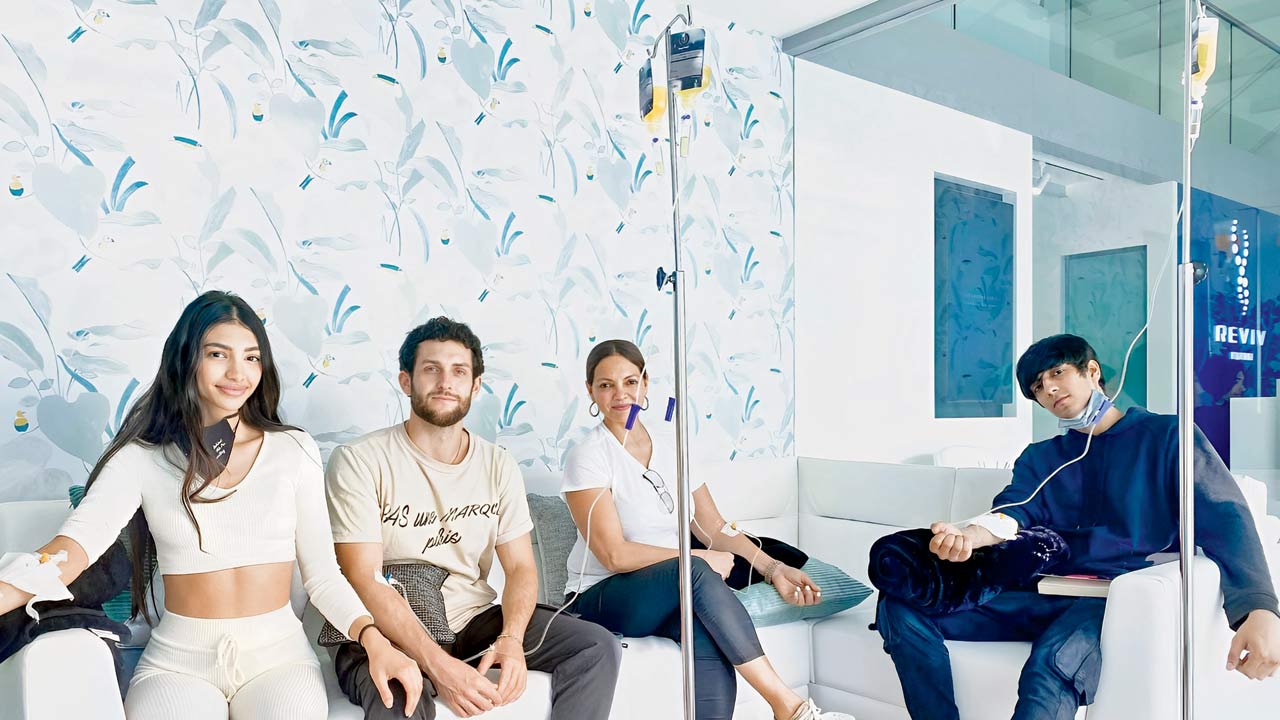 Digital creator Alanna Panday with husband Ivor McGray, mother Deanne Panday and brother Ahaan at the REVIV centre in Worli
It didn't take an extensive research process—a few Google hits led them to KG Mittal Medical College and Hospital. Questions were then put forth to the doctor. "My major concern," Chesson, the travel, food and fitness influencer, tells us was, "whether the needle would hurt. The second concern was if the process would leave a mark." If you need to know too, there is no pain and no mark. But all the energy she needed. 
Kendall Jenner and Hailey Beiber made it look like fun on The Kardashians to go through a day with a transparent drip running up their arm. Model Yolanda Hadid, Gigi and Bella Hadid's mother, got her IVs while battling Lyme disease on camera for The Real Housewives of Beverly Hills. Adele, Rihanna, Madonna and Gwyneth Paltrow all do it, and now, so do their fans in Mumbai. Vitamins and nutrients are entering the veins of Mumbai's most tony lot in just under 30 minutes.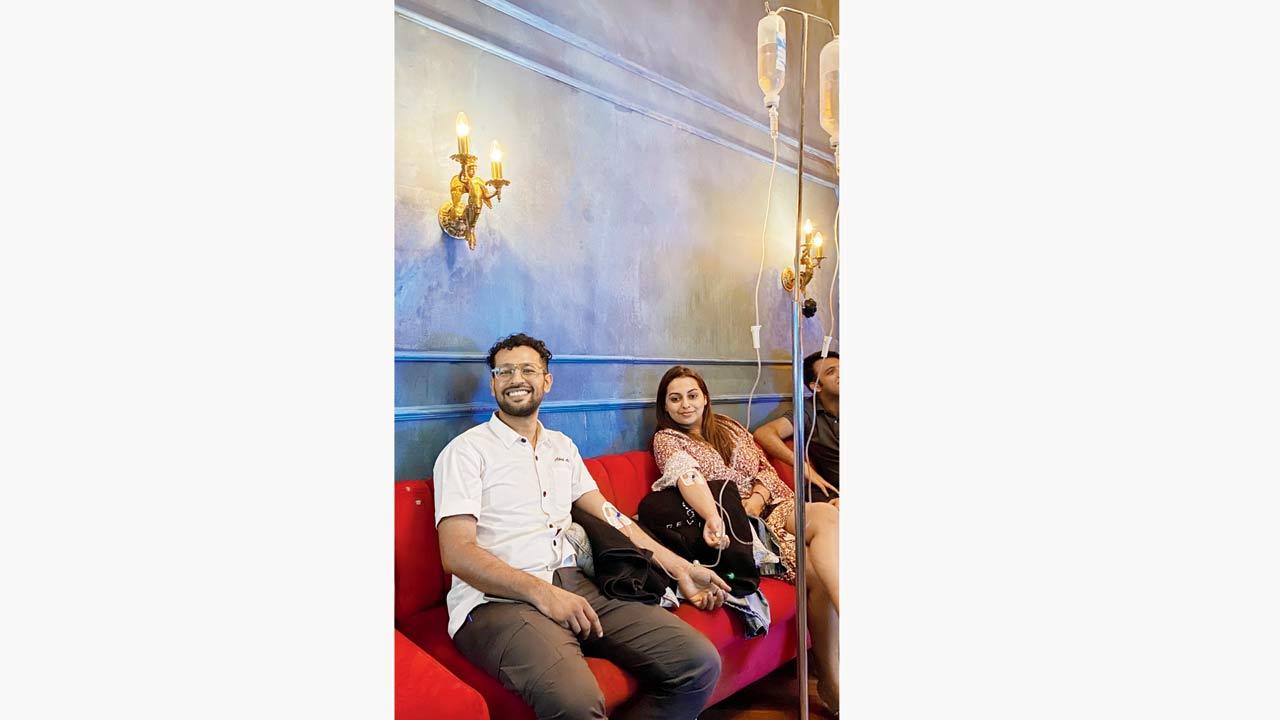 Worli-based restaurant Slink & Bardot held a hangover brunch party in October last year along with REVIV, for people to laze around with friends over a Sunday brunch and get rid of a hangover on the side
"In the last three years, I have taken IV therapy three to four times," says Chesson. "I took one last year, just after I had COVID-19 and was struggling with fatigue even after a month. My dermatologist recommended I get an infusion to boost energy levels. The recent ones were in July last year." The Peddar Road-resident believes the quick-fix helps her in muscle recovery. Chesson invests in her health daily, is physically active, on a healthy diet and takes oral supplements. "The IV lifestyle is not a constant for me," she says. 
 
It's not all health and glow, though—Pune-based automobile journalist Rohit Paradkar was prodded by his wife to try the nutriglow IV drip for his skin. He admits to not seeing any glowing results but says it might be because he underwent just one sitting. "I was apprehensive," says the 40-year-old, "about injecting my body with anything for beauty purposes, but my wife somehow convinced me by sending a few links about the safety of the process. I also trusted the doctors at the centre." The couple took the IV route to a glowing skin this March, but Paradkar is unsure if he'd do it again. "Honestly, I did not see a difference in my skin but my wife's skin has had a positive impact," he says, "she had been complaining of acne for two weeks and that has reduced post IV without a change in diet or routine."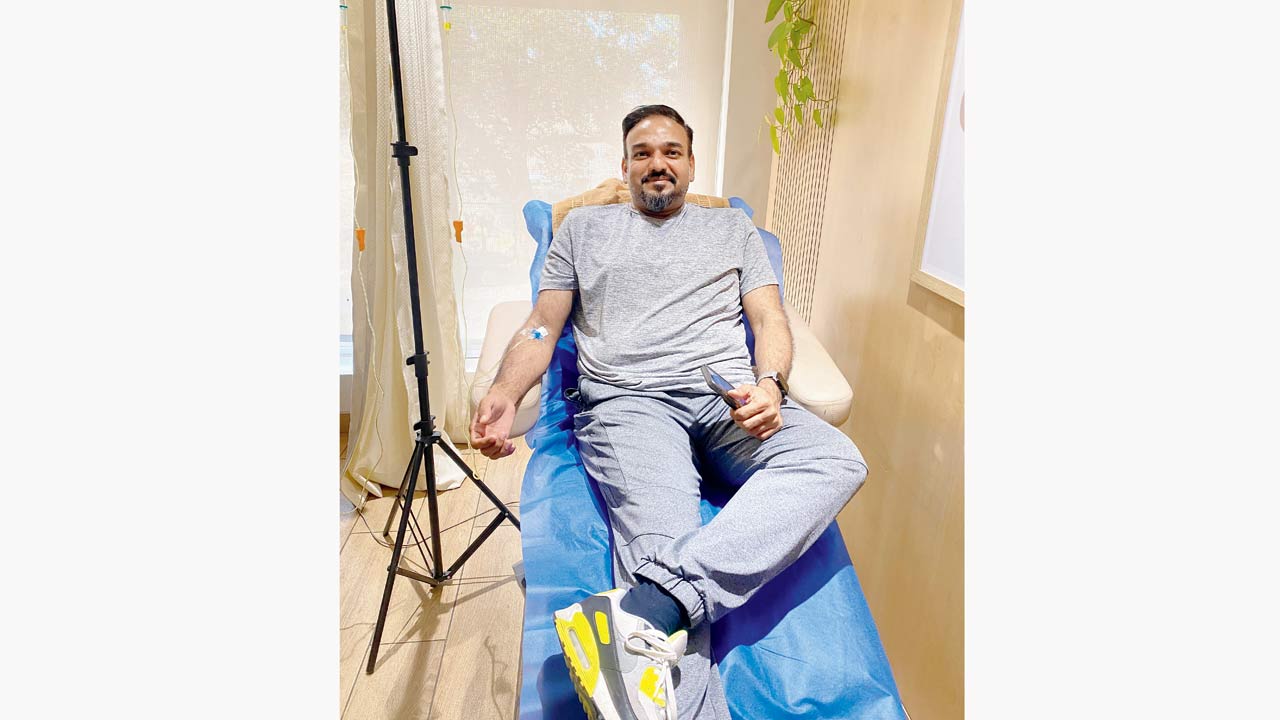 Automobile journalist Rohit Paradkar gave in to his wife's wishes to try the "nutriglow" drip for glowing skin at a Pune-based clinic. He did not see any results in a single sitting on his skin
Making clinical therapies accessible in a spa-like setting, REVIV opened its first flagship centre in Worli in March 2021. The pandemic was a catalyst in changing the way people looked at beauty and health; it made the notion of IV fluid therapies seem closer to preventive and holistic ways of looking after one's health. Business boomed as social media gave it a shot in the arm, and a second clinic opened up in Juhu in April last year, followed by a third one in Powai in October. Their IV therapies are priced between Rs 9,900 to Rs 34,900—wellness comes at a price. 
"Our IVs," says Anjali Tripathi, its co-founder and director, "are a combination of vitamins, minerals, fluids, electrolytes and antioxidants that are naturally present in our bodies but deplete over time due to physiological and environmental factors. Our IV infusions simply bring the vitamins back into balance, allowing our bodies to function more efficiently." Their IVs fall into two categories: wellness category for maintenance and recovery, and another for recuperation. "Most of our patients opt for wellness IVs on a weekly basis," she says.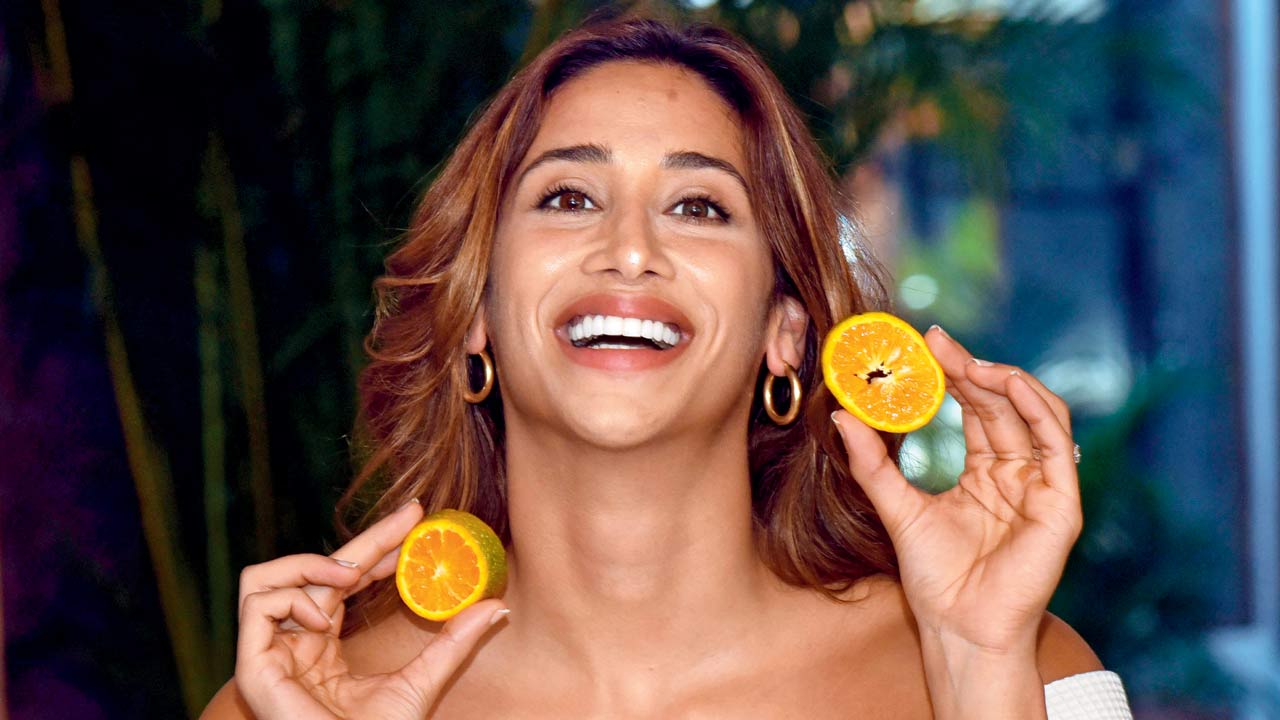 Entrepreneur and influencer Alyssa Chesson has taken vitamin IV therapies from Elixir Wellness for muscle recovery after exercise. The effect, she says, lasts a few days and is an instant fix. Pic/Sameer Markande
Then there is the ultraviv IV therapy. "It rehydrates the body and gives you a much-needed energy boost, making it ideal for hangovers, pain relief, and nausea," claims Tripathi, adding that the drip helps the body break down and get rid of toxins that alcohol leaves behind. "Antioxidants such as glutathione help detoxify your vitals, while Vitamin B12, another crucial component of this drip, is a well-known anti-alcohol aid." On an average, six to 10 people in the city opt for it every day.
  
The trend has also, well dripped, into homes, hotels, weddings, pop-up events, gyms and even popular restaurants. Slink & Bardot held a hangover brunch in October last year—with a side of drip. "The concept was new and fun and we were in the midst of launching our Sunday brunches," says Vicky Singh, partner at the Worli-based restaurant, "Sundays are usually lazy days when people go to the spa, have leisurely lunches and we were figuring out how we can bring it all together. Curing hangovers over brunch just made sense." Patrons with reservations were offered complimentary pricks. "They were intrigued and interested," says Singh. "Ten out of a total of 75, who attended the brunch, tried the therapy."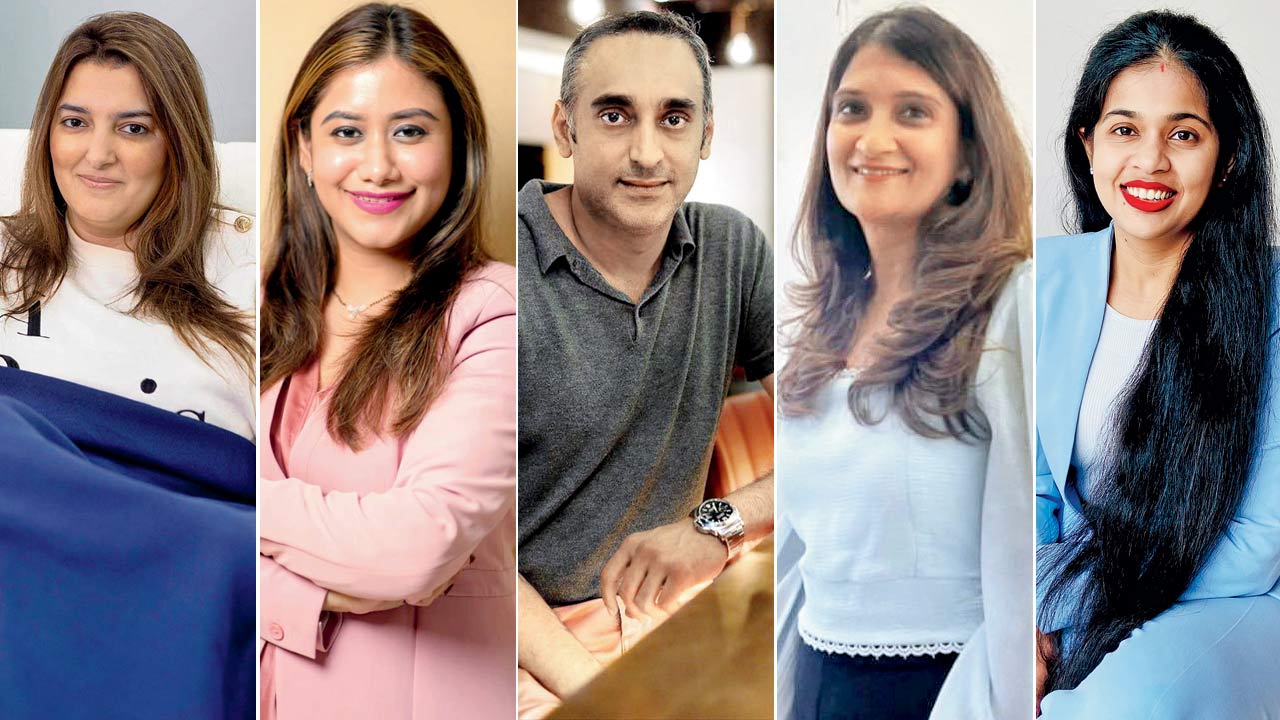 Tanya Khubchandani Vatsa, Dr Debeshi Bhattacharjee, Vicky Singh, Anjali Tripathi and Dr Stuti Khare Shukla
REVIV held a pop-up IV bar at Chunky Panday's niece, lifestyle influencer Alanna Panday's mehendi ceremony on March 14 at her home. On the menu were 
Honeymoon Hydration (for hydration, athletic recovery and sunburn), Cocktail Cure (cold and flu, hangover relief, and inflammation), Love Infusion (jet lag, energy levels, and wellness) and Happily Ever After (Vitamin C, immunity boost, and detoxification). The bride and groom, their families and friends all took the IVay [highway] out of hangovers to the functions that followed.
Elixir Wellness owner Tanya Khubchandani Vatsa has also hosted several pop-ups at gyms, offering energy and metabolism boosters before and after exercise sessions. Chesson was part of one such event at Physique 57.
"Our Metabolism Boost consists of amino acids and B-complexes which increase the body's ability to burn fat," she says. "But it's not like you start shedding kilos as soon as you unhook. It gives you more energy to work out and be active, which in turn helps you burn calories."
Vatsa flies on the fluid regularly, mainly for incessant migraines that, she claims, have now come down to two or three a month from the original 20. She also claims to have lost 13 kg by working out after the metabolism IV.
Elixir Wellness, started by Vatsa in 2022, has three centres in the city—at Bandra, Juhu and Worli; Chembur and Peddar Road are to get one each soon. Their IV therapies are priced between Rs 1,500 to Rs 15,000. "The market for IVs has expanded hugely," says Vatsa. "We started with 50 clients a month, and now we have about 400-500 clients a month across the three centres."
Their most in-demand drip is the Ultimate Skin, which draws in 50 per cent of their total patron load a month. "It requires six to eight sittings," says Vatsa, "and is a double shot of glutathione, Vitamin C and collagen. We recommend a package of six to eight sittings which are required to push the levels of glutathione in our bodies to sustainable levels. It is an antioxidant made by our body that decreases with age."
 
The trend may be shooting up, but safety concerns are the bag they are hooked to. In 2018, Kendall Jenner was reportedly hospitalised after a reaction to one such therapy. "IV glutathione is not recommended by the FDA yet," warns Andheri West-based Dr Stuti Khare Shukla, a dermatologist and cosmetic surgeon. "And it should not be used at all because we don't have enough studies and trials around it. Oral glutathione, on the other hand, has been doing very well." IV glutathione was earlier used primarily for kidney patients, she informs. Doctors reported skin lightening side-effects, and soon the skin industry enlisted it. "But it is still a grey area," she warns, "especially in the absence of studies about effects, efficacy as well as side-effects." 
However, she says vitamins and supplements through IV are safe, as long as it is done under supervision of a physician and in a clinical setting. When asked about possible side-effects, Dr Shukla says that anaphylactic reaction—a severe allergic reaction—could be a possible worry.
"Another side effect could be overdose," she adds, "which can happen if a therapy is taken too frequently. So talk to your physician on how often it needs to be repeated. Some people also experience dark-coloured urine because of the multivitamins and the amino acids."
Dr Debeshi Bhattacharjee, clinical cosmetologist, Medical Head and Founder of Assam-based Lueur Aesthetics, adds, "A risk with vitamin IV therapy is that it bypasses all of your body's gatekeeping functions. As a result, you could overload your bloodstream with vitamins injected all at once, instead of allowing the stomach to digest them slowly." The result is vitamin toxicity, depending on how many vitamins and minerals are already in your bloodstream.
Consequently, many medical professionals are concerned about the risks that come in conjunction with existing health issues. "Without learning about the patient's lab values, medical conditions, and current medications and supplements, therapists may exceed the recommended daily intake of vitamins and nutrients. The kidneys will work overtime to eliminate the unnecessary ones, and be overwhelmed." Bhattacharjee sees over-hydration as another risk caused by frequent treatment. Nausea, headaches, and confusion can be the symptoms.
However, the wellness clinics assure that all safety guidelines are followed. "Before each sitting, clients undergo a rigorous consultation with our panel of doctors—medical history, anxiety levels, sleep patterns, allergies, etc, are all taken into consideration," says Vatsa. "A tailor-made prescription is written down for each client based on their requirement and a concoction is then prepared by trained technicians. All clients are under supervision during the process. Although blood tests are not required for Vitamins C and B12, those requiring iron and Vitamin D shots undergo one." 
Clients are told not to be on an empty stomach, and blood pressure and sugar levels are checked prior to any session, says Vatsa. "We do not make any medical diagnoses and our therapies are not intended to treat any medical condition," clarifies Tripathi, "they are designed to restore the body's balance and help maintain wellness. Not to mention, all our vitamins and minerals are water soluble, thereby eliminating the need for a blood test." However, she does advise precautionary blood tests in the case of underlying medical conditions.
"We do need a prescribing physician, and registered and certified nurses to run the clinics," she adds. "All of our medical staff are licensed and trained, with years of experience. All our personnel go through extensive training and strictly follow global protocols and guidelines." 
Rs 1.5-35k
Approximate cost of IV therapies