What an actor born in school theatre, raised on the Bhopal stage and trained at NSD can teach us about our approach to work.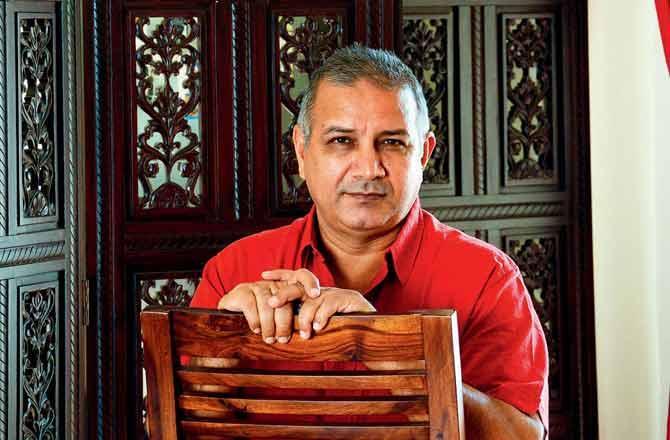 Actor Kumud Mishra, recently seen as politician Gopal Das Munshi, in Tandav, at his Madh Island residence. Pic/Satej Shinde
Pathare Sir, mein zindagi bhar theatre karoonga." Kumud Mishra recalls his parting words to one of the two teachers at the Military Academy in Belgaum, where he studied from Class VII to Class XII. It was at the academy, says Mishra now 53, that he was first introduced to theatre. A shy kid—he says he is still at discomfort in large gatherings—he found his place on stage. School productions headed by Pathare Sir and Janardhan Sir had him play a pandit once and a queen another time—it was an all boys' school. It was much later, that he discovered how good the quality of productions staged at school were.
Mishra, who brings a subtle excellence to all his roles, manages to both, blend into the canvas of the story with his roles and standout as an individual performer, making watching him a pleasure. Having spotted him again in Saif Ali Khan-headlined Amazon Prime web series Tandav as Gopal Das Munshi, a seasoned politician, one wonders what drives the excellence of Mishra's craft.
The first hint comes early into the interview when Mishra says he prefers to respond to the questions in Hindi. Later, as we wonder if we'll need to bring out our dictionary to transcribe this interview, he says, his grasp over the language isn't good. Mishra doesn't seem to strike a false note of modesty. Just that of someone who studies his craft so well—after bidding adieu to Pathare Sir, he headed to Bhopal where he did theatre under the likes of Alakh Nandan and Satyavrat Raut and later studied at the National School of Drama in Delhi—that he still feels he isn't good enough. He thinks, he has a far way to go even where acting is concerned.

Kumud Mishra at his Madh Island home, where he lives with wife Ayesha Raza, his sharpest critic. Pic/Satej Shinde
Describing how conversations around acting go at home with wife Ayesha Raza, he laughs, "Ghar pe Vibhishan baitha hai." Raza, he says, is critical and vocal about his work. Even when they were dating, she walked out of his plays if she didn't like them. "She never feared that I'd be hurt. We were not even married then, it was quite risky," says Mishra. Raza, he says, has even shut down one of his plays. A dream to take stage while speaking English, Mishra says, he was practicing the lines at home. After a few days, irritated by how the sound fell on her ears, she asked him why was he pursuing a play in English. "When a French actor can do a play in English, a German actor can do one, and an English actor can do a play in Hindi, why can't I do a play in English?" To which Raza responded, "You are spending all your energy in concentrating on the language. When will you perform?" He tried rehearsing for a few days and gave up. But, the dream isn't over yet. One day, he says, he will perform in English. On her own performances, Mishra says, Raza is so critical, she announces a ban on seeing a play or a role if embarrassed by it.
First introduced to Mishra on stage in the Manav Kaul directed Shhakkar Ke Paanch Daane, where Mishra—who has trained in the Chau form of martial art/dance—plays Rajkumar, a villager telling the story of his life through the five people who stood out in his life, we wondered at the fluidity of Mishra's body. He jumps up on boxes and runs across the stage with an energy that belies assumptions. He credits the audience for half the success of a stage actor. "They bring their own imagination and creativity. If you say I am taking a round of the stage and reaching Hastinapur, when you complete the round, the audience will believe it. On the screen, you have to show the mountains for an audience to see mountains." On Shakkar, he says, the other part of the success is to be attributed to Kaul's text. "He has given me some good work, but Shakkar is the best. Is mein jo saralta hai… paani ki tarah behta hua text hai. If I perform Shakkar at 80 as well, the audience will negate the age. They will be able to see the child in the performer."
The first time he had performed Shakkar, he said, it had come with curiosity. To understand the subtext. Then, a time came, when he performed the text mechanically, knowing where the laughs would break the silence in the theatre and where the audience would cry. "But one day, the audience didn't do that. I realised I was performing mechanically and taking it for granted. The audience wants to share your experience and give you a hint of theirs."

Mishra in a still from Tandav, where he plays the role of Gopal Das Munshi, a senior politician battling for the throne with Saif Ali Khan's Samar Pratap Singh
When he shared this with Kaul, the playwright-director-actor said, "You are trying to relive the emotions of the original production. Instead, perform how you feel about the text today."
There's much to say about Mishra. How he chooses his film roles for example. He doesn't shy away from the pragmatism of it. Where he picks the script first, then the role, money is also an issue. We ask if he has ever negotiated for another role. "Just once," he admits. And even then, he says, he told the director to consider him only if the other person whom they had picked rejected the part. "And then too, I felt bad."
While he had a love for movies, it was never meant to be his medium. At school, they'd be shown Naseeruddin Shah's films. After watching Paar, he thought, "Baap re baap, aisa bhi hota hai" and wanted to be an actor. And yet, never in the movies—he came to Mumbai for a theatre audition with all intentions of return to Delhi, but, life had other plans.
After completing school, while the forgers headed for the National Defence Academy (NDA) or to the Combined Defence Services (CDS) Examination or the Officers' Training Academy, Mishra sat on a train back home and made a promise he isn't still quite sure why. "But, chipak gaya hai."