Pork fat sits at No 8 with a nutritional score of 74 in the 100 most nutritious foods in the world. City chefs tell you why it's okay to say oink, oink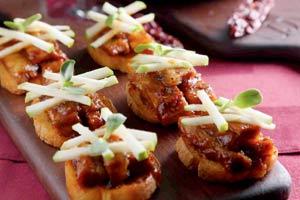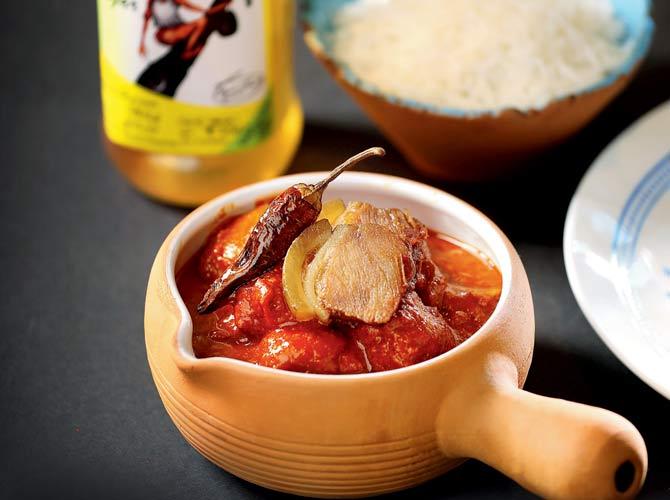 Gracian's mum's pork vindahlo with crispy pork belly recipe
The list on your left features items that made it to the world's top 10 nutritious foods in a study by the BBC. Pork fat has garnered maximum attention for an unexpected entry on No 8. Lard, or pork fat, is made of 50 per cent mono-unsaturated fats compared to 32 per cent in butter and 6 per cent in coconut oil, and are easily broken down by the body. Lard is also lower in saturated fats than other animal fats like butter and tallow, Subhash Shirke, executive chef of Woodside Inn, explains, adding, "Pork fat is relatively inexpensive and readily available. Chefs from around the world have always used fats to naturally flavour meats, soften the textures and also avoid using any other additional oil or butter."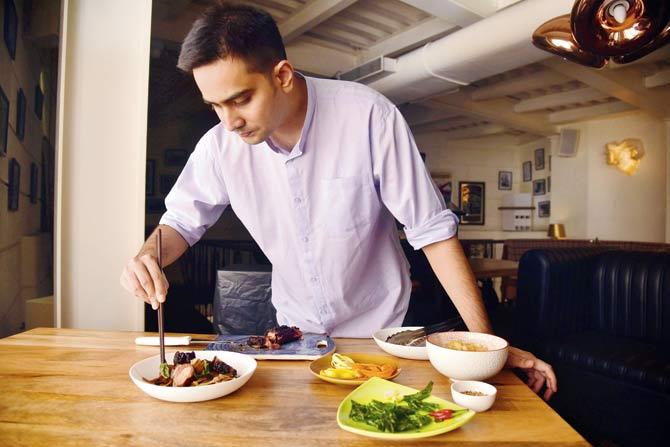 Siddharth Kashyap feels the best way to use the pork fat is to use it as a shield from excessive heat. Pic/Pradeep Dhivar
Big, fat surprise
At Porto and Poie, chef Gracian De Souza uses lard to flavour his dishes. "Since I am running a Goan and Portuguese restaurant, pork fat plays an important part in some of my dishes. I use it to flavour my vindaloo, and other dishes, and I don't trim the fat of the meat either. Nine times out of 10, lard comes from the pork belly. In India, pork lard is not used as much, but internationally it is popular. Take the French onion soup, for example. It is traditionally made using bacon fat." India is not a high pork-consuming country, and we don't use lard alone. The pork belly with its layers of fat and meat is not a lean cut like pork loin, which has very little fat and mainly meat. However, since a lot of people these days are on a Ketosis diet that requires them to consume more fat and protein, pork belly, which is a rich source of both, is a great option for them.
Pork potential
Chef-owner Siddharth Kashyap of Boston Butt has recently launched an Asian menu, thanks to a some new Asian glaze recipes he has tested in the kitchen. Filipino-style pork belly skewers smoked for six to eight hours and then grilled, and Hoisin pork belly with Asian spice fettuccine are the new entrants to the menu. "The best way to use pork fat is to use it as a shield from excessive heat. For example, when we cook our pork shoulder, we trim a little bit of the fat, as the meat in India is a little odd with more fat and less meat. We keep just enough so it gets rendered at low temperature for longer hours exposing the flesh at just the right hour to form the perfect crust with the rub. High heat doesn't do justice to the produce," he says, adding that pork fat has to be stored right. "One has to render it in a pressure cooker, or a heavy bottom pan. This needs a lot of energy to create what a cheaper source of oil can provide. But people who enjoy the flavour of pork fat will usually use the lard."
Porky picks across the city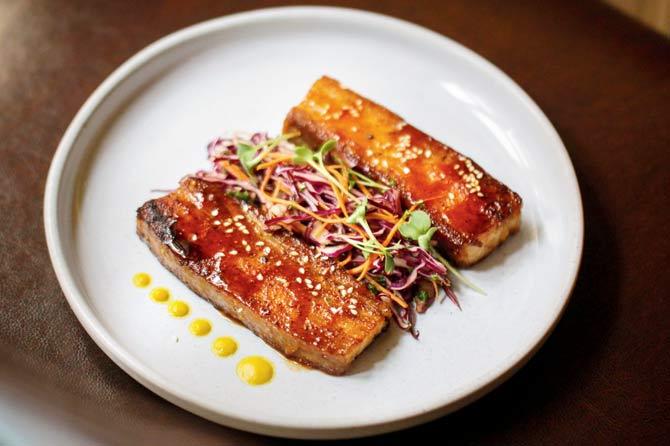 Seared pork belly
This comes with a house-fermented triple crunch mustard glaze and red wine vinegar-tossed cabbage slaw.
Cost: Rs 530
At: Toast and Tonic, Unit no. 1, ground floor, Jet Airways- Godrej BKC Building, Bandra Kurla Complex, Bandra East
Call: 26534722
36-hour Belgian pork belly
Served with Emmental croquette, sweet potato mash and sage jus for this dish, executive chef Alexis Gielbaum uses a sous-vide machine for this dish. The meat is kept intact, coated with salt, pepper, thyme and sage. It is packed in a vacuum bag and cooked at 75-degree Celsius for 36 hours. Once an order is placed, a slice of this belly is pan-fried to get a crispy skin and seared meat flavour.
Cost: Rs 380
At: Slink and Bardot, 329/A, Thadani House, opposite Indian Coast Guard, Worli Village
Call: 7045904728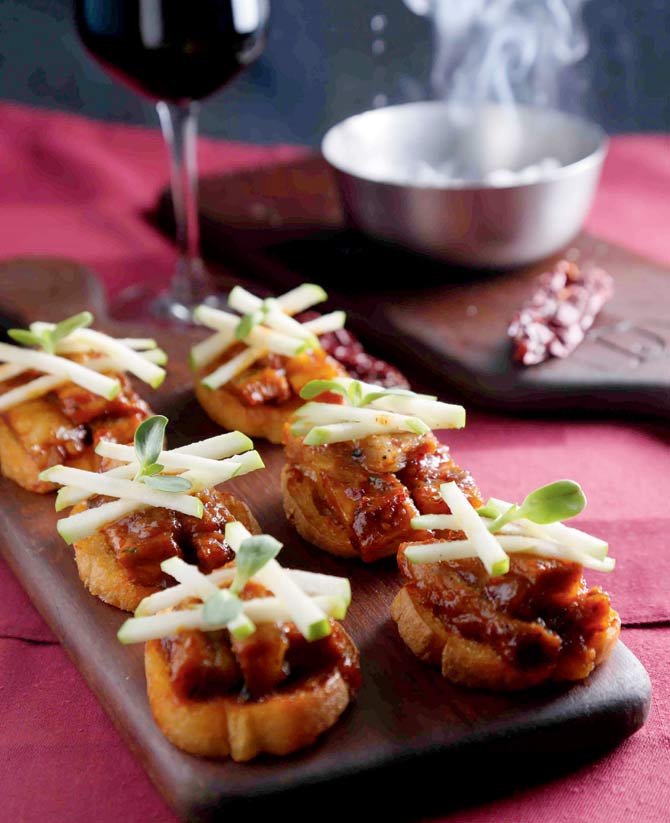 Smoked chili pork belly bruschetta & green apple slivers
Slow-cooked for over six hours, the belly is cooked in the natural fat that encases it.
Cost: Rs 445
At: Woodside Inn, Indian Mercantile Mansion, Wodehouse Road, opposite Regal Cinema, Colaba
Call: 22875752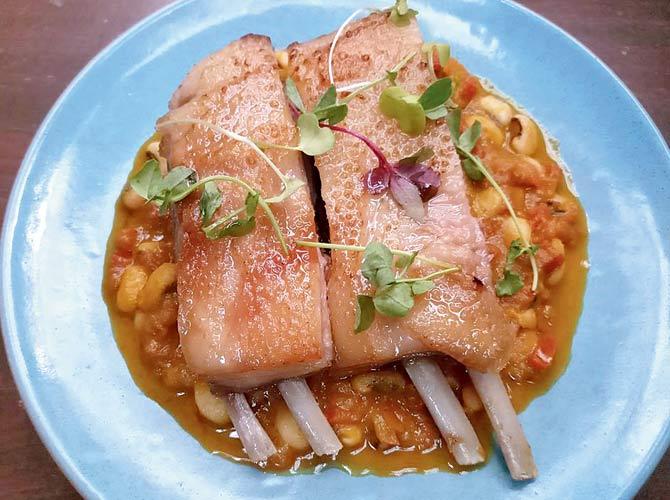 Pork fest
The Goan and Portuguese restaurant serves an array of pork-based dishes, including mum's traditional pork vindalho, pork chilly with chourico oil and fried sage, and the spare rib and mas with alsande beans and braised shallots (in pic).
Cost: Rs 450/Rs 300/Rs 350
At: Porto and Poi, Juhu Tara Road, above Grandmama's Cafe, Juhu,
Call: 7400092996
1. Almonds
2. Cherimoya
3. Ocean perch
4. Flat fish
5. Chia seeds
6. Pumpkin seeds
7. Swiss chard
8. Pork Fat
9. Beet greens
10. Snapper
Catch up on all the latest Mumbai news, crime news, current affairs, and also a complete guide on Mumbai from food to things to do and events across the city here. Also download the new mid-day Android and iOS apps to get latest updates