In a new feature that sees two musicians in a tete-a-tete, Sunidhi tells Amit about the method behind the madness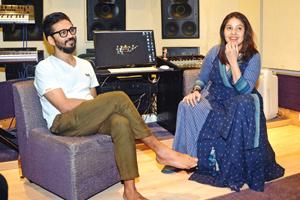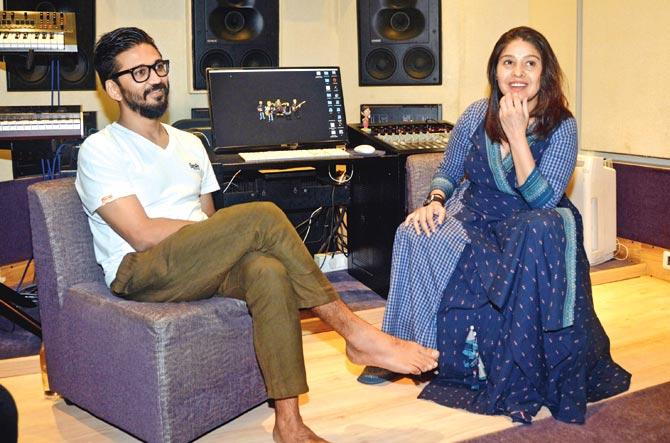 Amit Trivedi and Sunidhi Chauhan
When we got to Amit Trivedi's Andheri studio for the first edition of Jammin' With, it was interesting to see how the composer and singer Sunidhi Chauhan transitioned from being musicians to journalists for the day. What followed was a power-packed 70-minute chat, where each interviewed the other about the subject that's closest to their hearts — music, and decoded their craft. So seamless was their banter that by the end of the interview, Trivedi turned to us and laughed, "Aapka job khatre mein hai."
Edited excerpts from the tete-a-tete.
Amit to Sunidhi
Sunidhi, you worked till the last leg of pregnancy and were back at work a month after giving birth. How did you manage that?
I couldn't stay away from the studio (laughs). I had to record with Ajay-Atul. Though I had requested them for an extension, the recording was urgent. I delivered my baby on January 1 and was back in the studio on January 29. I told them that I'll come with my baby. But it was difficult. Pehli baar mujhe mic ke peeche nervousness mehsus hui. I felt the same kind of anxiety that I did while making my debut. I had never imagined that after motherhood, there are so many changes in your body that you feel like a new person. It took me half an hour to get ready to record the song.
You started doing playback in 1995 at the age of 11. I think that apart from Lata Mangeshkarji and Asha Bhosleji, no other female playback singer has had such a long shelf life. What drives you?
I don't see music as a job; it's my passion, my love and my identity. Music is not a part of me; it's what I am made of. Some day, if I sit back at home and say 'Ab mujhe nahin gaana hai', it will be something unnatural.
In my opinion, after Ashaji, you're the only female singer with such versatility. I can't think of anyone else who is so good with all the genres, except Arijit Singh. Is there a procedure that you follow to adapt to different kinds of songs so quickly?
I am an emotional person. So lyrics are enough for me to understand the situation of a song. Also, I am so sensitive that the pain or happiness of somebody else affects me. That helps me get into the space for a track immediately.
(Amit adds) I remember the time you came to the studio to record Navrai Majhi [English Vinglish, 2012]. I just played the song for you once and gave you the lyrics, and in no time, you said, 'Let's record.' I was taken aback. And you nailed it in one go.
Tell us about doing riyaaz as a kid.
I don't do riyaaz. My dad used to be upset because I would never do it diligently. When I would sit for riyaaz, he would stand outside the room and keep listening. I had a Yamaha 590. I would fix a paper on the Sa and Pa notes so that they played continuously, and I would sleep. Papa would say, 'Tumhari awaaz nahin aayi. Tum riyaaz nahin kar rahi thi.' And I would say, 'Nahin papa, main kharaj [practising low notes] kar rahi thi' (laughs). For me, riyaaz was all about listening to five songs by Lataji back-to-back and singing along.
While performing at gigs, have you ever faced a dull, non-responsive audience? If ever, how did you pep them up?
It has happened in three shows almost four years ago. Such experiences are important for an artiste. When you do your best but feel that the audience is not in the mood, you have a challenge at hand to overcome. These shows started off on a dull note, but eventually picked up. These gigs either have elderly people seated at the front, who aren't interested, or people who appreciate a song during the recital but don't clap when it ends. In such situations, I change my list and perform the songs that they would­ enjoy. That usually works. If it doesn't, I start having fun with my band. That often entertains the audience.
Several senior singers complain about the quality of songs made these days. What's your take?
I think people have a lot of time to analyse and compare. Today, the focus is on the poor songs. But kharab achcha to hamesha se tha. If 50,000 songs were made in the '50s and '60s, all of them weren't hits. It holds just as true today. Since social media has given people accessibility, it has become easier for anyone and everyone to comment. Great music is made even today. The next generation will enjoy today's songs with the same amount of love that we have for old songs.
Have you ever said no to a song?
Yes, many times. Earlier I would reject songs with vulgar lyrics. Of late, I've turned down tracks that would sound like another one I recorded in the past.
Sunidhi to Amit
Which was your first song and what inspired you to work on it?
The first album that I composed was called Indradhanush. I worked on it in 1995 when I was only 17. It had songs on seven different themes — motherhood, nature, friendship, etc. There wasn't a single love song (laughs). It's my mother's favourite album till date. Since it didn't release, I had saved the songs on a master floppy, which I unfortunately lost. My mother and wife continue to be upset about that.
Amit Trivedi tracks have a distinct sound to them — few elements, every instrument standing out and a clean arrangement. How do you give a signature to your compositions?
I take it as a compliment, but I don't know how I do it. I just follow my instincts while composing. Though I get inspired by music from across the world, none of it plays any role when I start working on a project. My work is a reflection of the kind of person I am and how I view the world. I like to keep my heart clean and that's why the arrangements in my songs are tidy.
While recording, how do you handle a situation when you admire a singer, but s/he is not able to grasp what you want from a song?
I get irritated at times. I like to try new voices and sometimes they don't work. There may be a singer with a great texture, but weak singing skills. I have two options in such a scenario — either work my a** off with that person and get the song done, or give up and tell him/her that it's not working out. This has happened with many seasoned singers as well. I've apologised and told them, 'It's unfair to keep doing retakes half-heartedly and waste your time and mine. Maybe it's not the song for you and let's work on some other project later.' Most of the times, they understand and don't hold it against me.
It's been fun being co-judge with you on Amazon Prime's The Remix. How has the show impacted you as an artiste?
This is my first reality-show outing and it couldn't have been better. I was into electronic music, but now I've delved deeper into it, thanks to the show. I've explored a lot of new styles and genres. Having been engrossed in film music, it's great to explore a different world. (Sunidhi adds) I love that this format has given us the liberty to be honest and feel good about it. We are free to say what we feel, without being pressurised, and our word is respected.
Have you ever hit anyone in life (laughs)?
(Laughs) I'm a non-violent person. I've never hit anyone. You have to lose your cool to hit someone. Jab main apna dimag garam karta hoon, I feel guilty and sick because that affects my creative process. Whenever I have lost my cool, I haven't managed to compose, so haath uthana to door ki baat hai.
Also read: Here's what Sunidhi Chauhan feels about The Remix's success
Catch up on all the latest entertainment news and gossip here. Also download the new mid-day Android and iOS apps to get latest updates