Preferring not to discuss Jhanvi's Bollywood debut, 'Student Of The Year 2', Sridevi shares how her intentions were misunderstood when her daughters accompanied her to film events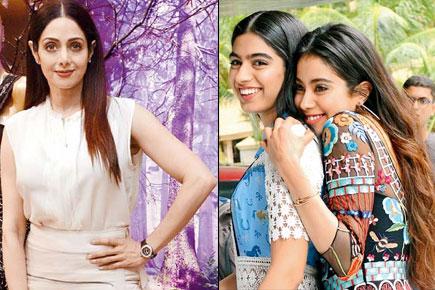 Sridevi would be happier to see Jhanvi married than act in films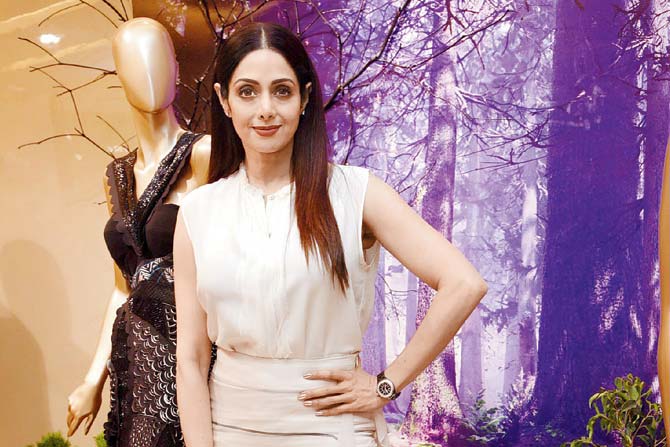 Sridevi
It's a coincidence that Sridevi's 300th film is called Mom, especially when her first critics were her daughters, Jhanvi and Khushi, who fell short of words after watching the first cut. When mid-day met the otherwise elusive Sridevi for a chat, she opened up about her relationship with her daughters. "We are like friends. We spend a lot of time together. Our routine is always centered around each other. I have been coming home late these days because I'm busy dubbing and promoting the film. But no matter how late I get, Khushi, always welcomes me with a smile. She comes to my room as soon as I get back and we snuggle up in a quilt to watch a film together."
Though not much is known about her and Boney Kapoor's daughters, the yesteryear diva describes the girls as feisty. "For me, they will always be kids. But they seem to have taken less after me and more after my bold screen image. Last year, when Khushi wrote a post about body shaming on Instagram, I was pleasantly surprised to see my kid turn into a strong, opinionated and sharp young woman," says Sridevi.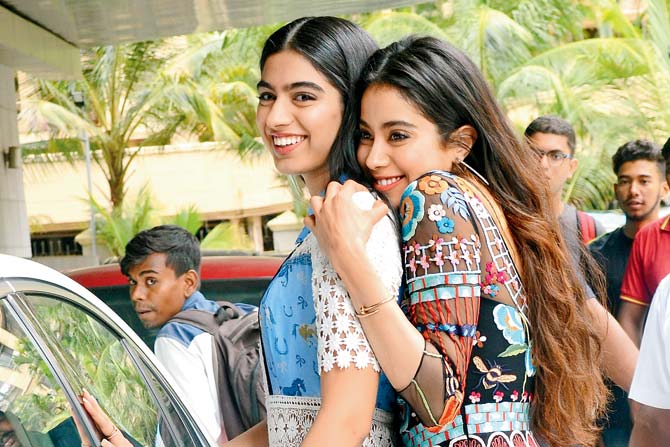 Khushi and Jhanvi Kapoor
Preferring not to discuss Jhanvi Kapoor's Bollywood debut, Student Of The Year 2 (SOTY 2), the 53-year-old shares how her intentions were misunderstood when her daughters accompanied her to film events. "Earlier, I would take them to social gatherings and premieres that I attended. But they (people) thought I was promoting Jhanvi. Walking with my girls made me feel like a proud mother. But to the world, it became a reason to misunderstand me," she says, adding that she discouraged overexposure when SOTY 2 came Jhanvi's way.
"She wanted to do the film and initially, I wasn't in favour. I don't think it's a bad industry. I am a creation of this world. But, as a parent, it would give me greater joy to see her married. But her happiness matters more, and if she does well as an actress, I will be a proud mother," says the actress.
Jhanvi consults her parents for career-related matters, says Sridevi. "She is a wise girl, but she insists on our help for everything. Boneyji and I are aware of every detail of her career."