By this point, as an audience, you either know (like me), that you've made a bhool (mistake), stepping into Bhool Bhulaiyaa 2. So cut your losses, and drop out — the exit door is not too far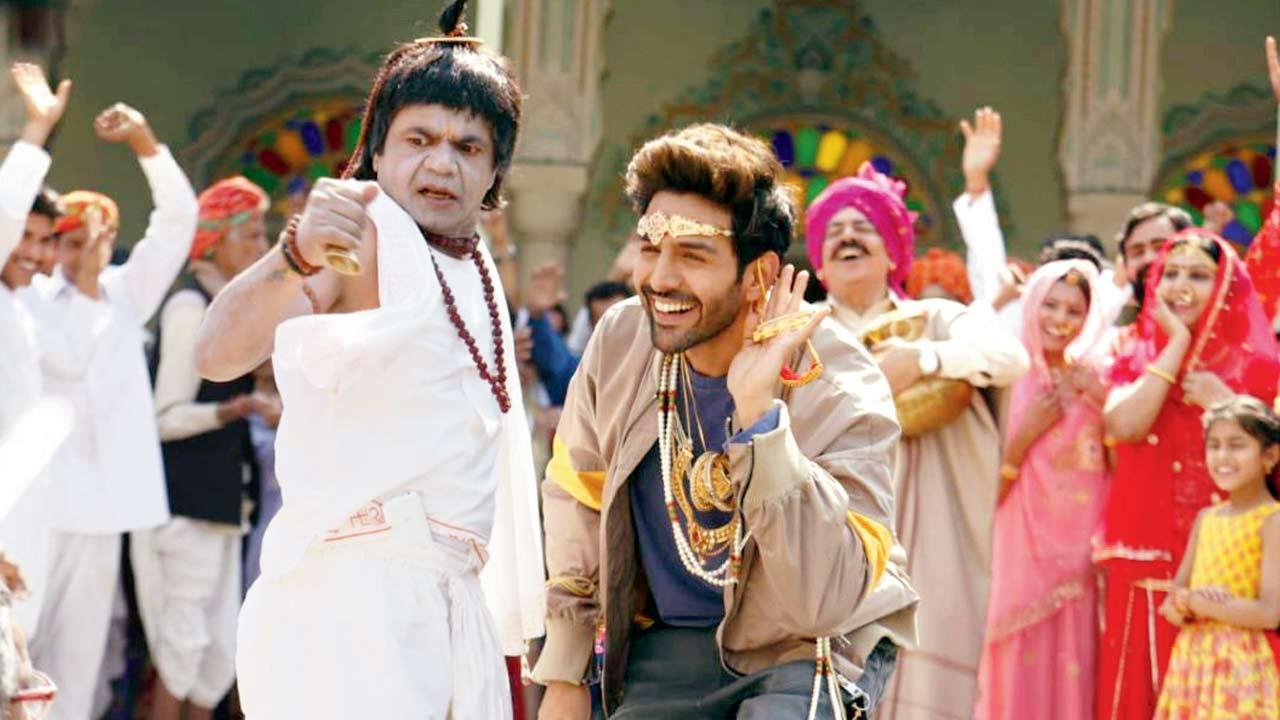 Bhool Bhulaiyaa 2
Bhool Bhulaiyaa 2
U/A: Comedy, mystery
Dir: Anees Bazmee
Cast: Kartik Aaryan, Tabu, Kiara Advani
Rating: 1/5
After we've been treated to a dance track starring a bevy of bikinis in the middle of snow-capped mountains, consider this picture's main plot point: There is the young heroine (Kiara Advani) on a solo-trip. A bus she's meant to board to return, meets with an accident. Everyone on it dies. Only she was not on it.
She was supposed to head back home, to be married off. To inform the family of her safety, she calls home from a PCO booth in 2022. The connection is poor. But she overhears that her cousin was with the boy, she's meant to marry. 
What does she do hence? Fake her death. For which she will need to hide from her family, forever. Where does she go to hide? Straight back to her hometown, into the very neighbourhood, where her family lives — right inside her own family's haunted haveli, to reside forever in one of the rooms! 
This is when her extended family is hosting rituals for her tragic demise, without even having bothered to check on her dead body. This happens within the first half hour of this film. Abhi kya bolega?
By this point, as an audience, you either know (like me), that you've made a bhool (mistake), stepping into Bhool Bhulaiyaa 2. So cut your losses, and drop out — the exit door is not too far. Or you drop your brains in the aisle, and carry on — to senselessly see what happens next.
I don't get people who leave movies mid-way. I mean, there's always something to watch. If nothing else, a competing screen in your hand to while away time with.
Between the tiny screen on my phone, and the big one before me, I'm happy to report this movie has two Tabus, dancing, prancing, for the price of a ticket. While you feel sorry for both, the two Tabus is the twist in the tale.
The film itself is horror comedy. The young heroine has brought home with her a rando boy (Kartik Aaryan) she met on the mountain trip. He's so much into ghosts, he says, his "[land line] phone, instead of going tring, tring, goes, Conjuring, Conjuring." 
Heroine shows him the jhoola (swing), where her father used to play with her in the family home: "Your father was a swinger," he quips. Which is still a better joke than the Bengali accent he breaks into, while possessed — don't mess with Bongs, dude. 
But this hero is surrounded by Rajasthani Rajput folk, and at one moment, he cribs, "Thakuron ke beech phas gaya hoon, Gupta/Agarwal ki beti pataa li hoti (stuck among Thakurs, should've hooked up with a Gupta/Agarwal." Whatever that means. 
You observe others in the cast — Govind Namdev, the severely under-rated villainous figure, who manages to instill fear, always. He walks in for a bit part as a tantric. Milind Gunaji, once a popular presence, even a legit lead (Fareb) back in the day, plays the father. A fellow sitting paralysed in the wheelchair (Amar Upadhyay), '90s TV audiences will recall as Mihir from Kyunki Saas Bhi Kabhi Bahu Thi. 
Viewers in particular will look out for Rajpal Yadav's ash-smeared bumpkin character, since he became quite the rage in Bhool Bhulaiyaa (2007), starring Akshay Kumar, Vidya Balan. Which, in turn, was a remake of Priyadarshan's Mohanlal starrer in Malayalam, Manichitrathazhu (1993). 
Rajpal, in this second part, with an erect ponytail on his head, is made to dress up a donkey, and walk alongside, because that could be his deceased wife. This sequel is clearly the making of a uniquely bizarre imagination. How does one unsee/bhoolo (forget) Bhool Bhulaiyaa 2 then?
Enough people have died as a result of the haunted house, with 50 rooms. Nobody in the massive cast of characters has once thought of moving out of there. The hero, hanging with a girl he's recently met, pretends to see dead people. The heroine, through all this madness, still wants to be perceived as dead. 
I don't usually get the lead actor Kartik Aaryan's choice of scripts in general — even if it's a Netflix adaptation of a Korean action-thriller (Dhamaka). Sure enough, horror movies are supposed to screw with your head anyway — even if not this way. At least the motives of this movie are clearer still. 
The locations are expansive. The opening riffs of the popular background track are kinda trippy. The film's prequel was a hit across multiple languages. As it is, audiences have largely stayed away from Hindi films since the pandemic. You wish this movie well. If you're in the audience, best of luck to you too. \
*YUCK  **WHATEVER  ***GOOD  ****SUPER  *****AWESOME