The fear of eviction is visibly hovering over the contestants of 'Bigg Boss 16' which now arrives at its first ever 'Shanivaar Ka Vaar' of this season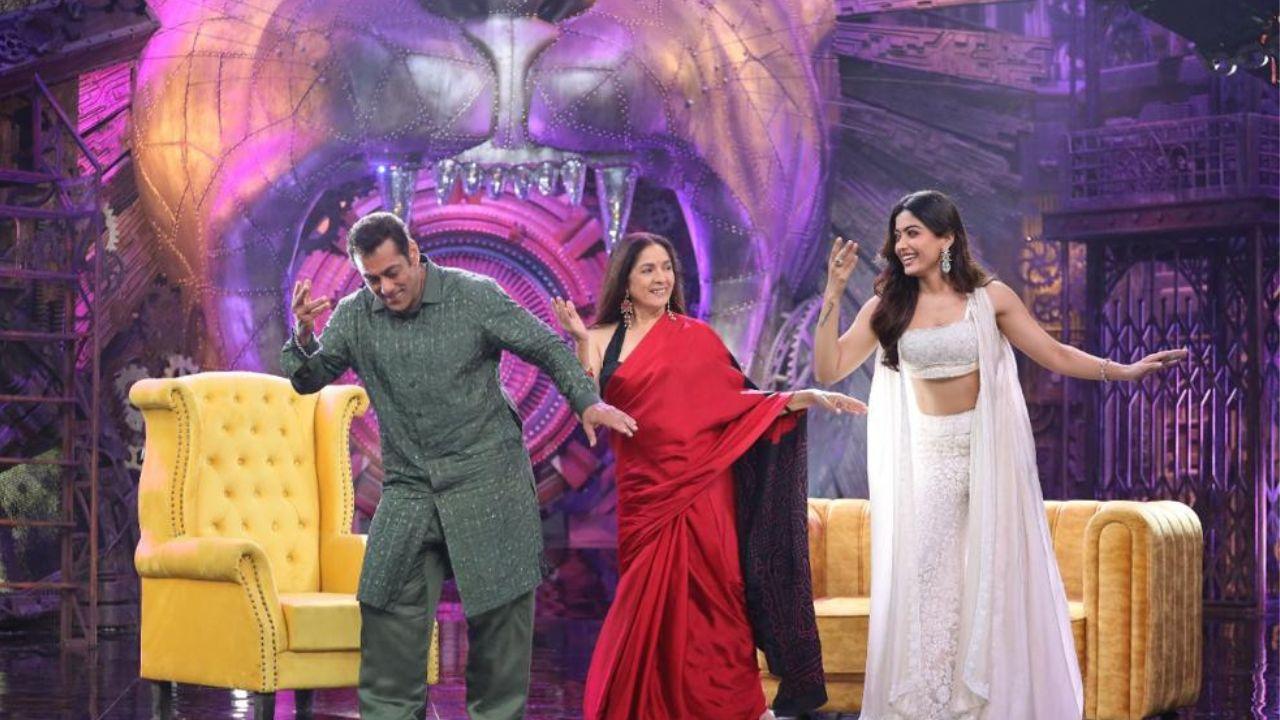 Pic Courtesy: PR
The fear of eviction is visibly hovering over the contestants of 'Bigg Boss 16' which now arrives at its first ever 'Shanivaar Ka Vaar' of this season. The Dabangg host Salman Khan commences the 'vaar' by assigning the housemates a task. Today's episode will see each contestant having to choose two housemates and declare a verdict by characterising one of them as 'hit' and the other as 'flop' on the basis of their behaviour through the week. When the results get announced, the hit contestants' get felicitated by a flower garland, whereas the flop contestants' faces are smothered with foam! The spree of felicitating and spraying foam continues for a while, and it stops when the task arrives at the contestant with the most flop votes. 
Also Read: Kalki Koechlin, Deepti Naval signed for 'Goldfish', a film based on dementia
ADVERTISEMENT
Post the task, the star-studded 'Vaar' is graced by the veteran actor Neena Gupta and Rashmika Mandanna, who have come as a part of their film 'Goodbye's promotions. When Rashmika Mandanna asks host Salman to recite his popular movie dialogue in Telugu, he surprises everyone when he says, 'Devil aapke pichhe, aap devil ke pichhe, too much fun!' in Telugu! After that, Salman, Neena and Rashmika play 'The Whisper Challenge', which gradually takes a hilarious turn as the host easily figures out the phrases while both the guests have a tough time guessing them.
Towards, the end, Salman and Rashmika groove on the latter's hit song, 'Saami Saami' while Neena joins them as well. After acing the hook step of the song, Salman Khan introduces each contestant to the stars of 'Goodbye' on the show. The contestants couldn't resist attempting the famous dialogue of the film 'Pushpa' in their own style with film's female lead Rashmika spreading laughter in the room. After everything, a palpable aura of tension takes over the house while the contestants wonder who made the best impression before the viewers and who didn't. Be ready to witness the season's first ever 'Shanivaar Ka Vaar' in order to see who bids the show farewell tonight.
Also Read: Sunny Leone, Remo D Souza's song 'Naach Baby' surpasses 20 million views Are you enjoying the current season of `Bigg Boss` (season 16)?