While the film barrels on as well — with newer twists and turns, to keep you vaguely engrossed still. Just that all of it is hinged on romance. And so you can't help, but detach yourself every couple of minutes, to also ask, "But no, seriously, but who are these people?"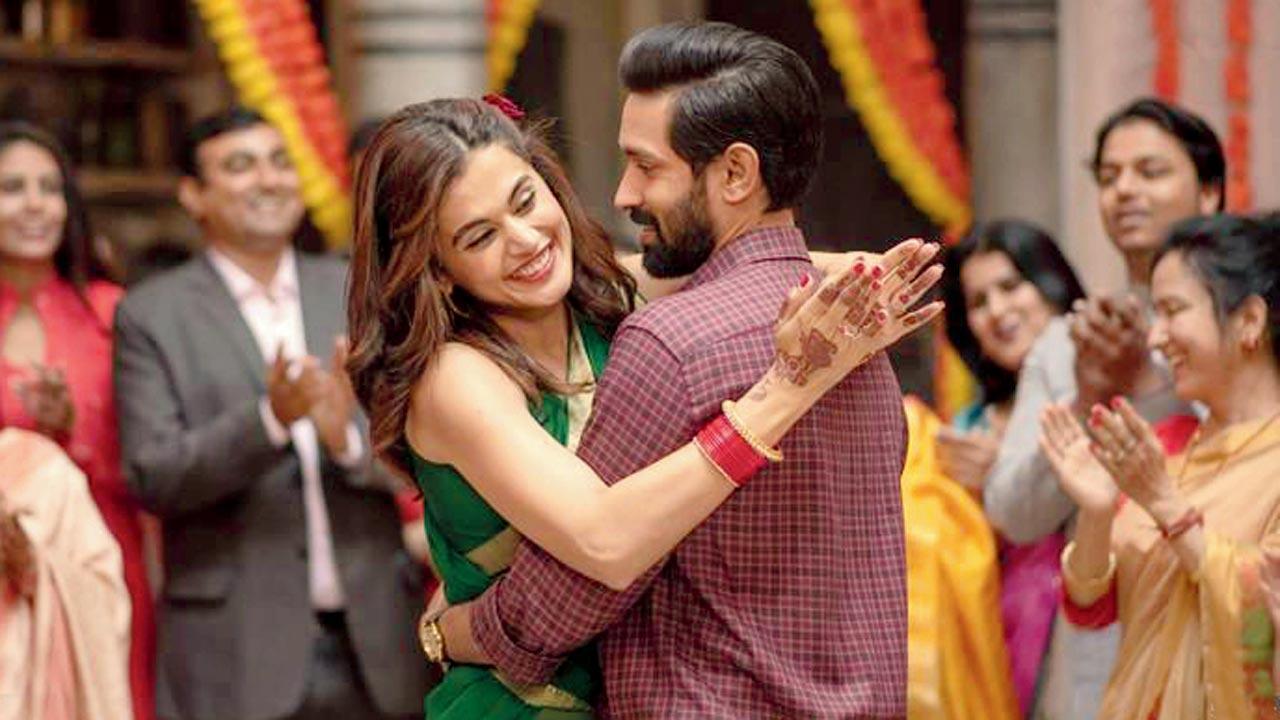 A still from 'Haseen Dillruba'
Haseen Dillruba
On: Netflix
Dir: Vinil Mathew
Cast: Taapsee Pannu, Vikrant Massey, Harshvardhan Rane
Rating: 2/5
This film is written by Kanika Dhillon ('Judgementall Hai Kya'). As you'd know, it stars Taapsee Pannu in the lead role. It is centred on a small-town family, with a newlywed young couple, of opposite personality types, who've got together in an arranged marriage.
The boy's the quiet one; the girl's quite gregarious. Both unable to get along, primarily because of the missing passion, plus compatibility. You could copy all of the above, and paste it elsewhere, to get Manmarziyaan (Husband Material, 2018). Well, sort of; though, not really.
Watch the trailer of 'Haseen Dillruba'
I asked Taapsee if she's up to a trilogy. She hadn't thought of it, she said, but must mull over it now! That she was drawn to this script seems obvious. If you consider that so much of her filmography, past and even future (Run Lola Run remake, etc), comprises movies that tonally/thematically would be termed thrillers.
Whether a supernatural thriller (Game Over), spy thrillers (Baby, and Naam Shabana); or even a thriller altogether on a social theme, that's Pink (2016). Haseen Dillruba has been pitched to audiences as a "romantic thriller", if you may. Which is of course totally distinct from the hugely under-watched, Manmarziyaan, which was a full-on romance.
Taapsee plays a relatively understated jwalamukhi, or volcano, as it were — in a fictional town called Jwalapur, in Uttarakhand. Into her loveless marriage/household, in walks a distant relative — a gabru jawan, strutting around with a six-pack (Harshvardhan Rane). Heralding what may be a lustful outlet for the desperate housewife. Sounds like Gandi Baat kinda, cheesy, B-grade stuff to you? Anything full of clichés is B-grade, according to me.
Thankfully this film is anything but. You can have multiple issues with it. But not that it is predictable. It starts off with the death/murder of the young husband, with a blast in his house. The question and therefore the genre is whodunit — with a diligent cop (Aditya Shrivastav) investigating this case. And perhaps Taapsee's character, haseen dillruba (femme fatale), as they say, the prime suspect.
This girl from Delhi devours lines and plots from desi, railway-station crime-fiction, by one Dinesh Pandit. My knowledge of this genre is abysmal. I'm guessing Pandit Ji is based on Surendra Mohan Pathak. Either way, that's the only thing that could possibly point to her towards the said murder. Where do we go from there?
To the former life of the young couple, obviously. And on that, we learn so little of any substance, that it becomes bothersome beyond a point — for us to feel anything for either, without an adequate/believable back-story to go with. Motivations and suspects to the crime are limited. And none come across as expert history sheeters, while maybe this was just a perfect murder.
Also read: 'Haseen Dillruba' director Vinil Mathew: Taapsee's first few takes are gems
I can understand why Taapsee chose this part. Hard to tell the same for the incredibly talented Vikrant Massey as the male lead — the stereotyped sexless, shant swabhav, pant-shirt, mocked by the muscular male universe, until he wins, I guess? What about those around?
Pappu type person for a henpecked pitaji, chatty mummyji, drinking on the terrace, and jerky boys on the street — is there any other box for a small-town movie left unchecked? Which is why, when you don't understand who's doing what, you just tell yourself — vichitra chhote shehron mein aisa hi hota hoga (must be like this in the exotic small town)!
Frankly, none of this would've mattered if it was simply a full-bodied murder mystery. I'm not saying Kate of Middletown or anything — that's high ambition. But this is the sort of script that I'm pretty sure reads well still.
Because it lives up to the most essential question you should be asking yourself, listening to it — "What happens next?" As you do, while the film barrels on as well — with newer twists and turns, to keep you vaguely engrossed still. Just that all of it is hinged on romance. And so you can't help, but detach yourself every couple of minutes, to also ask, "But no, seriously, but who are these people?"
Also read: Taapsee Pannu on 'Haseen Dilruba': Thank the ones who turned down the film