PM Modi and Amit Shah pay heartfelt tributes to Lata Mangeshkar on her birth anniversary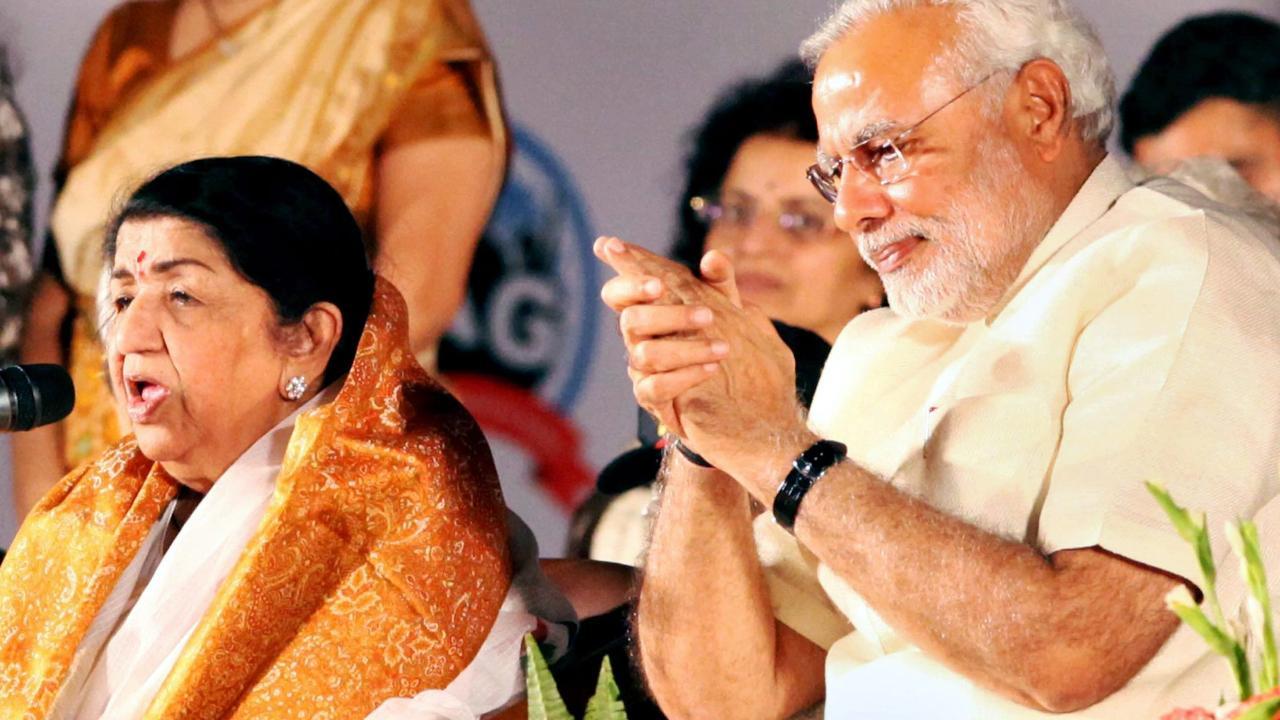 Source/Instagram
Listen to this article
Lata Mangeshkar Birth Anniversary 2023: PM Modi and Amit Shah pay heartfelt tributes to the 'nightingale of India'
x
The 94th birth anniversary of the legendary playback singer Lata Mangeshkar, often referred to as the 'Nightingale of India,' was observed with profound reverence and admiration across the nation today. Prime Minister Narendra Modi and Home Minister Amit Shah took to social media to pay their respects to the iconic artist, whose melodious voice left an indelible mark on the world of music.
On this auspicious occasion, Prime Minister Modi extended his heartfelt tribute to the late Lata Mangeshkar, recognizing her invaluable contribution to the Indian music industry. In a tweet, the Prime Minister fondly referred to her as 'Lata Didi' and lauded her for creating an everlasting impact through her soul-stirring melodies. He emphasized the profound emotions her music evoked and its enduring significance in Indian culture.
ADVERTISEMENT
"Lata Didi (sister) on her birth anniversary," wrote Prime Minister Modi, "Her contribution to Indian music spans decades, creating an everlasting impact. Her soulful renditions evoked deep emotions and will forever hold a special place in our culture."
Home Minister Amit Shah also expressed his heartfelt sentiments in Hindi through a tweet, highlighting Lata Mangeshkar's dedication to enriching Indian musical traditions. He acknowledged her remarkable ability to elevate Indian music to global prominence while maintaining a deep connection to her Indian roots. Her humility and simplicity even in the zenith of her musical career served as an inspiring example for all Indians.
"Lata Didi dedicated her entire life to enriching the Indian musical tradition by giving it new heights on the world stage," tweeted Amit Shah. "The simplicity and humility with which she remained connected to the roots of Indianness even after reaching the pinnacle of music is a special example for the countrymen."
लता दीदी ने अपना पूरा जीवन भारतीय संगीत परम्परा को नई ऊंचाई प्रदान कर विश्वपटल पर और समृद्ध करने में समर्पित कर दिया। संगीत के शिखर पर पहुँच कर भी जिस सादगी और विनम्रता के साथ वे भारतीयता की जड़ों से जुड़ी रहीं, वह देशवासियों के लिए विशिष्ट उदाहरण है। भारत रत्न लता दीदी की जयंती…

— Amit Shah (@AmitShah) September 28, 2023
Born on September 28, 1929, Lata Mangeshkar's musical legacy is etched into the annals of Indian music history. Her enchanting voice resonated in every corner of the country, leaving an indomitable impression that continues to captivate hearts even after her passing. Some of her iconic songs, including "Aayega Aanewaala" from the movie Mahal, "Lag Ja Gale" from Woh Kaun Thi, and "Pyaar Kiya To Darna Kya" from Mughal-E-Azam, remain timeless classics.
Lata Mangeshkar's illustrious career spanned decades, during which she garnered numerous awards and honors. She received the prestigious Dadasaheb Phalke Award and was bestowed with the Bharat Ratna, India's highest civilian honor, in 2001. In 2007, France recognized her exceptional contributions by making her an Officer of the National Order of the Legion of Honour, their highest civilian accolade.
Her accolades include three National Film Awards, 15 Bengal Film Journalists' Association Awards, two Filmfare Special Awards, the Filmfare Lifetime Achievement Award, and four Filmfare Best Female Playback Awards. In a groundbreaking moment, Lata Mangeshkar became the first Indian playback singer to perform at the Royal Albert Hall in London, England, in 1974.
The nation mourned the loss of Lata Mangeshkar in February 2022 when she succumbed to a multi-organ failure. However, her melodies and her legacy continue to resonate, reminding us all of her unparalleled contribution to Indian music.
"Exciting news! Mid-day is now on WhatsApp Channels

Subscribe today by clicking the link and stay updated with the latest news!"
Click here!