With such strong initiatives being endorsed by Shilpa Shetty, the actress was invited to felicitate the female officers of Nirbhaya Squad that's working relentlessly for women's safety. This event was held by the Mumbai Police on the occasion of Womens Day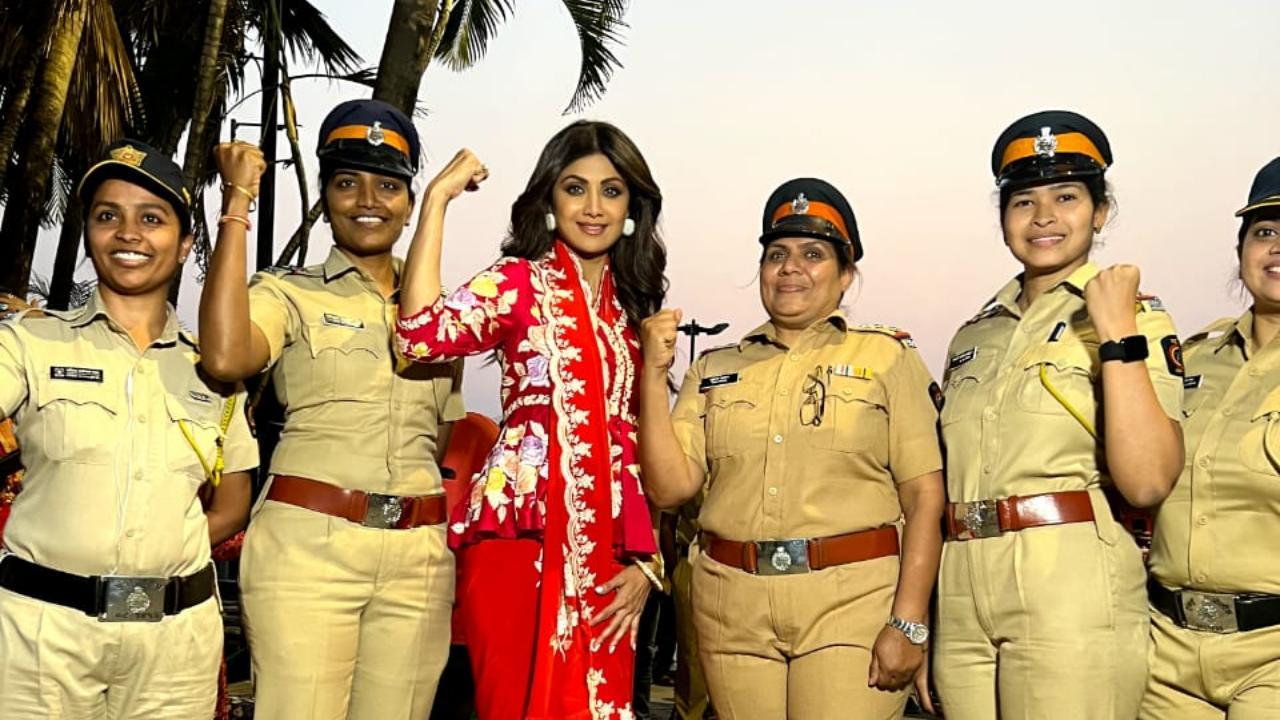 Pic/ PR
Bollywood actress Shilpa Shetty Kundra is a pioneer in fitness and entrepreneurship. Shilpa has always made headlines for actively promoting women entrepreneurship and supporting various initiatives that push female entrepreneurs ahead. Shilpa is an investor & partner with Hunar Online Courses, a platform that helps Indian women to become independent and stable. This supportive space with a community of 20 lakh+ women helps them learn fashion, food & beauty skills, make their own creations, and even start a business! 
With such strong initiatives being endorsed by Shilpa Shetty, the actress was invited to felicitate the female officers of Nirbhaya Squad that's working relentlessly for women's safety. This event was held by the Mumbai Police on the occasion of  Womens Day. 
ADVERTISEMENT
"The fearless cops of the Nirbhaya Squad work relentlessly round the clock to ensure the city sleeps safe. I feel honored to felicitate their dedication.", says Shilpa Shetty.
Also read: Exclusive video! Shamita Shetty on being perceived as unapproachable and comparisons to sister Shilpa Shetty
Speaking of her professional front, Shilpa Shetty will essay the role of a female cop in Rohit Shetty's cop universe titled 'Indian Police Force'. Shilpa is the first female cop to enter Rohit Shetty's much loved cop dramas. The actress was also recently honored with the 'Business Icon of the Year' Award at a prestigious award show. The actress is also looking forward to the very special film 'Sukhee' by Abudantia Entertainment where she will be seen in yet another different avatar.
While Shetty's stellar on-screen personality often leaves her fans and the audiences in awe, her raw, bold and fierce off-screen persona is something which is widely loved and celebrated by netizens across social media. 
On Wednesday, on the occasion of International Women's Day, Shilpa took to Instagram to drop a passionate and powerful post urging women from all around the world to unite against stigma, trauma, abuse and all the hurdles that women face while pursuing their dreams. 
Dressed as Rossie the Riveter, Shilpa donned a blue t-shirt and rocked a red bandana on her head. The 'Dhadkan' star looked fierce as she struck the iconic 'We Can Do It' pose.